The Film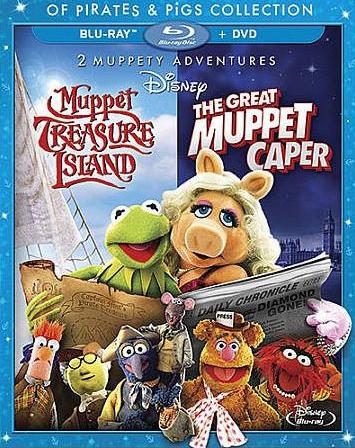 "The Great Muppet Caper" (1981)

The year was 1981; Harrison Ford was raiding lost arks. Romans were struggling when their chariots caught fire as slow motion music played ("Chariots of Fire") and "Zorro the Gay Blade" was released on an unsuspecting audience. There was also a film out there so daring, so politically charged and so well acted that if the world could only be sat down in an enormous world sized theatre to watch it, everything would be ok. I am of course talking about "The Great Muppet Caper", the Collins dictionary defines caper as:

Caper: n 1. skip 2. frolic 3. escapade 4. skip,dance.

Does the caper in the title refer to a great Muppet skip? A frolic? No itís an escapade (Bearing in mind, the Collins dictionary I used doesnít have s**t, f*** or c*** in it so I donít how much stock you can put in what IT says. Itís not even a reputable dictionary. I donít know of any Collins University, do you? No exactly. I only used it because I couldnít find my Oxford one).
So bearing in mind that this film sure does have a caper in it, and yes there are definitely Muppets in it, is it great thus making the title an honest one? In short yes, in long no.

A brief rundown on the story maestro: Kermit the Frog (Jim Henson) and Fozzie Bear (Frank Oz) are newspaper reporters sent to London to interview Lady Holiday (Diana Rigg) who is a wealthy fashion designer. Suddenly! Lady Holidayís jewels are stolen. GASP! In pursuit of the solution Kermit meets Lady Holidayís secretary, the divine Miss Piggy (also voiced by Frank Oz) and promptly falls in love with the swine (come on, weíve all been drunk and found the fat girl hot, frogs could permanently be drunk, especially felt ones). Then the jewel thieves hit again. Curse those pesky jewel thieves! But this time Miss Piggy is framed for the crime. Can Kermit and Fozzie solve the case and prove Miss Piggy innocent? Youíll have to sit through a lot of musical interludes and celebrity cameos to find out. But thatís not really the point of a Muppet movie is it?

Now on to the review part, I always like to point out the positives in any films first so weíll go from there. The acting is outstanding. Miss Piggy puts in a performance of porcine perfection and whilst her range far outweighs that of her green froggy companion she has the acting clout to not come across as a scene stealing ham (ba-boom-tish). That really was the high point of the film. A puppetís acting ability. The problem I had with this film is the same I have with many of my childhood memories.

As you get older you build up this romantic notion of what something was like back in the day. Be it the Muppets, other TV shows, summers, school days etc. but the reality doesnít tend to be reflected in your retelling. I had some trepidation before I watched this film that this would be the case and sadly my fears were confirmed. In my mind the Muppets was the pinnacle of childrenís television, it was so good that any one of any age could enjoy it.

I suppose comedy dates faster than any other genre (except maybe horror) so it would be easy to shake this off as just "old" but it goes further than that. Both John Cleese and Peter Ustinov - two brilliant actors in their own rights - do the biggest phone in of a performance ever. Yes they are acting with felt puppets but you feel as if they couldíve tried a little harder. The jokes are lame (see my ham joke earlier? Yeah they actually use that one in the film) and it just drags.

The musical numbers are pretty tight and Iím sure in 10 years time when I talk about this film itíll be the musical numbers that Iíll remember the most and by that stage the film will be brilliant but no Disneyís "The Lion King" (1994) is this.
It also goes on for far too long. A childrenís movie should be in the 80-90 minute range. Much more than that and the little buggersí attention spans start to wane considerably. This film clocks in at a ridiculous 1 hour 40 where even I was growing tired of the pun based humour (note to everyone, puns arenít funny-ever).

Iíd like to close by saying if you remember "The Muppet Show" (1976-1981) being one of the greatest shows ever, like I did, donít watch this film, it just spoils a cherished memory.

"Muppet Treasure Island" (1996)

Being a huge childhood fan of the Muppets I was really looking forward to watching this movie, unfortunately like so many things from your childhood that you cherish seeing it as an adult leaves you disillusioned and wondering how you managed to make it to adulthood without choking on your own tongue. Based off the story by Robert Louis Stevenson book "Treasure Island" and it does not stray greatly from it, except for some extra characters which seemed to serve as more of an excuse to use the full Muppets cast than to add to the story.

For those of you not familiar with the story of "Treasure Island", put simply an orphan boy, Jim Hawkins (Kevin Bishop) finds a treasure map, after a man staying at the inn he worked at dies, decides that he wants to leave his down trodden existence and take to the high seas in an effort to find the treasure. He manages to get himself a ship, and slowly finds himself a family on the high seas. Pirates become involved and it takes a turn for the more violent as they begin to fight over the treasure. As I say this is simply put as this movie seems to be more about friendship, doing the right thing and the Muppets.

Due to the constraints of working with felt Muppets the production has a very studio filmed feel, for a very good reason most of it was filmed in a studio. This does some what limit the sense of being on the high seas. The lighting is done well but does not provide a great deal of mood for the production. Children most probably wonít notice, but if youíve seen any films in recent history youíll be wondering why you feel so detached from the action. There was some good use camera movement through the movie, for instance trying to give the illusion of a rocking sea by rocking the camera is always a nice touch when dealing with ocean based movies. Also an energetic fight between Tim Curry's Long John Silver and Kermit (Steve Whitmire) is also quite enjoyable.

The acting from the Muppets cast was as good as I remember, and while it did not bring the rapturous belly laughs that I have memories of I had to chuckle several times. Billy Connolly played an enjoyable role as Billy Bones the Drunkard Pirate that Hawkins gets the treasure map off. Kevin Bishop's portrayal of young Jim Hawkins honestly annoyed me and while I will concede that working opposite puppets would not be the easiest acting assignment when you see his effort versus that of Tim Curry you can truly see the gap in talent. Curry was sensational and while I am generally a fan of his work I think he did a particularly fantastic job given the circumstances.

Ratings:
- "The Great Muppet Caper" (1981) D
- "Muppet Treasure Island" (1996) C

Video


"The Great Muppet Caper" and "Muppet Treasure Island" are both presented in the films' original 1.85:1 ratio mastered in HD 1080p 24/fps using AVC MPEG-4 compression. From the looks of it Disney has restored and remastered these films, the results are sort of a mixed bag. The main problem with "Caper" is that it's lacking in sharpness, noise is occasionally heavy - the good news is that Disney doesn't appear have scrubbed the grain and character of the film with DNR. In saying this, that doesn't mean the entire film suffers from excessive noise, in fact a large portion of the film looks pretty good. Colors look decent and depth is much improved in high definition as are textures. "Treasure Island" fairs slightly better, but only because it's much newer of the two films. Sharpness is significantly improved, noise is much less a problem however some dark scenes can be a bit noisy but nowhere near as much as in "Caper".

Ratings:
- "The Great Muppet Caper" (1981) B
- "Muppet Treasure Island" (1996) B+

Audio


"The Great Muppet Caper" features audio in English DTS-HD Master Audio 5.1 (48kHz/24-bit) as well as dubs in French Dolby Digital 2.0 Mono, German Dolby Digital 2.0 Mono and Spanish Dolby Digital 2.0 Mono. "Muppet Treasure Island" includes audio in English DTS-HD Master Audio 5.0 (48kHz/24-bit) and dubs in French Dolby Digital 2.0 Stereo, German Dolby Digital 5.1 surround and Spanish Dolby Digital 5.1 surround. For the purposes of this review I chose to view the films with their DTS-HD audio tracks. "Caper" features a full lossless DTS-HD 5.1 track, which does expand the film's sound field to 5.1 channels, this up-mixed audio is ok at best, dialogue is primarily front-heavy, while the surrounds are mostly allocated for the music and occasional directional effects. "Treasure Island" drops the bass .1 channel so robustness of the track is limited, however the depth and detail of this track was considerably better than that on "Caper" again mostly because it's the newer of the two films and utilized more modern sound mixing and effects.
Optional subtitles are included on both films in English for the hearing impaired, French, German and Spanish.

Ratings:
- "The Great Muppet Caper" (1981) B
- "Muppet Treasure Island" (1996) B+

Extras


Disney has included only a small smattering of extras on this new Blu-ray release, the supplements include an audio commentary, a featurette, a music video, a karaoke interactive feature plus some bonus trailers as well as DVD editions of both films. Below is a closer look at these extras.

DISC ONE: BLU-RAY

This Blu-ray disc includes both films, "Muppet Treasure Island" and "The Great Muppet Caper"

The single audio commentary is on "Muppet Treasure Island" with director Brian Henson and stars Dave Goelz in character as Gonzo and Steve Whitmire in character as Rizzo the Rat. The track is preceded by a minute long introduction by Gonzo and Rizzo, then the track kicks off, director Henson offers up a fairly straight forward run of the mill track. He comments on the various scenes and piecing the film together, the challenges and on the story, while Gonzo and Rizzo chime in with some silly jokes and comments. It's not a terrific must-listen-to track but for fans of the film might be worth exploring.

Next up is "The Tale of the Story Behind the Tail" (480p) featurette which runs for 21 minutes 40 seconds, this is a behind-the-scenes look at the making of "Muppet Treasure Island", if you've listened to the audio commentary then there's no real reason to watch this, other than getting a more condensed version of the information provided.

"Let The Good Shine Out" (480p) is a music video which runs for 3 minutes 23 seconds, and features everyone's favorite frog, Kermit.

"Frog-E-Oke" (1080p) is an interactive feature, which is basically a karaoke feature that jumps to some songs in from both films, the songs featured are:

- "Steppin' Out With A Star" which runs for 1 minute 25 seconds.
- "Happiness Hotel" which runs for 2 minutes 17 seconds.
- "Cabin Fever" which runs for 2 minutes 8 seconds.

A collection of bonus trailers (1080p) round out the extras and are for:

- "Disney Movie Rewards" spot
- "ABC Family's 25 Days of Christmas"
- "Disney Parks" spot
- "Gravity Falls"
- "Planes: Fire and Rescue"
- "The Jungle Book Diamond Edition"
- "Muppets Most Wanted"
- "Mary Poppins 50th Anniversary Edition"

DISC TWO: DVD

This is the standard DVD copy of "The Great Muppet Caper"

DISC THREE: DVD

This is the standard DVD copy of "Muppet Treasure Island"

Packaging


Packaged in a Blu-ray keep case with first pressings housed in a cardboard slip-case.

Overall


They're not the best of the "Muppet" films but do offer some fun moments, it's nice that Disney took the time to restore the film's transfers but the extras aren't particularly good, and the lack of extras for "Caper" was disappointing.

The film review for "The Great Muppet Caper" written by David Cormack, the film review for "Muppet Treasure Island" written by Cameron Murray, with the technical specs and supplements for this Blu-ray reviewed by Noor Razzak.
| | | | | |
| --- | --- | --- | --- | --- |
| The Film: C- | Video: B- | Audio: B- | Extras: D+ | Overall: C+ |