The Film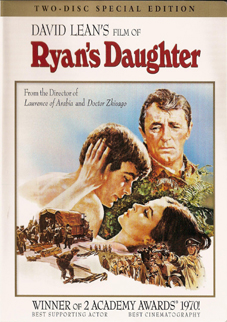 "Epic films" are often the ones that collect plenty of Oscars, and get unanimous praise from the more serious film critics. Then again, when we´re talking about the older epics like e.g. "Gone With the Wind (1939)", "Ben Hur (1959)", and "Cleopatra (1963)", some Mainstream fans get bored, and can´t always relate to them. They are used to more recent Epics, like e.g. "Titanic (1997)" and "Lord of the Rings-trilogy (2001-2003)", full of slick effects and action. To me the real Epics were done before the 1980s. After that the general feel of movie making started to change, along with the world itself, and during the 1990s the CGI-effects changed everything. Big effects became the real star of the film, not always the story or actors anymore (although e.g. "Lord of the Rings"-films successfully combined all three). I personally can´t think of a better way to spend a Sunday afternoon, than to take a cup of coffee, sit comfortably on the couch, and watch some 3-hours-long Epic film; letting the big emotions, lush landscapes, great actors, and bigger-than-life story fill the room. You just go along for the ride, which is many times 3 hours very well spent. With older Epics, you really witness the work of true craftsmanship, and real storytelling.

One of the masters of these big Epics was British director Sir David Lean. His films like "The Bridge on the River Kwai (1957)", "Lawrence of Arabia (1962)", and "Doctor Zhivago (1965)", amongst his earlier Charles Dickens adaptations - "Great Expectations (1946)" and "Oliver Twist (1948)" - made him almost immortal in the film world, if you can use such a word, since those films definitely live forever. These films combined historical events, romance, adventure, and drama in such a way that it usually impressed both the film critics and the regular movie audience. Lean also won 2 Academy Awards for best director during his career, along with 5 personal nominations. His films also got many other Oscars for the actors and other crew. Among these films was "Ryan's Daughter (1970)", which in some ways ended one era from Lean. After this film he departed from the movie business, only returning one more time with "A Passage to India (1984)". "Ryan's Daughter" also was a film that wasn´t praised by the movie critics at that time, but by watching the film now and after reading some newer comments about it, people can now appreciate the film in a new way.

The film is set in a small coastal village in Ireland during World War I. There we follow the important and stormy period of a young woman, Rosy Ryan (Sarah Miles), as she is getting more aware of her growing sexuality and romantic dreams, and how she tries to deal with them in the real world. Her father, Thomas Ryan (Leo McKern), is owning the (probably) only pub in the village, which is obviously the place where most of the villagers go from time to time. The "conscience", if you will, of the whole town and especially Rosy, is Father Collins (Trevor Howard), who is respected and probably a bit of a feared personality among the villagers. He´s the one who observes things and people at the village, keeping them on the right tracks. The real story begins when Rosy falls in love with the town´s teacher, Charles Shaughnessy (Robert Mitchum). He´s older than Rosy, being already married once, and living alone after his wife died. Charles is a true gentleman with a big and understanding heart, who eventually can´t help but also show his love towards Rosy. They get married soon in a great scene, which also shows the certain lack of real respect by the other town inhabitants, the issue that becomes important as the story progress. Rosy is still not happy though, since the real romantic passion is missing for her marriage, or at least it´s hidden somewhere inside Charles. The marriage is not something that Rosy thought it would´ve been, making her very restless.

"World War I" is not the only historical backdrop of the story. During that time, Irish rebels attempted to end the British rule in Ireland. This "War of Independence" is strongly present in "Ryan's Daughter" from the start, when we see two British soldiers on the streets, and villagers watching them with contempt. There is no love between the British and Irish. When British Major Randolph Doryan (Christopher Jones), still suffering from the horrors of WWI and limping on one leg, arrives in the village, he ends up in a passionate love affair with Rosy, changing the life of many people in the village. Now Rosy finds that adventurous passion that she has been looking for, but like often in real life, with some bad consequences. At the same time the known Irish rebel leader Tim O'Leary (Barry Foster) arrives in the village, which is the planned starting point of their strike, since the small British garrison is in the area (hence the soldiers at the village). Now love, hate, and war - in other words, big emotions - are taking the story to another level, in a style of David Lean and of true Epic filmmaking.

"Ryan's Daughter" is in some ways different from the earlier Epics by Lean, since now the story is relatively simple and more down to earth. Even when some historical events are present, they´re still just a subplot in the film (although important ones). The film is about love, and how quite ordinary people are trying to deal with their emotions, and face the questions of "good" and "bad" after their decisions. It´s about people who are trying to find themselves; Rosy trying to deal with her needs for real passion and even lust, and Charles trying to find those certain emotions that probably got lost after his wife passed away. Both are, in their own way, trying to find some answers to the big questions - such as what´s the true meaning of happiness, and what does it really take to make yourself and close people around you happy in those harsh times, when revolution is in the air, and the world is at war. It also tells how different people can eventually be bound to each other, when all the difficulties have been experienced together. In the end, this is a movie about Rosy Ryan, and the search for her place in the world.

The film´s bad press at the time is most likely due to the fact that Lean has made a "big" and long film using relatively small ingredients. The film has been built in a way like the Epics usually are, but the story is not as complex and challenging as some others before that. This can make certain viewers think that it´s at the same time just too long and too simple to be shown on this scale. Can you really make an over-3-hour film about a love story, set in a small village in Ireland? Can the endless shots of the landscapes and the beach be almost tiring at the end? Do some parts of the story move too quickly (like the relationship between Rosy and Charles before the wedding), and then some parts just too slow? These might be some of the questions that come to mind during the film, depending on the point of view. The one thing that is probably undisputed is that the visual side of the film is just remarkable. Cinematographer Freddie Young won three Oscars for Lean films, and "Ryan's Daughter" is also one of them. Thinking that this was shot almost completely on location in the Dingle Peninsula, in the West coast of Ireland (some scenes were also shot in Cape Town in South Africa), where the sun was shifting constantly, and where you had warm, cold, rainy, and stormy weather, Young has done an almost perfect job. It´s like carefully taken photos and paintings have suddenly returned to life in all their glory (the beach is almost like a character of its own). One of the best achievements of cinematography I have ever seen. Also the famous "storm sequence" later on in the film is something that you don´t see every day, and the fact that it´s done without CGI and a studio environment makes it a real classic. The film also includes two other memorable, but yet different, love-making scenes. The later one probably goes somewhere near the line where you could think that is it too artistic with its symbolism, but I believe that they both work very well for the movie. Composer Maurice Jarre has done a memorable score, which somehow reminded me of certain films of Fellini, and which is very "concert-like" from time to time. Whether you like it or not (you could say that it´s different from the films now), music is a big part of the film.

Sarah Miles is great and believable in the lead role, portraying the many sides of her character. Robert Mitchum is one of my favourite actors and generally one of the great "old school" actors (we don´t have many like him anymore), and it´s very interesting to see him in a role like this, playing a very sensitive and sometimes a bit sad character. He doesn´t fail, although to me Mitchum is the actor that very rarely disappoints in any role. Watching him on the screen makes me think about the fact that now we have actors like Ben Affleck, Colin Farrell, and Mark Wahlberg in the lead roles. It´s not that they´re always bad, but these actors working in the 1970s had a lot more charisma and that certain screen presence that is often lacking from these younger actors now. In the supporting role, Sir John Mills (who sadly died last year) walked away with an Oscar in his hand for playing Michael, the "village idiot", who sees and hears everything, despite being mute and simple. I actually didn´t think that he was "remarkable" in the role, but Mills is a great actor, no doubt about that (it´s fun to watch his interviews outside his character). Trevor Howard is also solid in his role as a "down to earth" priest, with his face full of signs of the life fully lived. The only actor who probably is dividing the viewers to some degree is Christopher Jones, in his role as Major Doryan (apparently he was dubbed by Julian Hollaway). I thought he was a decent choice for the role as a man who is shell shocked and tormented after his experiences at the front line, and who doesn´t speak much. Then again it´s true that you feel that something is lacking, since he pretty much has just that one face throughout the movie.

To me, "Ryan's Daughter" is a great cinematic achievement, both visually and story-wise. It isn´t probably a full-on masterpiece, like some earlier films by Lean, but it gives such a beautiful and vivid visual experience, with a powerful and emotional story, that it makes me wonder how someone could call this film "rubbish". It has some weaknesses, yes, but the results in the end are very satisfying. Lean also gets plenty out of his actors and his crew, which shows on the screen in a positive way. Is it still too slow then? Too "larger than life"? Too long? I don´t think that any of these is the case, but it´s better for you to judge for yourself. Just get the cup of coffee, take that warm blanket of yours, turn the lights off, and let the story take you. It´s the world of Sir David Lean now, and he´s calling the shots from now on.


Video


The film is spread over two discs, and is presented in Anamorphic 2.20:1 (which is the OAR). "Disc 1" includes the first part of the film (107:47 min), including the "Overture" (and original MGM-logo after that) and "Intermission", and "Disc 2" then includes the second part (98:28 min), with "Entr'acte" and "Exit Music". The whole film runs 206:15 min - NTSC. The transfer is simply stunning, restored from, I believe, the original 65-millimetre picture and audio elements. Colours are clear and strong, skin tones are natural, and black levels as deep as they could be. If you look real closely, a few minor film artifacts can be seen from time to time, but overall I doubt that "Ryan's Daughter" can look any better in a DVD-format. When you consider the age of the movie, this is very near to perfect restoration. "Dual layer" discs are coded "R1/2/3/4". There are 50 chapters in all.

Audio


The film includes English and French audio tracks, and both being Dolby Digital 5.1. English, French, and Spanish subtitles can also be found from the disc, along with English Closed Captions. Like the visual side, the audio is also very good. I guess the original audio can be considered as "Stereo" (6-Track with 70 mm prints), but this was also shown in many places in "Mono". Anyway, the restored 5.1-track sounds great, opening up the sound field with selected directional sounds, and the music from Maurice Jarre just fills the room. In the "storm sequence", the audio really shines, and the subwoofer is very active. The audio mix is highly enjoyable in every way, lively and well balanced. It´s also clean.

Extras


Disc 1

The first disc includes the "Part 1" of the film, and also an audio commentary, which includes several people (they are always introduced, so that you know who´s speaking); Lady Sandra Lean (wife of the director); actress Sarah Miles; Petrine Day Mitchum (daughter of Robert Mitchum); assistant director Michael Stevenson; second unit director/associate producer Roy Stevens; art director Roy Walker; assistant editor Tony Lawson; property master/location manager Eddie Fowlie; stuntman Vic Armstrong; David Lean biographer Stephen M. Silverman; director John Boorman; director Hugh Hudson; and documentary director/film critic Richard Schickel. This commentary is not screen-specific, and it´s combined from recent interviews, for which you can see (and hear) later on in the 3-part documentary. I´ll be honest here, and say that if you just want to enjoy a good documentary about the film, with basic information, the "The Making of Ryan's Daughter" is probably enough for you. For those who want all the info from the documentary, and then some, it´s recommended to listen the audio commentary. Either way, you´ll get plenty of information.

Lean biographer Stephen M. Silverman is probably speaking the most, followed by Lean´s wife, Lady Sandra Lean (who also wrote a book "David Lean : An Intimate Portrait"). Silverman obviously speaks generally about Lean, and about his background. Sometimes he tends to "over-analyze" the scenes from "Ryan's Daughter", the thing that is quite common for the biographers when they´re so deep into certain film. In an audio commentary like this, you sometimes think that, "Hey, I see for myself what´s happening on the screen". Sandra Lean gives some more personal stories, as does Petrine Day Mitchum, who´s the daughter of Robert Mitchum. We learn that Mitchum and Lean didn´t get along that well together, since Mitchum has his own style and approach to acting, compared to a rather perfectionist style by Lean (actor Gregory Peck wanted that role by the way). It´s also interesting to hear how the town people sometimes tried to pick fights with Mitchum, due to his reputation of playing tough guys many times during his career. Among these types of anecdotes, the most interesting stories are told by the members of the actual cast & crew, which are also included. From these people you can get a pretty good picture of Lean during the shooting, and his skills as a filmmaker. He was loved by his crew, no doubt about that (it´s also being said in the commentary, that Lean loved his crew probably more than his real family - at least in some sense, and was divorced many times). They also tell good stories about the ever changing weather on the location (the schoolhouse is apparently still standing there), and about their shooting schedule which in the end doubled. They also built the house for the dailies and also for post production, but they never actually edited there. Actress Sarah Miles is a bit disappointing, since from the fact that she was the female star of the film, she doesn´t give that much information (then again, it has been over 35 years, so..). Her husband Robert Bolt did the screenplay for the film.

On the second disc, we´ll hear more about the actor John Mills, and stuntman Vic Armstrong tells some very interesting stories about shooting the "storm sequence". There´s also some discussion about the bad reviews during that time, and film critic Richard Schickel has an opportunity to give his point of view about the stories, which implied that his bad review (among the others) was one of the reasons why Lean took a long break from directing after "Ryan's Daughter". Generally this makes you think, that film critics were really stars back then, telling what is good and what is bad. We also hear some history about the movie theatres generally in the 1970s, and how some theatres could show films like this in 70mm, and with Stereophonic sound.

First disc rounds up with 2 theatrical trailers; "Announcement trailer" (2:21 min), and "Theatrical trailer" (2:56 min).

Disc 2

This disc includes the "Part 2" of the audio commentary, and a new documentary, among the 2 vintage featurettes. Extras have no subtitles.

-"The Making of Ryan's Daughter" -documentary includes three parts, and you can also use "Play All"-option:
-Rising Storm (27:46 min)
-Storm Chaser (20:55 min)
-The Eye of the Storm (14:11 min)
Like I said earlier, all these (new) interview-segments are already included in the audio commentary, but here you can see the actual people. Some vintage interviews are also included; director David Lean, writer Robert Bolt, and cinematographer Freddie Young - along with actors Robert Mitchum, John Mills, Trevor Howard, and Leo McKern appear in this documentary. This time these vintage bits are recycled from the shorter featurettes.

-"We're the Last of the Traveling Circuses" -featurette runs 20:02 minutes, and includes interviews and "behind the scenes"-footage. This "Film Night Special" from the BBC gives an interesting look at the production, and is an essential part of the longer documentary also. One high point is the "interview" with Robert Mitchum, where you can see at least a glimpse of the attitude that he had towards interviews and issues like that. He´s clearly not very interested.

-"Ryan's Daughter: A Story of Love" -featurette runs 6:14 minutes, and is basically a long version of the "Announcement trailer" from "Disc 1". This is a promo featurette of the film.


Overall


Warner has done it again, for delivering a big classic film for the new audience, almost perfectly restored. It´s also full of extras, which on the other hand are a bit repetitive, if you plan to watch them all. For the fans of Epic-films, this is a must buy, and another (near) winner for the legendary David Lean. Note, that this release is coded for regions 1, 2, 3 and 4.

This DVD is available at Loaded247, the UK based supplier of R1-releases.
| | | | | |
| --- | --- | --- | --- | --- |
| The Film: | Video: | Audio: | Extras: | Overall: |