The Film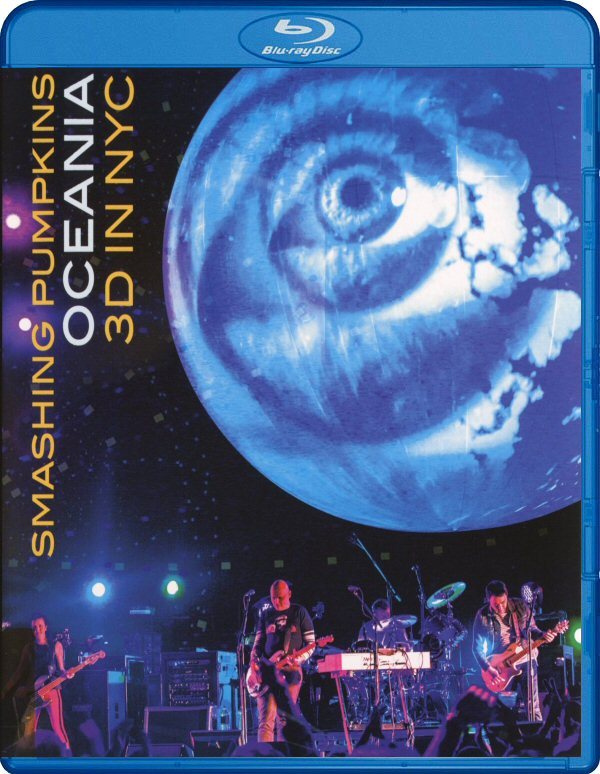 Although The Smashing Pumpkins formally disbanded in 2000, and following his own kind of disastrous excursion as both a solo artist and a member of post-Pumpkin alt-rock offshoot Zwan, frontman Billy Corgan has controversially continued to make music under the famed band name, with a rotating cast of band mates, since he famously announced plans for a reunion in a full-page ad in the Chicago Tribune and Chicago Sun-Times in 2005. Embroiled in a series of personal controversies—and at times all too eager to spout bitter, backhanded comments about former guitarist James Iha and bassist D'arcy Wretzky—Corgan's reputation as an enigmatic egoist did little to quell criticism from fans when the so-called reunion, culminating in a 2007-2008 tour and album, consisted of only half of the Pumpkins: Corgan and drummer Jimmy Chamberlin, who then parted ways shortly after the release of their "Zeitgeist" album.

In the interleaving years, between the first breakup, the release of "Zeitgeist", and now, Corgan has rebooted The Smashing Pumpkins a few times, and made claims both mystifying (his infamous comment that the album was dead as a form of artist expression, and that the Pumpkins would only release singles, only to turn around and announce an epic, multi-volume concept album still in the making) and outright dubiously deranged (see his crackpot thoughts on chemtrails and devotion to crazy conspiracy-theorist Alex Jones). Through it all, Corgan and the band have continued to experiment, with varying degrees of success and equal failure. Their most recent release, the 13-track "Oceania"—dubbed an album-within-an-album; part of the 44-song "Teargarden by Kaleidyscope", an on-going project consisting of singles, EP's, etc—is happily the former. It's a surprising success, and maybe even a return to form (or at least a form). It seems the seas are finally calm in "Oceania", and at least for the moment, the once imperious frontman of The Smashing Pumpkins has found a formula that works, and more importantly, makes him willing to work well with others. In addition to Corgan—who seems to have mellowed and neutered his noxious narcissism at least somewhat, especially on stage—the current Pumpkins lineup consists of virtuoso guitarist Jeff Schroeder, former Veruca Salt bassist Nicole Fiorentino, and 23-year-old drummer Mike Byrne.

"The Smashing Pumpkins: Oceania 3D Live in NYC" consists of an unedited 24 song set performed at the Barclays Center in New York City on December 10, 2012. The concert includes the entirety of the "Oceania" album played through, one definite cover (of David Bowie's "Space Oddity"; and oddity it is, the only non-original in the show, but reasonably well done, and it works as a transitional act break between "Oceania" and the second half of the set), and an eclectic array of pseudo-originals, both radio-play hits and deep cuts, from the classic The Smashing Pumpkins back catalog. The performance also includes the big, bombastic "The Dream Machine", which has yet to be recorded in-studio or released as a single.

Conceptually, "Oceania Live In NYC" is an obvious attempt by Corgan to reconcile some of the issues he (and others) have had with the Pumpkins, particularly with regard to their career going forward and previous unwillingness to look back. Never is this more clean than during "Tonight, Tonight", which has the new band playing the old song on a stage dressed, through backdrop and prop, with obvious visual cues from the original music video. The concert then is an appropriate blend, even lovingly done, of the old and new. "Oceania" itself is a solid album, and in general terms, the better part of the show, but the new interpretations of the old—particularly "X.Y.U." and "Bullet With Butterfly Wings"—are noteworthy too, and more interesting in a sense that, for the first time in a long while, Corgan seems to have much less contempt for the "old stuff", in large part because he's not trying to carry the whole show himself. A bald as ever, and now slightly pot-bellied (but, unfortunately, still wearing a slim-fit t-shirt that's now several sizes too small for him), at 46 he's not quite so smug—at least on stage—anymore. Perhaps because he's surrounded himself with such fantastic musicians: a bassist as beautiful as she is talented, a guitarist as extraordinary as has ever been in the band, and a drummer who seems far more seasoned than his age would suggest. There's a moment in the show, at the beginning of "Oceania's" last track, "Wildflower", where Corgan simply sings his vocal. No guitar: he leaves that entirely to Schroeder for the first half. And no keyboard: both Fiorentino and Byrne put down their usual instruments to play keys. In another time, with another set of band mates, Corgan might've tried to do it all; perhaps not literally, but certainly, as a younger performer he'd never have simply belted the vocal, and let his fellow musicians share equally in the spotlight. (That's not to say Corgan ever single-handedly carried the old band, but I think he thinks he did). The result is a marvellous sound—and sight. It's the very essence of pure artistic collaboration. So, no, despite the name, this is still not really The Smashing Pumpkins; at least not the band of old. Not the one that made the name gain fame. But, maybe, just maybe, that's actually okay? Semantic arguments aside, this version of Pumpkins—yes, a new version; and one that sounds very different, and I certainly hope will be around for a while—work great together on stage. I don't care if Corgan is a pudgy and slick-headed ball of bound-up ego off stage. On it, with the other three, Corgan and the group calling themselves The Smashing Pumpkins look and sound good.

"Oceania Live in NYC" was directed Milton Lage and produced by Barry Summers, the president of Rock Fuel Media. The stage was designed by Sam Evans.

"The Smashing Pumpkins: Oceania 3D Live in NYC" is comprised of a 24-song set (technically, 21—including the "Oceania" album in its entirety—plus an additional 3 song encore), which clocks in at just over two hours. The track listing is as follows:

- "Quasar"
- "Panopticon"
- "The Celestials"
- "Violet Rays"
- "My Love Is Winter"
- "One Diamond, One Heart"
- "Pinwheels"
- "Oceania"
- "Pale Horse"
- "The Chimera"
- "Glissandra"
- "Inkless"
- "Wildflower"
- "Space Oddity"
- "X.Y.U."
- "Disarm"
- "Tonight Reprise"
- "Tonight, Tonight"
- "Bullet With Butterfly Wings"
- "The Dream Machine"
- "Hummer"
- "Ava Adore"
- "Cherub Rock"
- "Zero"

Video


Universal Music transfers "The Smashing Pumpkins: Oceania 3D Live in NYC" in a 1080p 24/fps MVC MPEG-4 high definition presentation framed in 1.78:1 widescreen. The MVC codec enables both 2D and 3D presentations to occupy a single disc; the disc's main menu includes an option to watch the concert in either format. On purely visual terms, this is an above average concert film, staged and designed by Sam Evans, who recently assisted Roger Waters on a new version of "The Wall". The performances makes a striking use of vibrant color, and the elaborate background visuals, and expansive and extensively decorated stage translates to Blu-ray in either two or three dimensions very well. The image is sharp, and detail is impressive. The increased resolution renders every bead of sweat on the flushed faces of the band members (clearly working overtime under bright lights) with shocking clarity. Sometimes, the transfer reveals things probably better-left unseen, like Corgan's exposed belly whenever his too-tight shirt rides up high (which is, unfortunately, often). For the most part, the black level holds true—deep and inky—only faltering in a few spots. Inconsistency is an issue; a variety of anomalies creep in from time to time, but there's nothing that will give anyone familiar with concert films pause. The film has been compiled from a variety of sources, and was shot using all sorts of equipment, including what look like a few GoPros. Shots drop in an out of focus, some are softer and others sharper, random busts of noise appear with seemingly predictable frequency, and certain camera angles are fraught with more problems than others (the worst of which is an over-the-shoulder shot from behind the drum set; drummer Mike Byrne is wearing a checkered button up, and the crosshatch pattern is poorly resolved as a terribly jagged unresolved lines). But, inconsistency and all, "Oceania" is a fine looking concert disc.

Audio


"Oceania" sounds fantastic. UME offers a choice between two lossless tracks: English TrueHD 5.1 surround (96kHz/24-bit) and Dolby Digital 2.0 stereo (also 96kHz/24-bit). Both mixes sound superb, with wide dynamic range, sufficient clarity, and good balance. The stereo track is noticeably louder than the surround option, but, to my ears, is not superior in any regard other than default volume. Once you turn the multi-channel track up a few notches, it's indistinguishable—and has the added benefit of clearer separation through the additional channels used to funnel instrumentation to rears (vocals stay locked to the front on either track). I imagine personal preference will play a bigger role than anything else. The music itself, especially the stuff from the "Oceania" album is great; catchy melodies and solid musicianship from Corgan, Schroeder, Fiorentino and Byrne.

Extras


Supplements are disappointingly slim: two all-too-brief featurettes and a photo gallery (which is encoded in 2D and 3D).

"Interview with Set Designer Sam Evans" (1.78:1, 1080p; 4 minutes 32 seconds) featurette is a brief piece with Evans in which he talks about his career and discusses the inspiration for the set and the decorative backdrops on stage.

In much the same vein, "Interview with Production Manager Chris Gratton and Lighting Designer Lawrence Upton" (1.78:1, 1080p; 4 minutes 27 seconds) featurette gives the two men a chance to discuss the elaborate lighting and visual style for the show.

The photo gallery (1080p; 25 images) is self-advancing and, like the concert, viewable in 2D or 3D.

Packaging


Virgin and Universal Music Enterprises bring "The Smashing Pumpkins: Oceania 3D Live in NYC" to Blu-ray in a basic package. The concert is encoded in 2D and 3D on a single, dual layered BD-50. The disc is region free and housed in an Elite style keep case.

Overall


"The Smashing Pumpkins: Oceania 3D Live in NYC" is a solid concert. The 24-song set meets at a happy middle, bringing the new songs and new lineup under an old name together with some of the "genuine" Smashing Pumpkin tunes rather nicely. The concert exudes palpable energy from beginning to end, and even the few cuts I'm less enthusiastic about (namely, the Bowie cover, and "Cherub Rock" and "Ava Adore", on which Corgan's voice occasionally fails him) are still pretty fantastic. This may not exactly be the stuff of the Mellon Collie days—that's long, long gone—but it's closer to it, and better than any incarnation of the band since then. "Oceania" remains a fantastic album in its own right. To see and hear it performed in its entirety, with additional tracks is a delight. Universal Music's Blu-ray features a fantastic transfer, viewable in 2D and 3D, and offers excellent lossless audio in both surround and stereo. The only thing even slightly underwhelming about this release are the near-nonexistent extras. But the concert looks and sounds so good, I'm not sure the extras even really factors in.
| | | | | |
| --- | --- | --- | --- | --- |
| The Film: B+ | Video: B+ | Audio: A | Extras: D | Overall: B |