The Film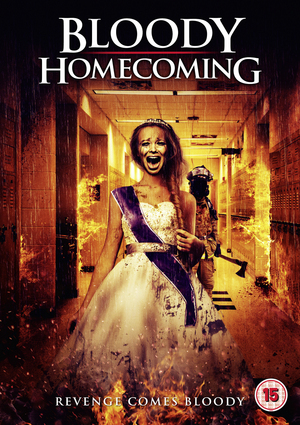 ***This is a technical review only. For reviews on the movie from various critics, we recommend visiting HERE.***

Death stalks the halls of Winston High, and for its young students, Homecoming will never be the same.

Three years earlier, Billy Corbin died trapped in a fiery storeroom. Now the ones who let him burn are attending their school homecoming party and it could be their last. It's payback time without pity for the young, the foolish and the beautiful. One by one they disappear, each meeting a gory, terrifying end. The corridors of Winston High are dark, slippery and wet with the blood of those who came before.

It's here the screaming starts. It will end in a Bloody Homecoming.

Video


American distributor Image Entertainment are new to releasing DVDs and Blu-rays in the United Kingdom, and with them comes a huge catalogue consisting of both A-list titles, and independent low budget features. "Bloody Homecoming" is a $3,000,000 horror that looks good, but not great on DVD.

Image Entertainment have provided the feature with an anamorphic transfer at an aspect ratio of 1.78:1 (original aspect ratio likely 1.85:1). Although it looks decent throughout, my main concern is just how muted the colours can look. The first couple of scenes are the most disappointing, with less detail than the rest of the movie, though poor lighting on set can take a relatively large chunk of the blame here. Skin tones look natural for the majority (but again, muted at times), and details in facial close-ups are often strong, with the scene at 74:55 a good example. Blacks are not always as deep as I would like, but they exhibit minimal crush, and day time segments are inconsistent with how light they are (different angles in the same scene). As should be expected for such a new film, there are no signs of damage to the print such as scratches or any other blemishes, though some slight compression artefacts did sneak in on occasion.

The disc is PAL, and the feature runs 81:01.

Audio


Two audio tracks have been provided:
- English Dolby Digital 5.1
- English Dolby Digital 2.0 Stereo

For my viewing, I opted for the English Dolby Digital 5.1 track, and it was adequate, but at times not mixed to a high standard. Surrounds are utilised reasonably well for a low budget horror, with not only the score making full use, but the subtle environmental effects also use the surrounds to its advantage. You can hear showers running, radiators and air conditioning units, and wind when required, as well as general background chatter. Some of these effects could've been directed much better though, and the volume levels increased slightly in comparison to the score and dialogue. Dialogue is clear at all times, with no mumbling, and no instances of being drowned out by the score. There are no signs of damage such as drop outs or scratches, and although there are no signs of background hiss, some of the sound effects of the air conditioning units, can give the wrong impression of a consistent unwarranted noise at times.

No subtitles have been included.

Extras


None.

Overall


As far as low budget slasher films go, this isn't bad at all. A fun killer, a cast that are not too old to be playing teens, and a good attempt at bringing back the 80s style slasher. If you like movies such as "Prom Night", you'll find enough to enjoy here to warrant a viewing with a few beers and some friends.
| | | | | |
| --- | --- | --- | --- | --- |
| The Film: C | Video: C+ | Audio: C+ | Extras: F | Overall: C |