Assassination (Blu-ray) [Blu-ray]
Blu-ray ALL - Germany - KSM
Review written by and copyright: Samuel Scott (7th February 2014).
The Film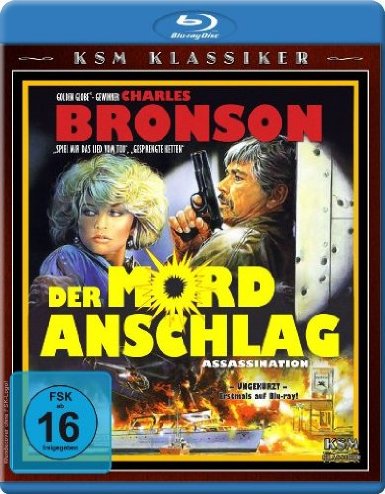 ***This is a technical review only. For reviews on the movie from various critics, we recommend visiting HERE.***

Only Jay Killian stood between the President's wife and assassination.

Hard-hitting action, cross-country adventure... and a government conspiracy that goes all the way to the top! In this pulse-pounding political thriller, action superstar Charles Bronson is at his rugged best as a man on a mission to protect the First Lady from ruthless assassins who'll stop at nothing to kill her!

When veteran Secret Service Agent Jay Killian (Bronson) is assigned to protect the president's pampered and difficult wife (Jill Ireland), he knows she will be a handful. But what he doesn't know is that assassins are out to kill her! Not only must Killian use his lethal experience to shield the First Lady from danger...he must also do it while tracing her would-be murderer to the highest office in the land!

Video


Independent German distributor KSM have released the Charles Bronson movie "Assassination" onto Blu-ray for its worldwide debut on the format. The transfer is 1080p, and in the original aspect ratio of 1.85:1.

Now, when you first press play on this release, you will definitely be taken aback. The opening credits (and the end credits for that matter) look absolutely terrible. Washed out, dirty, scratched... I was almost ready to cry before the film had even fully started. Thankfully though, this major amount of damage seems confined to the credit sequences only and although the rest of the transfer looks as though it has been struck from a very dated master, it shows some signs of promise. There is mild artefacting throughout the picture for the duration, but detail does perk up quite a bit. Some of the close-ups look very good, and although faces can appear slightly waxy, there is certainly an improvement on the old MGM DVD releases. Blacks are not always deep, but there is reasonable depth clarity between the various greys and yellows. The transfer may not have the wow factor, but it's worth a look.

The disc is region free, and the feature runs 88:12.

Audio


There are two audio options available here; English DTS-HD Master Audio 2.0 Stereo, and German DTS-HD Master Audio 2.0 Stereo. For my viewing, I opted for the original language track, English DTS-HD Master Audio 2.0 Stereo. To be honest, it's pretty much what you would expect from an 80s action-thriller. At times, it sounds slightly restrained, but dialogue is clear at all times, and the score and effects all sound perfectly acceptable. Although the track lacks oomph to push the action scenes forward, the track has good clarity. There aren't any signs of damage such as drop outs or scratches present, and there's no noticeable background hiss.

Optional subtitles have been included in German.

Extras


All extras are unsubstantial and self-explanatory.

Photo Gallery (1:57)
Start-up Trailers (German):
- "The Big Bang" (2:19)
- "Bodyguard: A New Beginning" (2:28)
Bonus Trailers (German):
- "Bury the Wolves in the Canyon" (3:58)
- "Uncle Tom's Cabin" (4:07)
- "The Ride Back" (1:24)
- "Ninja: The Legend" (1:05)
- "The Big Bang" (2:19)
- "Bodyguard: A New Beginning" (2:28)
German Theatrical Trailer (1:52)
Theatrical Trailer (1:52)

Overall



| | | | | |
| --- | --- | --- | --- | --- |
| The Film: C | Video: C | Audio: C+ | Extras: E | Overall: C |

---
DVD Compare is a participant in the Amazon Services LLC Associates Program and the Amazon Europe S.a.r.l. Associates Programme, an affiliate advertising program designed to provide a means for sites to earn advertising fees by advertising and linking to amazon.co.uk, amazon.com, amazon.ca, amazon.fr, and amazon.de.