The Film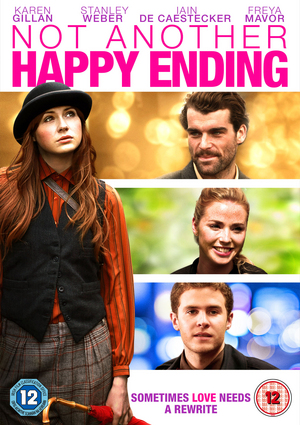 ***This is a technical review only. For reviews on the movie from various critics, we recommend visiting HERE.***

Karen Gillan (Doctor Who, Guardians of the Galaxy) stars in the Glasgow-set romantic comedy NOT ANOTHER HAPPY ENDING, written by David Solomons (Five Children and It). Starring alongside Karen Gillan is Stanley Weber (Thérèse, Borgia), Iain de Caestecker (Agents of S.H.I.E.L.D, Filth), Freya Mavor (Sunshine on Leith, Skins), Kate Dickie (Game of Thrones, Prometheus), Gary Lewis (Gangs of New York, Billy Elliot), Amy Manson (Being Human) and Henry Ian Cusick (Lost).

When struggling, maverick publisher Tom Duval (Weber) discovers his only successful author, Jane Lockhart (Gillan), has writer's block, he knows he has to unblock her or he's finished. But with her newfound success, she's become too damn happy to write. The only trouble is, the worse he tries to make her feel, the more he realises he is in love with her…

Sometimes love needs a rewrite.

Video


Independent British distributor Kaleidoscope Home Entertainment are giving the indie Scottish movie "Not Another Happy Ending" its worldwide home media debut onto DVD. The transfer is in the original aspect ratio of 2.35:1, which has been anamorphically enhanced.

Now, the transfer here, comes so close to being reference quality, but there is an unfortunate problem which knocks it down the pecking order. There's some horrible vertical banding/moire looking effects during large chunks of the run time, which really disturbs the otherwise high quality detail and sharpness. Outside of this problem, and some very minor instances of aliasing, the transfer really is a joy. Gillan's red hair is vivid and pops in comparison to her dull coloured clothing, whilst each strand of misplaced hair is noticeable (example at 43:43), showcasing the high level of detail throughout. Colours are accurate, especially skin tones, which ranges from the reddish warm tone of Stanley Weber, through Karen Gillan's paler, porcelain like tone. As should be expected for such a new movie, there are no signs of damage to the print such as scratches, or other unsightly blemishes. If it wasn't for the overly noticeable banding, I'd be happy to rate the transfer an A-, but it's too much of an issue.

The disc is PAL, and the feature runs 97:43.

Audio


There are two audio tracks included here:
- English Dolby Digital 5.1
- English Dolby Digital 2.0 Stereo

For the purposes of this review, I opted to view the film using the English Dolby Digital 5.1 track, which is a little uneventful, mainly due to large swathes of dialogue heavy scenes the film is based around. However, when the need for the score or for subtle effects does arrive, we get a little more action in the surrounds, though it isn't quite as involving as one would hope. Dialogue is clear at all times, and effects show good clarity. The directionality, when required, is good and channel separation well maintained. There's no audio drop outs, scratches, or background hiss to speak of. It should be noted, that it is the stereo track that plays by default, so if you want the 5.1 audio you need to remember to select it either via the menu or by using the remote control.

No subtitles have been included.

Extras


The first extra, is an interview with producer Claire Mundell which runs 17:38. She talks about how they got the project off the ground, getting a cast attached to help secure financing for the film, the film in general, and the journey of festivals and distribution. The interview was obviously made early on, as Mundell talks about how she would like to try and get the film in to Edinburgh Film Festival. The film did show at EIFF in 2013, so she obviously managed to achieve this goal.

Next up, we have an interview with co-producer Wendy Griffin, clocking in at 8:51. Griffin wasn't involved from the very start of the conception, though she was around for helping to get the finance. She tells us that they eventually settled on a smaller budget than what was originally planned, and how the script had to be changed in order to film certain scenes within the budget limitations. Amazingly, she tells us they had three weeks of sunshine in Glasgow when they were filming. Whenever I go to Glasgow, I seem to be lucky to see three hours of sunshine!

The final substantial extra is an interview with director John McKay (15:50). He starts off by telling us that he was principally attracted to the project because of the unintentionally charming script, and the fact it was not your normal Scottish crime/drugs/Nessie feature. McKay's interview is more in-depth than the previous two and covers more aspects such as the music. He also talks about whether or not he believes the film has international appeal, and how the growing international recognition of Karen Gillan (thanks to Doctor Who) should help the appeal outside of the UK.

The rest of the extras are self-explantory:
Start-up Trailers:
- "Much Ado About Nothing" (1:34)
- "Forget Me Not" (1:48)
Theatrical Trailer (1:39)

Overall


There's no doubt about it, "Not Another Happy Ending" is as formulaic as you could possibly get. However, Karen Gillan has a great girl-next-door screen presence, and, in my opinion, has what it takes to play the lead in Hollywood rom-coms usually set aside for the likes of Jennifer Aniston.
| | | | | |
| --- | --- | --- | --- | --- |
| The Film: C+ | Video: B- | Audio: B- | Extras: D+ | Overall: C+ |