The Show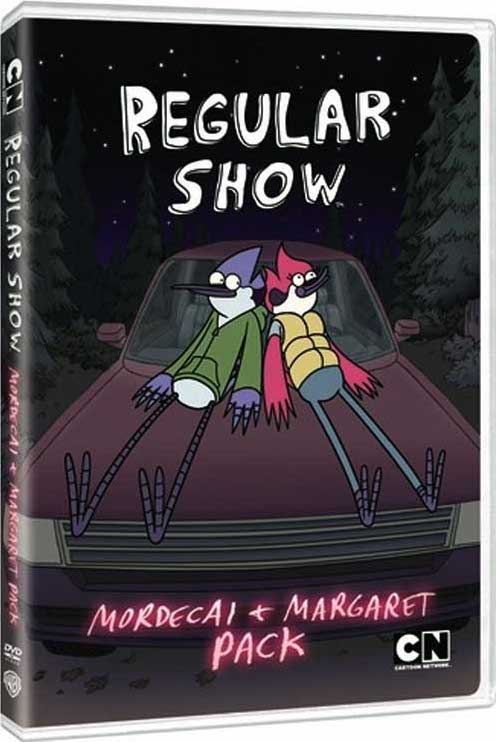 "I can't be myself! Myself sucks!"

As creator J.G. Quintel has discussed in commentaries, Comic-Con appearances, and interviews, the original title of his adult-skewing Cartoon Network series "Regular Show" was going to be "The Normal Show". And, strange looking characters and ludicrous sequences sprinkled throughout the series aside, it really is very normal. Although undeniably weird (at one point, before he realized it was too on the nose, Quintel also considered calling his creation "Weird Show"), underneath the oddity of the entire production, "Regular Show" is just your average sitcom. Sure, it's animated, and compacted into half the amount of time (most episodes are a mere 11-minutes, as opposed to the usual 22), but in the end, like so many sitcom staples in the past and present of primetime television, the series is just sort of regular; a normal show about a group of friends, and the trials and tribulations they face in their twenties.

Any decent sitcom has a budding romance between the lead and his/her closest friend. Such a plot thread plays a key role in many "Regular Show" episodes, and indeed the overarching serialization of the show as a whole. For walking-talking blue jay Mordecai (J.G. Quintel) and his best pal, Rigby the raccoon (William Salyers), their potential girlfriends take form in two waitresses at the coffee shop located across the street from the provincial park where they work. Mordecai is smitten with a robin named Margaret (Janie Haddad), but is too chicken to tell her that he likes her, even when it seems she may feel the same. Rigby isn't so much in-like with Margaret's best friend, a mole named Eileen (Minty Lewis), as he is in subtle loathing; she on the other hand is awkwardly obsessed with him. Like many of the elements that make "Regular Show" was it is--or has become--the dynamic between characters has evolved through slight serialization, grown through the various scenarios and setups over the course of the show's five seasons, and built on what came before. Usually, this plays out in references to past jokes, but is also true of various character arcs.

What began for Mordecai and Margaret in the early episodes as a simple meet-cute has stumbled through the stages of romance experienced by many a sitcom couple, and their arc is clearly cataloged in this new "Mordecai + Margaret Pack" DVD release, a 16 episode compilation of similar themed stories from "The Regular Show's" first four seasons. Their friendly, even unknowing, flirtation; the burgeoning friendship and awkward unrequitedness (at various times, on both sides); inopportune moments and many almost firsts: dates, dinners and movies, and eventually the family get-togethers. That's all here, and then some. Of course, what gives "The Regular Show" its own unique take on the traditional sitcom formula--pushed there by the boundless lack of restriction afforded to animation--is that it subverts well-worn setups by taking the mundane day-to-day into another outlandish dimension, sometimes literally.

Take, for instance, one of the episodes from the show's third season. "Bad Kiss" starts out like any sitcom episode could, as a double date night for Mordecai and Margaret, and Rigby and Eileen. At the end of the night, the blue jay and the robin share their first kiss. The kiss happens in a moment of spontaneity, and is ruined by Mordecai's bad breath--the result of him eating one too many chili dogs. This sends Mordecai into a spiral, assured that his relationship with the girl of his dreams can now never be; he'd do anything to go back and change what happened. Luckily for Mordecai, Rigby has a time machine, which he claims he bought from some guy for "like 15 bucks." Abusing the powers granted to them through this device, Mordecai and Rigby jump through time, hours into the past, to stop the bad kiss from happening. What they slowly uncover is the inevitable paradox of time travel; the things that happened the first time occurred precisely because they'd already gone back to change them. It's heady, especially for what's ostensibly a children's show (although, "Regular" really isn't a children's show; it might be a show for child-like adults though), and is itself kind of a trope of time travel, which the show acknowledges through a convoluted black hole of self-reference that I won't get into. In the end, they succeed, and the kiss--good or bad--doesn't happen at all. It's a fun play on the will-they-won't-they that's so pervasive in primetime sitcoms. It gives the audience what they want (the guy gets the girl) and allows the writers to take it back, prolonging the plot-line without actually ever running into the issues that so many other series' succumb to.

Although primarily concerned with Mordecai and Margaret's relationship, kicking off with the very first episode in which the characters meet and ending with the season four finale, where Mordecai finally asks Margaret to be his girlfriend, this compilation DVD deviates to explore--as the series has started to do in later seasons--several side characters. Chief among them is Muscle Man (Sam Marin), the slovenly green blob of slackery-embodied, whose relationship with his girlfriend Starla (Courtenay Taylor) proves suitable fodder to space out the story of the literal love-birds with alliterative "M" names. Here too, in one of the Muscle Man episodes, it's easy to see how "Regular Show" twists on the tropes of sitcom form. "Fancy Restaurant" trots out the "character-needs-a-wing-man-in-his-ear" device, with Mordecai and Rigby nearby, feeding answers to a nervous Muscle Man as he meets Starla's fancy parents. It starts out normal enough, but by episodes end has a villainous maître d' and his murderous busboys out for blood, trying to kill Muscle Man and friends for not being "fancy" enough.

And, presumably because "Regular Show" outside of this compilation is mostly about Mordecai and Rigby's friendship--which is very much a bromance in the classic sense--some of the deviations on disc deal more with their relationship; sometimes even working in tandem with something else. I'd be remiss if I didn't reference the episode "Do Me A Solid", which mixes both a first for Mordecai and Margaret (their first date) with a storyline in which Rigby tests the limits of his relationship with his best friend, doing a "solid" (or favor) in exchange for 10 more solids in return. Rigby's requests conflict with the nice night Mordecai plans to have with Margaret, and in the end, when Mordecai breaks the code, and refuses to do one final--very embarrassing--"solid", it literally rips apart the very fabric of the space time continuum. In typical "Regular Show" fashion, the series takes something so normal, so mundane, and contorts it in a crazy, very amusing way.

"Regular Show: Mordecai + Margaret Pack", essentially volume 5 in an ongoing compilation DVD series, contains 16 episodes from seasons 1-4. The connecting theme here is that all the episodes center on the romantic relationships, endeavors in dating, and especially the will-they-won't-they courting and coupling of Mordecai and ladybird friend Margaret. Unlike the "Fright Pack", which I personally felt was just a little too loaded on material from the first and second seasons, which have already been released in their entirety on DVD and Blu-ray, this new set has a more even spread with three-quarters of the episodes coming from the unreleased seasons 3 and 4. (Season 5, which finished airing in January, is the odd man out. Expectedly, no "new" episodes have been included.) The 16 episodes are:

- "Caffeinated Concert Tickets"--Mordecai and Rigby work overtime so they're have money to buy tickets to a Fist Pump concert. Ultimately, they make a deal with a caffeinated devil to make sure they get them. This episode introduces Margaret (and Eileen).

- "It's Time"--Mordecai is jealous of Rigby when he manages to get a date with Margaret.

- "Muscle Woman"--Muscle Man breaks up with his girlfriend, Starla, leaving him an emotional mess and unable to work. Mordecai and Rigby are forced to pick up Muscle Man's jobs around the park, and in other places too.

- "Do Me A Solid"--Nobody is supposed to refuse when somebody says "do me a solid," but Mordecai and Rigby take the power of the solid favor too far and a dire situation arises.

- "Cruisin'"--Mordecai and Rigby believe that "crusin'" gets you the ladies. When Margaret and Eileen disagree, they make a bet with the boys to see who can get a random stranger's phone number by the end of the night.

- "Yes Dude Yes"--Mordecai thinks Margaret is engaged, and slips into a depression. To get him out of his funk, Rigby sets him up a girl named CJ.

- "Access Denied"--Mordecai and Rigby try to get into a club for Margaret's birthday party.

- "Fancy Restaurant"--Mordecai and Rigby help Muscle Man be fancy when he has to go to a fancy restaurant with Starla and fancy her parents.

- "Diary"--When Mordecai and Rigby accidentally break the lock on Margaret's diary, they try to fix it before she finds out.

- "Bad Kiss"--Mordecai finally kisses Margaret, but has a bad breath so he tries to go back in time to prevent it from happening.

- "T.G.I Tuesday"--Mordecai, Rigby and Eileen want to celebrate Margaret's new internship before she has to quit the coffee shop.

- "Do Or Diaper"--Mordecai has to kiss Margaret by the end of the week or else wear a diaper.

- "Picking Up Margaret"--Mordecai agrees to pick Margaret up from the airport, but encounters an anti-technology gang that won't let anyone with a cellphone through their blockade.

- "Meteor Moves"--Mordecai plans to kiss Margaret at a big meteor shower.

- "Family BBQ"--Margaret wants Mordecai to meet her family at a big barbecue, especially her dad, Frank, who has a tendency to be over-aggressive.

- "Steak Me Amadeus"--Mordecai wants to ask Margaret to be his girlfriend.

Video


The "Regular Show: Mordecai + Margaret" compilation features 16 episodes on a single disc, encoded in their original 1.78:1 anamorphic widescreen aspect ratio. The series' animation is almost child-like in its simplicity. Line art is sketchy, rough looking and indistinct. backdrops have a flattened, textured pastel fill, and actual detail is modest at best. But colors are bright, vibrant, and appealing. As was the case with the "Fright Pack" compilation, the transfer appears to suffer from some edge enhancement, slight haloing and over-sharpening. Rather oddly, the severity and overall hardness of the halos lessens in later episodes, from the more recent seasons. Perhaps the artificial sharpening dates back to the source animation/master, and isn't exclusive to the DVD?

Audio


"The Regular Show" started in stereo but moved to 5.1 surround in HD broadcast after the first season. All 16 episodes, even those from season 2-4, are presented on DVD in English Dolby Digital 2.0 stereo. The track is fine, but nothing about it is noteworthy. The show's score, by Mark Mothersbaugh, is his usual mix of eccentricity, favoring a fitting low-fi sound, and even occasionally plunging to the harsh depths of 8-bit MIDI effects. The disc also includes optional English subtitles.

Extras


The only extra is an extended scene; the "Steak Me Amadeus" restaurant commercial (1.78:1 anamorphic widescreen; 30 seconds) in its entirety.

Bonus trailers are for:

- "Regular Show: Season 1 & 2" on Blu-ray and DVD (1.78:1 anamorphic widescreen; 32 seconds).
- "Adventure Time: Season 1 & 2" on on Blu-ray and DVD (1.78:1 anamorphic widescreen; 32 seconds).
- "Scooby Doo: Wrestle Mania Mystery" on Blu-ray, DVD and DigitalHD (1.78:1 anamorphic widescreen; 1 minute 1 second).

The DVD and Blu-ray release of seasons one and two included audio commentary on every episode. It's a shame the commentaries for the episodes from the first and second seasons here weren't ported over, although I assume they were left off to make fans who wanted them spring for the pricer full set.

Overall


"The Regular Show: Mordecai + Margaret Pack" includes 16 episodes from the series' first four seasons, among them some of the highlights of the will-they-won't-they arc for the two titular lovebirds and their burgeoning romance. It has some other fine episodes too, and plenty that prove, although the series is plenty strange at times, in the end, it's just a normal, regular show, not unlike a good sitcom. The DVD release is okay; video is fine, with traces of edge enhancement but strong color. The stereo audio is unfortunate considering the series is broadcast in surround sound on Cartoon Network. And the lack of any meaningful extras are a bit of bummer, if only because a number of commentaries have been recorded for episodes from seasons one and two, yet haven't been included in this set's version of those episodes. But, fans should certainly consider this compilation, simply because so many of the episodes from seasons three and four (a total of 12) have yet to find their way to any disc.
| | | | | |
| --- | --- | --- | --- | --- |
| The Show: B | Video: B- | Audio: C | Extras: F | Overall: C+ |