The Film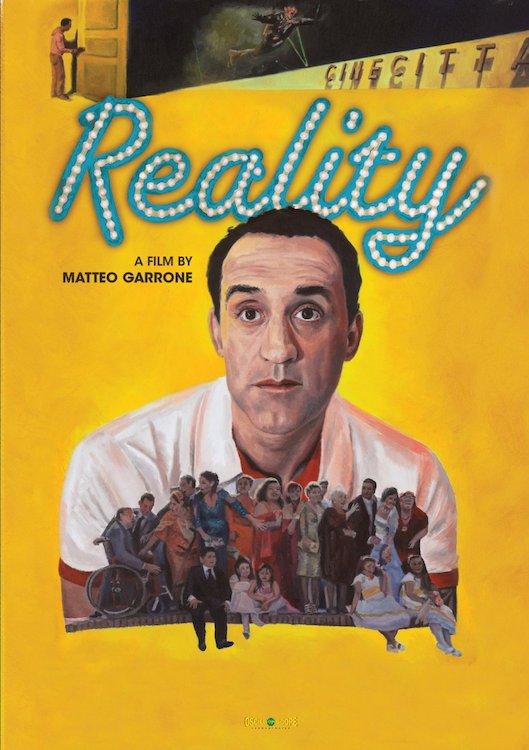 Matteo Garrone's "Reality" takes you to an exotic place far away from anything resembling the real world--at least for awhile. Cheekily titled, the director's follow up feature after his gritty gangster pic "Gomorrah" (2008) spins in the opposite direction, away from the hard and cold horror of organized crime, down a different rabbit hole that turns Naples into a land of brightly colored fairytale fantasy. Encapsulated in a dreamlike, perhaps even Fellini-esque un-reality, the story follows a likeable everyman, a fishmonger named Luciano (Aniello Arena), driven mad as a hatter by the prospect of fame and fortune. "Reality" is an interesting, impressively mounted and made picture, that only really comes apart at the deliberately obtuse end, which robs the story of some of its meaning (although one could argue that its intentionally left muddled like the mind of the lead). Fortunately, the opaque conclusion doesn't diminish the film's finer qualities, a charismatic lead performance and seamless long-take camerawork among them.

Not to overplay the fantastical elements of this moralistic fable, at its core this is an intermittently grounded semi-serious drama with elements of absurdist comedy and subtle social commentary. "Reality" is about a number of things, some of them very Italian: family, faith, and at least on the periphery the fractured dichotomy of maintaining old world traditions within the framework of modern society. Much like the city of Naples itself--at least the hyper-colorized version of it seen in the film--the story is a study of contrasts and seeming contradictions; the setting supports a sort of disconnection in a dramatic sense. Shady semi-criminal dealings done in a literal house of god with only a tinge of irony; family get togethers that inevitably devolve from rapid fire conversation into everyone sitting around, not talking, mindlessly watching television. In that sense, it's also partly a scathing, although surprisingly slight satire of the current culture. In large part, it pokes fun of "reality television" craze and the concept of modern celebrity. Does the comical criticism work? Mostly. The film is, albeit darkly, very funny. And its more serious minded moments of drama are supported by a strong performance from Arena, who hardly seems a first time actor on screen (although he is. Incidentally, he's also currently serving a sentence for mafia-related crimes; he was on parole specifically for the film).

At its most basic, "Reality" is about a man who starts out doing the wrong things for the right reasons, and ends up doing the right things for the wrong ones. Luciano is simple fellow of meagre means who occasionally engages in small-time scams to make ends meet. Not entirely dissatisfied with his life, he'd likely leave well enough alone to live out his days running a shop in the town center if it weren't for his loud and lively extended family, who one day push him to try out for the Italian version of "Big Brother". Initially, Luciano has little faith in his prospects, but when the casting directors of the series take a liking to his down-to-earth qualities and modest life story, he starts holding out hope that he'll end up as a contestant in the house--something that, no matter if he wins or loses, will make him famous, and able to amass a small fortune doing special appearances at weddings, mall openings, and clubs.

The film opens, in a lengthy, unbroken helicopter shot, on a gleaming white chariot as a winds its way down the pristine cobbled streets of a picturesque village, ultimately settling through the gates of a towering castle. The arrival of a Prince and Princess, like something out of a storybook (or Disney film)? Hardly. It's just a couple of newlyweds on their way to their reception at this palatial palace where all sorts of celebrations--birthdays and other parties--are happening. And so begins the deliberate misdirection on Garrone's part, presenting a fantasy scene imbued, eventually, by logical reality. He toys with the convention a lot, setting scenes, and the entire filmic world, in a place that is similar enough to be familiar to our own but also different to know that it's probably not. The approach has the appropriate effect, blurring what is and isn't real. The artifice is part of everyday proceedings, integral to establishing the mindset of Luciano who increasingly can't separate the world's of tangible fact and filmed fiction. Early on, when he visits the famed Cinecittà Studios for a call-back audition, the scene is a wondrous, lyrical, carnival of color. It's distractingly gorgeous, but also prompts a question in the back of the mind: is this reality, or an extension how Luciano sees this magical place? Is it both?

As the story goes on, and the producers never quite give their definitive yes or no, cruelly announcing that other cast members might join even after the season starts, Luciano begins to believe that all the world, or at least what's immediate to his life, is a stage. He deludes himself into thinking he's being watched, all the time, if not by the general public then certainly by the judges and producers that will put him on TV someday. There is a scene in the middle of the movie, as a he begins to doubt but not exactly give up the thought that he'll be on the show, where he greets visitors from out of town as potential judges, lavishing them with free fish--and then turning away a local bum, loudly, looking for the same hand out. Immediately, he regrets his actions--seeing the others, who eye him with apprehension--and tries to bequeath the beggar with riches and more. Was the homeless man a test, and did he fail by turning him away so rudely? His over-reactionary response is to give, give, give away everything: even furniture from his own home. When his wife asks him why, what he could possibly be thinking, Luciano responds that they're watching, and once he gets on the show, he'll be able to buy her new things anyway.

According to an interview with writer/director Matteo Garrone included on this disc, the story, in part, including the bit with the furniture, happened to his brother in law, who temporarily lost his mind and all concept of reality while auditioning for the non-scripted series. To his credit, whether because at least the outlandish basis was true or not, Garrone sells the scenario by crafting well rounded, real people and a fully textured world. He luxuriates in the long-take, letting whole scenes play-out in a single cut. Long stretches of the film, which unfold in rapid exchanges of dialog both expository and wholly extraneous (part of that lived in reality), are one fluid shot. It's surprisingly natural to the structure and style of the film, and like any truly competent long-take should, appears seamless without calling attention. The camerawork is not showy, but organic--and after a while I stopped marvelling at the technical craft of it all, and just enjoyed the visceral vernacular of Garrone's own cinematic voice. He contorts his creation in all sorts of ways, molding a light drama with elements slight satire into a dark tragicomedy to ambiguous ends. He does it in such slight way, the transition, like the long-takes appears seamless. Anchored by gorgeous production design and cinematography, a wonderfully whimsical score by renowned composer Alexandre Desplat, and the captivating screen presence of Arena, "Reality" is a strong film, albeit its unique world and Garrone's way of making films will likewise probably make it unpalatable for some.

Video


"Reality" is a beautifully photographed film, and it must look magnificent on Blu-ray. I say that not because the film translates poorly to DVD, as is sometimes the case, but because the 2.35:1 anamorphic widescreen transfer is quite impressive even on DVD, and proves a well mastered standard definition disc from a pristine source can still hold up when viewed within certain screen sizes. Cast with a golden yellow glow, and a slightly overcooked contrast that gives everyone the complexion of an orange, the film's colors are never natural, but always bright, bold and super-saturated. Greens, yellows, and reds dominate the palette, which has been pushed electronically via a DI. In medium shots and close ups, detail is unbelievably revealing; stubble, cobble and foliage, and faint patterns and textures of clothing show off the surprising level clarity. The disc is so well authored, with such solid detail, that the encode actually renders a nearly natural layer of 35mm grain in a few scenes. Blacks are inky and deep, and delineation strong even in night sequences. The disc only really comes apart in wide shots, which soften up considerably (the exception being the opening flyover, which could easily be mistaken for mediocre HD at first glance). With the camera pulled back, the deficiencies of the DVD format become apparent; not just in terms of resolution but the traces of various artifacts and some slightly blocky noise. But, so much of the film is shot tight, with such fluid and intimate camerawork, overall, even with the less than stellar wide shots, this is a very nice looking disc, especially on a display less than 46 inches or so.

Audio


Oscilloscope offer up the original Italian audio track of "Reality" in two doses: Dolby Digital 5.1 surround and Dolby Digital 2.0 stereo; optional English and French subtitles have been included. Curiously, the stereo track is the default on this disc. I switched to the 5.1 option for this review. I was impressed by this track, and like the video supports the thought that a well mastered DVD from a stupendous source can still produce pleasing, praiseworthy results. From the opening bars, the first thing heard, of Alexandre Desplat's whimsical score, the track features a lush, warm tone and has wonderful fidelity. The score is nicely balanced within the mix, never overwhelmed by other elements and never eclipsing anything else. The rapid fire dialog is clear, and finely prioritized within the track, panning appropriately with Gorrone's roving camera. Although light on action, the track offers plenty of atmosphere; the town square is alive with the sounds of life; in another sequence, the whirring blades of a helicopter dominates the full sound field as it lands; a sequence in a dance club is almost unbearably loud, with powerful low end bass; and the dream sequences are populated by all sorts of noise natural and fantastical alike.

Extras


Up first are four deleted scenes (2.35:1 anamorphic widescreen), in Italian with English subtitles:

- "Come back home" (1 minute 31 seconds).
- "Painting the house" (1 minute 17 seconds).
- "On the Bus" (39 seconds).
- "Into 'Big Brother'"(3 minutes 21 seconds).

Next, is a lengthy and very interesting interview with director Matteo Garrone (2.35:1/1.78:1 variable AR; 23 minutes 48 seconds), in which he talks influences, and the film's origins and themes; he also discusses character, tone, etc. In Italian with English subtitles.

"Dreams Are My Reality" (Variable AR; 19 minutes 49 seconds) is a more standard EPK featurette with the cast and crew on set. Lots of film clips and B-roll, with surprisingly little comment from those involved. It's simply a fly on the wall sort of thing, and very tedious as a result. In Italian with English subtitles.

Another EPK featurette, titled "Inside Reality" (2.35:1/1.78:1 variable AR; 9 minute 1 second), offers a look at the film's score, visual effects, and production design. In Italian with English subtitles.

The final featurette is titled "Profile of Aniello Arena" (1.78:1 anamorphic widescreen; 13 minutes 17 seconds); the piece offers a look at the actors career and craft, with specific attention to his work acting on stage while incarcerated. Arena is currently serving time in prison. In Italian with English subtitles.

A theatrical trailer (2.35:1 anamorphic widescreen; 2 minutes 29 seconds) has also been included.

Bonus trailers are for:

- "Oscilloscope Laboratories" promo (Variable AR; 1 minute 59 seconds).
- "The Law" (1.37:1; 3 minutes 1 second).
- "Four Lovers" (1.85:1 anamorphic widescreen; 1 minute 4 seconds).
- "Terribly Happy" (2.35:1 anamorphic widescreen; 2 minutes 17 seconds).

Packaging


"Reality" arrives on DVD from Oscilloscope Laboratories packaged as spine number 49. Typical of the company's often-elaborate packaging, the dual layered DVD-9 comes housed in a multi-paneled digipak made of 100% recycled materials. The eco-cardboard case is housed in a slipbox. The package is marked as Region 0 and should be playable around the globe, although note that the video content is encoded in NTSC format.

Overall


Matteo Garrone's fanciful follow up to his gritty "Gomorrah" (2008) finds the director still working in darkness, only now filtered though the apparent lightness of comedy. "Reality" is a satirical and surreal fable, with some bleak and black humor, that manages to mix in fairytale elements, including a requisite moral, but thematically stays very grounded in the real world--even when the main character decidedly doesn't. The ambiguity of the ending, and the laborious means by which the plot ultimately reaches that point, make the picture slightly more muddled and easily misconstrued, without solid meaning. But there's no denying it's a well made film, with gorgeous cinematography and a magnetic performance by the lead. Oscilloscope's DVD release has a stunning transfer within the confines of standard definition media, and an equally impressive Dolby 5.1 soundtrack. Extras include a worthwhile interview with the director and some less essential features like EPK featurettes, deleted scenes, and trailers. Highly Recommended.
| | | | | |
| --- | --- | --- | --- | --- |
| The Film: B+ | Video: A- | Audio: A- | Extras: C | Overall: B+ |