Lady Assassin (The) AKA My Nhan Ke
R2 - United Kingdom - Terracotta Distribution
Review written by and copyright: Samuel Scott (13th March 2014).
The Film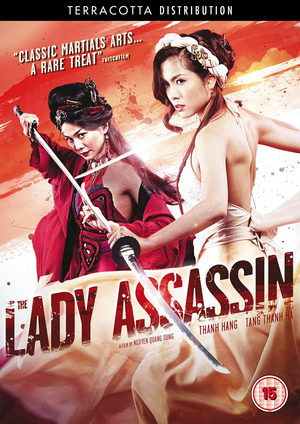 ***This is a technical review only. For reviews on the movie from various critics, we recommend visiting HERE.***

A sexy, action packed martial-arts fantasy proving looks can kill. Four drop dead gorgeous women operate a tavern to lure businessmen and corrupt officials to a bloody death.

The sword-fighting sirens take on a new recruit, an innocent young woman whose family has been killed by an evil general, and train her to become a skilled assassin to avenge her family's massacre.

Feisty women with dark secrets, evil outlaws, corrupt officials and a healthy dose of martial arts action come together to help create the biggest ever box office hit in Vietnam.

Video


Terracotta Distribution continue to release lesser known Eastern films onto DVD, and it's great to see Vietnam's highest ever grossing feature (at time of writing at least) get an English friendly disc. Although the feature was in 3D in cinemas, this DVD features a 2D version only, in the original aspect ratio of 1.85:1.

As I already mentioned above, "The Lady Assassin" was originally released in 3D, and with that in mind, there are some very obvious moments which were shot in a way to showcase the depth and pop out capabilities of 3D, and this can actually be a little distracting during a couple of scenes (such as early on when the girls are playing a volleyball style kicking game). As is the norm for many 3D features, the film also uses very bright and vivid imagery (which would look a shade darker when wearing 3D glasses), and these colours have been represented perfectly here. The reds and blues really pop, whilst avoiding any blooming or colour bleeding, and blacks are inky and deep. Details are strong throughout, especially when it comes to the oriental clothing and locations. There are no noticeable issues with the transfer, and as to be expected for such a new movie, there's no problems with scratches, or any other unsightly blemishes.

The disc is PAL, and the feature runs 83:12.

Audio


Terracotta Distribution provides this release with a single Dolby Digital 5.1 audio track in the original language of Vietnamese. It should come as no surprise with how popular the movie was in its homeland, that the audio track is certainly above average. Every punch, kick and impact hits you hard showcasing strong directionality through the five channels, and solid depth in the sound field. Dialogue is clear at all times, never drowned out by the score or effects, and volume levels are consistent throughout. There are no scratches or drop outs in the track, and I noticed no signs of background hiss. It would've been nice if the sound effects were of a higher quality production wise, but I believe the disc is likely a very solid representation of the source.

Optional subtitles are available in English.

Extras


Unfortunately, nothing of note. The list of extras here are unsubstantial and self-explanatory.

Photo Gallery (0:50)
About Terracotta text (1 page)
Start-up Trailers:
- "Big Tits Zombie" (1:48)
- "Hansel & Gretel" (1:45)
- "Gyo: Tokyo Fish Attack" (0:37)
Bonus Trailers:
- "Breathless" (1:57)
- "Big Tits Zombie" (1:48)
- "Gyo: Tokyo Fish Attack" (0:37)
- "Desire to Kill" (1:31)
Theatrical Trailer (1:22)

Overall



| | | | | |
| --- | --- | --- | --- | --- |
| The Film: C+ | Video: A- | Audio: B | Extras: E+ | Overall: C+ |

---
DVD Compare is a participant in the Amazon Services LLC Associates Program and the Amazon Europe S.a.r.l. Associates Programme, an affiliate advertising program designed to provide a means for sites to earn advertising fees by advertising and linking to amazon.co.uk, amazon.com, amazon.ca, amazon.fr, and amazon.de.