The Film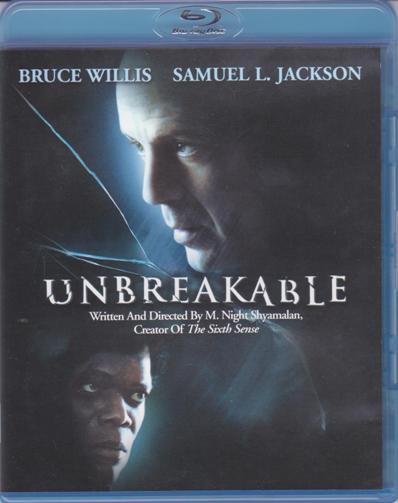 I've made it no secret in my past reviews that I'm a comic book fanboy, having grown up with comics my generation has proven bountiful in terms of comic based film adaptations, some great and some not so great. But the majority of Marvel films have been very satisfying especially the recently released "Iron Man" (2008) which kicked off the the summer movie season with a bang drawing in over $100 million for its opening weekend! Warners has also done well with its reboot of the "Batman" series and the much anticipated "The Dark Knight" (2008). There are also a handful of films that are based in the comic world that are not actually adapted from comic creations, one such film is "Unbreakable" which is probably one of the best films of this sort, it's also an intriguing origin tale and a powerful character drama. It's my favorite of M. Night Shyamalan's films and one I watch repeatedly.

I recall it's original theatrical run was met with mixed reviews, both from critics and filmgoers, many found the sudden and shocking ending too jarring and the film's pace slow. These are my favorite aspects of the film. The story arc focuses on the reality of what happens to man who suddenly realizes he has powers. The film tells the story of David Dunn (Bruce Willis), a security guard who works at a local football stadium miraculously survives a devastating train crash without a single scratch. David is contacted by Elijah Price (Samuel L. Jackson) AKA Mr. Glass, the owner of an art gallery specializing in original comic book art. Elijah is the exact opposite of David, he's frail and has a bone disorder that causes severe breaks while Daviod is strong and has never fallen ill in his life. Elijah believes that David has superhuman abilities, having survived the train crash, but David is not convinced. It takes the encouragement of his son Joseph (Spencer Treat Clark) who develops an obsession with the possibility of his dad being a superhero to set him off on his journey of discovery. The journey takes David through a series of tests that bring out his abilities until the film's final and shocking end. A Twist which is synonymous with Shyamalan films.

The film is so unlike most superhero films because this one is firmly based in reality, and delves into the mechanics of discovering abilities without falling into ridiculousness. However, having said that, the film embraces the classic comic book cliches, dealing with heroes and villains being exact opposites, discovering your powers with a mentor-like character, the discovery of the hero's weakness among others. If you're a comic book fan then this film is the serious-dramatic comic book movie that's less about fantastic effects and eye-candy and more focused on the characters and story.

The tone is similar to "The Sixth Sense" (1999) it's sombre and the dialogue is soft spoken, so we have basically the same whispering-type performance from leading man Willis which we also saw in "The Sixth Sense," It's a bit draining over time but strangely appropriate. Jackson's character is inspired and provides a great counterpoint to Willis' David. These two make great onscreen co-stars, I wish these two would do more films together. Shyamalan does a wonderful job casting his films and this one is no exception, I loved how the comic conventions of what defines a hero and villain (which are explained early in the film by Elijah) are transfered into the characters, Willis, the big and strong type with a pronounced jaw defines the classic hero while the villain, in this case Elijah has a larger than normal head (this represented by his unusual hairdo).

The film's pace is slow moving, and deals more with the uncovering of David's abilities so it's not for everyone, but there's plenty here to keep you glued to the screen, aside from the great performances and story elements, we've got some gorgeous photography and a fantastic score that adds further depth to the film's world. I especially love the train station sequence, my advice - skip to that scene, turn the volume up, sit back and enjoy.

If you love this film as much as I do and have a HD set up to take advantage of this release then I won't need to write anything further, if you've never seen this film and love comics then this is a release that definitely needs to be seen. Highly recommend.

Video


Presented in the film's original theatrical ratio of 2.35:1 and is in high-definition 1080p 24/fps and has been created with AVC MPEG-4 compression. The image much sharper and deeper than the standard DVD release, the transfer more than likely uses the same master created for the previous Vista Series release. The film's subdued metallic color palette is accurately represented, blacks are deep and bold and detail is brilliant. This is especially true when looking at skin texture and background detail which looks solid. There are a few scenes which appear a bit noisy, there's some grain which flattens the overall image at times but this is not too much of a problem. The overall transfer is clean apart from a few specks of dirt at the start but otherwise it's a solid HD transfer but I have a feeling that it could still look better.

Audio


Four audio tracks are included in English Uncompressed PCM 5.1 sound presented in 48kHz/24-Bit as well as standard Dolby Digital 5.1 tracks in English, French and Spanish. I viewed the film with its PCM track for the purposes of this review, and I was looking forward to cranking this soundtrack and it did not disappoint. The soundtrack provides a wonderful atmosphere for the film, the dialogue is clear and distortion free, the films subtle ambient sounds immerse you in the film's world and the score booms throughout the sound space. This PCM track totally trumps the DTS track on the DVD release by a massive margin, it feels much more open, depth and range are well handled by the track. It's excellent.
Optional subtitles are included in English for the hearing impaired, French and Spanish.

Extras


The Blu-ray release ports over the DVD extras which includes three featurettes, a multi-angle feature, deleted scenes and a bonus trailer. Below is a closer look at these supplements.

First up we've got the "Behind The Scenes" featurette which runs for 14 minutes 21 seconds and is the basic EPK clip we've al come to expect from most releases which includes some footage from the set, interviews from the key cast and crew. There's a lot of backpatting the direction, yes ok, we get it...he's a genius. Let's move on and show some actual making-of stuff please.

The next featurette is "Comic Books And Superheroes" running for 19 minutes 29 seconds, this is my favorite clip and takes a look at comic books, heroes and villains, influences and creators talk about the mechanics of comic books, plots among other things.

The disc also includes "Train Station Sequence" a multi-angle feature also lifted from the DVD release and allows the viewer to watch the scene in different ways that include the finished scene and the storyboards, you can also cycle through different audio formats as well. The clip runs for 4 minutes 15 seconds.

There are also 7 deleted scenes which feature director introductions and include:

- "Elijah Taken Away" runs for 1 minute 12 seconds, Elijah is taken away from the physiotherapy clinic after trying to tell Audrey about her husband's abilities.
- "Audrey In Waiting Room" runs for 2 minutes 14 seconds, a nurse informs the crowd that survivors of the crash are being brought to the hospital as Audrey waits with her son with some snacks.
- "David In Shower" runs for 3 minutes 8 seconds, David tells Joseph to go sleep in his room and makes him a deal, later David takes a shower and breaks down.
- "Elijah At Fair" runs for 5 minutes 35 seconds and is a flashback of a young Elijah at a fair and goes on a ride and eventually gets hurt.
- "David With Priest" runs for 4 minutes 48 seconds, David confides in a priest about his past.
- "Audrey Calls David" runs for 6 minutes 1 second, a sequences of scenes which include some character development between David and his wife and David and his son.
- "Weightlifting In Locker Room" runs for 5 minutes 45 seconds, another bench press sequence at his work to see how much he can lift.

Following that is "Night's First Fight Sequence" a featurette that runs for 2 minutes 29 seconds and is basically a segment from a very early short film that Shyamalan did when he was younger. The director intros the clip which features a rather amateurishly shot action scene which involves a hostage situation.

Bonus trailers for:

- "Disney Blu-ray" spot which runs for 2 minutes 30 seconds.
- "National Treasure: Book of Secrets" which runs for 2 minutes 2 seconds.

Overall


While the extras are ok at best, I wish there where better making-of clips that delve deeper into the production process, an audio commentary would also have been a welcomed addition.
| | | | | |
| --- | --- | --- | --- | --- |
| The Film: A | Video: A | Audio: A+ | Extras: B | Overall: A |