The Film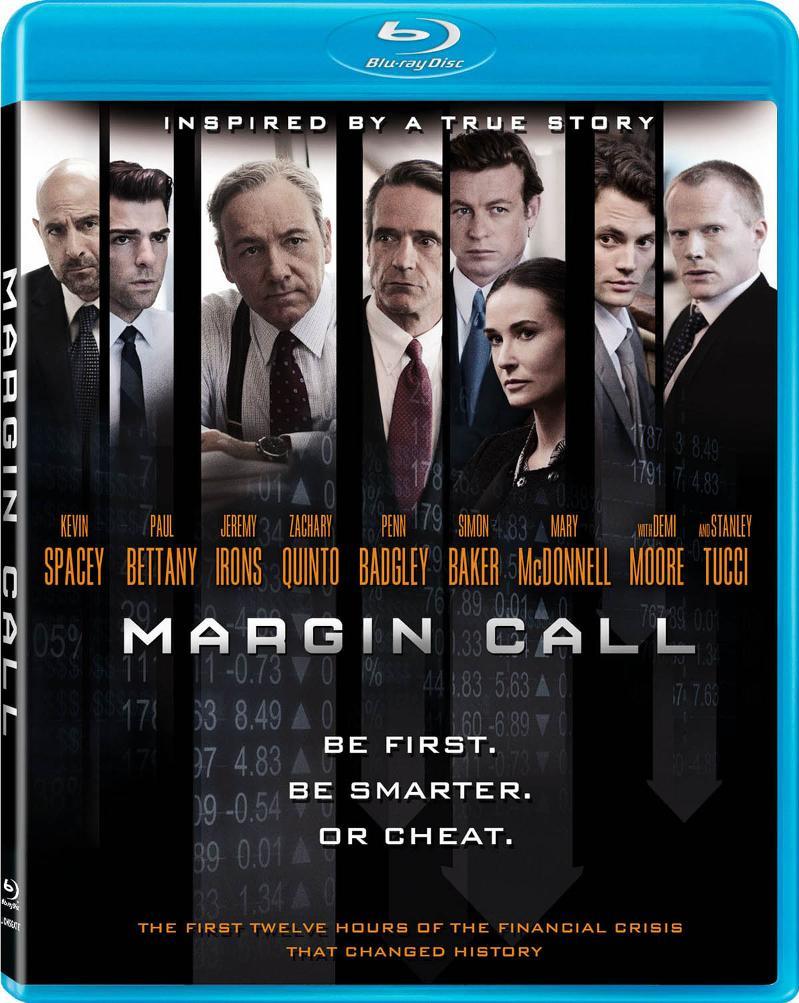 It's hard to overstate just how devastating the financial crisis of 2008 was because, still today, the effects are being felt across the globe. Most financial markets have rebounded by now. Most people, however, are still finding the damage done during that major meltdown continues to affect jobs, financial security, retirement, and other facets of life. It's one of those global crises few would like to revisit. Yet that is exactly what writer/director J.C. Chandor has done with "Margin Call" (2011), a financial drama that captures a roughly 28-hour period in time when the catastrophe to come was discovered by a financial risk analyst and all hands were called on deck in a vain attempt to mitigate the incoming damage. You might find yourself thinking a film of this ilk would be obtuse and stuffy, full of devastating realities few want to relive, especially in the context of film. We tend to use movies to escape reality, not embrace it. The only way a movie like this could be made without boring the audience to tears is if there's a tight script and a roster of top-tier talent to add heaping doses of gravitas across the board and that is precisely what we get.

"Margin Call" opens with an appointed team of human resources personnel impartially firing a majority of the financiers at a respected firm. One of the layoffs, Eric Dale (Stanley Tucci), had been working on something potentially huge just before his unceremonious dumping. On his way out the door, he hands a flash drive off to one of his team members, Peter Sullivan (Zachary Quinto), and delivers a cryptic message: "Be careful." Sullivan, out of respect for his departed boss, analyzes the data Dale had been working on and thinks he's uncovered something massive. Some of the firm's top dogs – Sullivan's boss, Will Emerson (Paul Bettany), and HIS boss, Sam Rogers (Kevin Spacey) – are brought in at nearly midnight to pore over the data. According to Sullivan's findings, the firm has been operating in extremely volatile conditions for the better part of a week. Should any of their investments in the portfolio dip below 25%, the total loss would be more than the company's total market capital. If they dip more than 25%, the results would be catastrophic. The top bosses call in CEO John Tuld (Jeremy Irons) to discuss the situation. His suggestion is to mitigate their losses by any means, which in this case means selling off all their toxic assets to unwitting buyers. Not everyone is happy with this decision, but seeing as they're about to witness the biggest meltdown on Wall St. in some time, maybe ever, the game is changed and ethics are pushed aside in the name of money.

One thing "Margin Call" nails is the scope of the recession; it's enormous. In fact, it's so big the film barely even covers it. Chandor had two choices here – spend the entire film drowning audiences in exposition and hope it makes sense in relative layman terms; or, lay everything out there, no matter how obtuse, and allow the endless shop talk and concerned faces to sell how dire the situation has become. He wisely chose the latter. I've heard the reasons behind the recession spelled out a hundred different ways on a dozen different networks and at the end of the day, unless you're part of that industry it all sounds like a foreign language. But most of us get the gist of what occurred, meaning Chandor doesn't have to pander to audiences and spell it out because this all happened; we know the roots. Still, lots of talk about "risk analysis" and "packaging securities" could easily be dry as a desert if you don't have the right actors doing the talking. Chandor does. I won't say we're quite into "Glengarry Glen Ross" (1992) territory – because that cast is damn hard to top – but with Kevin Spacey, Stanley Tucci, and Jeremy Irons, we're close. Not to say Demi Moore, Paul Bettany, Zachary Quinto, or anyone else featured here is a slouch.

Kevin Spacey was, ironically, the lowest on the celebrity totem pole of importance when he starred in "Glengarry Glen Ross". Here, he's on the top. Spacey's performance is one of the film's most nuanced because he is the only character with a real arc. His demeanor is presented as softened to a degree right from the start, as we learn his beloved dog is currently dying (and costing him $1000/day to keep alive). Once he's brought in and told of the crisis, he hardens up enough to start pulling in resources and begin tackling the primary issues. When Tuld arrives, though, he's given orders that are against his morals, causing him to do some introspective soul searching. Spacey has yet to phone in a performance (at least that I've seen), always performing at the top of his game. Paul Bettany is also very good as the unflinching floor manager who is constantly thinking two steps ahead to ensure he isn't ousted when the big crap hits the fan. The guy is such an absolute, rarely breaking his work character to talk with people like human beings. The one exception being a later meeting with the recently-fired Eric Dale, played by Stanley Tucci, who completely sells everything about a man who was just fired from his position of 19 years. The opening scene when he gets canned is sold so well you'll not only be pissed at these HR women we just met, but Tucci's immediate despair is entirely palpable.

The world of finance isn't the most appealing subject matter for film. Not only can things get dull, but after the helluva time most people have had trying to get out from under a two-ton boulder since 2008 I doubt few are eager to relive the nightmare via film. Thankfully, the stellar cast assembled here is just too good to ignore. This isn't trying to be some kind of morality tale, or to showcase the life of a firm before and after a devastating meltdown. "Margin Call" only wants to highlight the reactions and thoughts of a major firm's employees knowing as soon as daybreak comes they have to make tough decisions that will send shockwaves through the global economy. Chandor's script is sharp and genuine; elevating what could've easily been boring material into a tight drama.

Video


The film's 1.78:1 1080p 24/fps AVC MPEG-4 encoded image is generally pleasing. Many of the shots are done in close-up, all of which reveal an appreciable level of detail in faces and clothing textures & patterns. Colors appear to be slightly washed out, with a mild push toward blue as a dominant hue. Medium and wide shots are where things get iffy, with both only showing a moderate level of detail and the occasional appearance of background noise. Only the opening and closing of the film are set during the day; most of the film takes place under the cloak of night in an office building. Black levels could have been much stronger, as they tend to look hazy more often than not. There's room for improvement all around, but as this isn't exactly a film that requires stunning visuals I'll call it a pass for getting the job done with acceptable results.

Audio


The English DTS-HD Master Audio 5.1 surround sound mix (48kHz/24-bit) isn't overly aggressive or even mildly aggressive. As you might expect from a film taking place in an office, dealing with finance, it's largely a dialogue-driven affair with no need for any type of bombastic showing. The score is ambient and supportive, carrying the picture along nicely despite a lack of real presence. Subtitles are included in English, English for the hearing impaired, and Spanish.

Extras


"Margin Call" isn't packed with bonus material, but what is provided rounds out the supplements nicely enough. The disc has an audio commentary, deleted scenes, featurettes, a photo gallery, and bonus trailers.

Writer/director J.C. Chandor is joined by producer Neal Dodson for this audio commentary. The discussions are fairly typical, with focus on casting, locations (they were able to use a recently vacated office in NYC), story structure, script changes, and more.

A couple of deleted scenes (1080i) are included:

- "Inside Tips" runs for 2 minutes and 7 seconds, Peter runs into an old acquaintance on the street.
- "Strike Quick" runs for 2 minutes and 24 seconds, Tuld has some words of wisdom for his team.

"Revolving Door: Making Margin Call" (1080i) is a featurette that runs for 5 minutes and 58 seconds. This is your standard EPK promo reel, providing an overview of the film and its cast.

"Missed Calls: Moments with Cast & Crew" (1080p) is a brief featurette that shows some on-set clips of the film being shot.

"From the Deck" photo gallery (1080i) runs for 3 minutes and 41 seconds, showing a mixture of still shots from the making of the movie.

Also included are a lot of bonus trailers (1080p) for:

- "Answers to Nothing" runs for 2 minutes and 16 seconds.
- "Albert Nobbs" runs for 2 minutes and 31 seconds.
- "The Conspirator" runs for 2 minutes and 32 seconds.
- "Winter's Bone" runs for 2 minutes and 29 seconds.
- "Pulp Fiction" runs for 1 minute and 31 seconds.
- "I Love You, Phillip Morris" runs for 2 minutes and 31 seconds.
- "EPIX promo" runs for 1 minute and 19 seconds.

The disc also comes equipped with Lionsgate's usual bookmarks feature.

Packaging


The single disc comes housed in a Blu-ray eco case.

Overall


"Margin Call" is the type of film that could easily be as fun as watching paint dry were it not for a tight script and a host of excellent actors putting in solid work. The subject matter may seem tired to most, since few are eager to relive those heavy moments of the recession, but Chandor does well to ensure the film never lags.
| | | | | |
| --- | --- | --- | --- | --- |
| The Film: B | Video: B- | Audio: B- | Extras: B- | Overall: B- |