The Film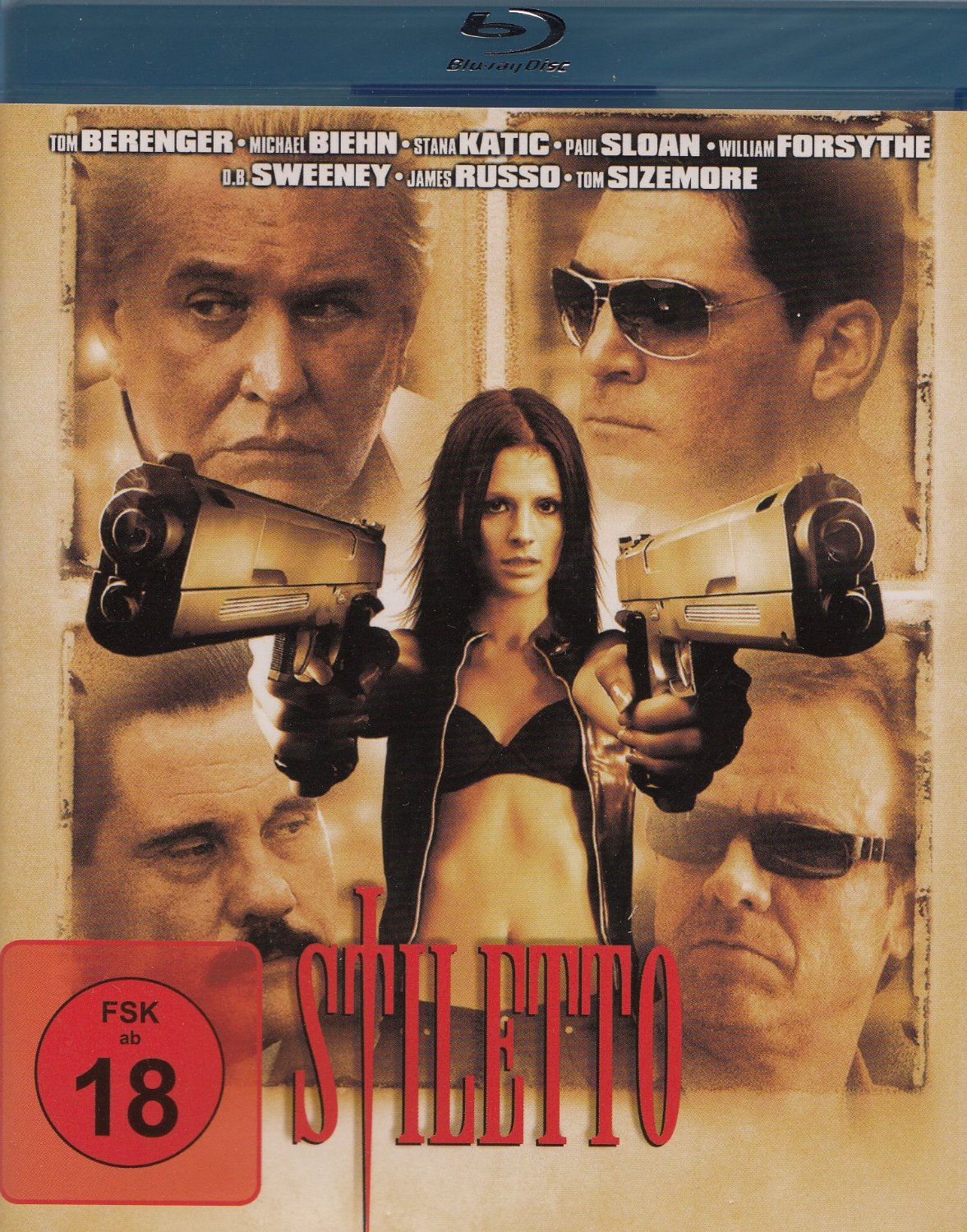 I may have stated this before, but anytime I'm about to watch a direct-to-video film featuring a large cast of relatively well-known actors it gives me pause. On one hand, I hope that their years of being behind the camera will add some gravitas to what is probably a low-budget flick with little going for it. On the other hand, I sometimes look at the names and see a who's-who of actors that have been out of the spotlight for some time, which makes me a little unsure about how well they'll handle their respective roles. "Stiletto" (2008) features some great names in cinema, including Tom Berenger, Michael Biehn, William Forsythe, D.B. Sweeney, Tom Sizemore and others. All of these guys have provided some solid performances in the past and, for the most part, they're not half bad here. The biggest problem the film runs into is that everyone else who isn't one of the aforementioned veterans, well… quite frankly, sucks.

"Stiletto" is sold as a pure revenge flick, appropriate since it opens with a couple of cold-blooded murders as executed by the film's lead, Raina (Stana Katic). She spends the course of the film hunting down random men and killing them in some creatively grotesque ways, all in an attempt to avenge her kidnapped sister. Following hot on her trail is Beck (Paul Sloan), a detective who's trying to figure out why someone is killing all of these career criminals. It really is that simple.

The biggest gripe I had with this film, aside from some shoddy acting, was the revenge plot itself. Now, I don't necessarily mind if a film likes to keep the audience guessing as to why the vengeance is required, but at least have a good payoff when it's explained at the end. Without giving anything away, Raina probably could have just asked the man she blames, Virgil Vadalos (Tom Berenger), a simple question and none of this would have been necessary. I like my revenge films to pack a wallop by really giving us something heinous to motivate the avenger. Alas, such is not the case here.

On the stronger side of things, we do get some good actors doing some good acting here. Now, they might have seemed like they were doing a better job than usual because all of the non-name actors are atrocious, but the casting certainly could have been worse. Leading the pack is Tom Berenger. Ol' Tom sure has packed on some weight since I last saw him in a film, but he's still a solid actor and his role here is rather substantial, though I'm at a loss as to exactly how he survives a brutal run-in early on.

Michael Biehn plays Virgil's right-hand man, Lee. Biehn is a total psychopath in this role. I've always been a fan of his work, so having him play a good supporting character lent the film some credence in my eyes. Tom Sizemore plays a guy named Large Bills who loves money, hookers and drugs. Yep, that's a stretch alright. William Forsythe is probably the best actor in the bunch here, but he's got such a horrendous accent going on here that it made me laugh more than anything. Still, the man brings such intensity to every film he's in that it's hard not to enjoy watching his act. D.B. Sweeney shows up long enough to be tortured, quite graphically I might add. I'll tell you what, though, I loved him in the underrated "Fire in the Sky" (1993).

Also along for the ride are Dominique Swain as a former junkie, Kelly Hu as a fellow detective, James Russo as a neo-Nazi skinhead, David Proval as a Middle Eastern auto mechanic and two actors who have played Leatherface from the "Texas Chainsaw Massacre" series, R.A. Mihailoff and Andrew Bryniarski. As I said, lots of familiar faces seem to pop up all over this film.

But, with the bad comes the good… and the other actors here sure bring it. Our lead, Stana Katic, looks to be going through the standard revenge motions as Raina. Sure, she dishes out some nasty violence, but I never bought into her as a being capable of half the things she pulls off. Without picking everyone apart, suffice it to say that no one else in the cast shines through. They don't even do a good job of complementing the seasoned actors here; they just come across more like mannequins for them to act against.

If bad acting and a weak revenge plot don't bother you that much, then you'll be happy with the carnage on display. I was seriously surprised at how grisly some of the death scenes were. Plenty of the red stuff flows here, courtesy of Joe Colwell, whose IMDB resume shows a healthy selection of horror films on his slate. It's no wonder he can sling the crimson grue all over the screen.

Director Nick Vallelonga looks to be something of a renaissance man, as his IMDB page shows that he not only directs, but is an actor, writer and producer. I wouldn't say he has much of a signature visual style, but he does a competent enough job to keep the film flowing. One thing you don't want in a film like this is a lot of drag time, so the brisk pace is welcomed.

Video


Independent German studio Great Movies have released "Stiletto" onto Blu-ray in the original aspect ratio of 2.35:1. The transfer is 1080p and uses an AVC MPEG-4 encode, but to be honest, it sucks. I imagine it is simply an upscaled conversion from the DVD release. From the get-go, the transfer looks a little rough around the ages. It was shot using a Panavision Genesis HD camera, and unfortunately, we have a few occasions where digital noise and compression artefacts are quite noticeable, particularly at 31:30, when two Asian ladies are faux fighting in a restaurant. Another problem with the transfer, is it is very inconsistent. Some scenes look passable, and show reasonable detail, especially in hair and stubble, but most of the time, it's lacking pinpoint clarity and sharpness. The depth of the palette is also an issue. Colours are washed out, and never jump out the screen. Blacks aren't deep enough, and brighter colours feel overly soft and subdued. This isn't the worst looking Blu-ray I've viewed, but it's certainly in the bottom 10%.

To top it all off, this is a heavily edited version of the film which has been cut by over 11 minutes, coming in with a total runtime of 87:12.

Audio


There are two audio options available on the disc:
- English DTS-HD Master Audio 5.1
- German DTS-HD Master Audio 5.1

For my viewing, I opted for the original language track of English DTS-HD Master Audio 5.1. Well, I wonder who is in charge of quality control over at Great Movies? Whoever it is, they need a boot placed firmly up their backside, because this is a complete and utter travesty. All dialogue, no matter who says it and which position they are in on-screen, comes via the rear left speaker, and this quickly becomes extremely annoying. A flick over to the German dub however, really kicks you when you're down, because it has the correct dialogue placement. Ugh, such an amateur mistake has ruined what would've been the strongest element of the disc. Despite this problem, all dialogue is still clear, and there are no obvious headaches such as scratches or drop outs. The incorrect channel separation and directionality does make this a horrible track though, and makes it very difficult to concentrate on the movie. Note that the German audio plays by default.

German subtitles are available, and they are optional.

Extras


The extras available here are self-explanatory.

Photo Gallery (1:41)
Bonus Trailers:
- "Conjurer" (1:44)
- "Animals" (1:59)
- "Parasomnia" (2:33)
- "Schlau wie ein Fuchs" (2:03)
Theatrical Trailer (1:07)

Trailers are in a mix of English and German without subtitles, and in standard definition.

Overall


Film reviewed by Anthony Arrigo.
A/V and extras reviewed by Samuel Scott.
| | | | | |
| --- | --- | --- | --- | --- |
| The Film: C- | Video: D | Audio: D- | Extras: E | Overall: D- |