The Show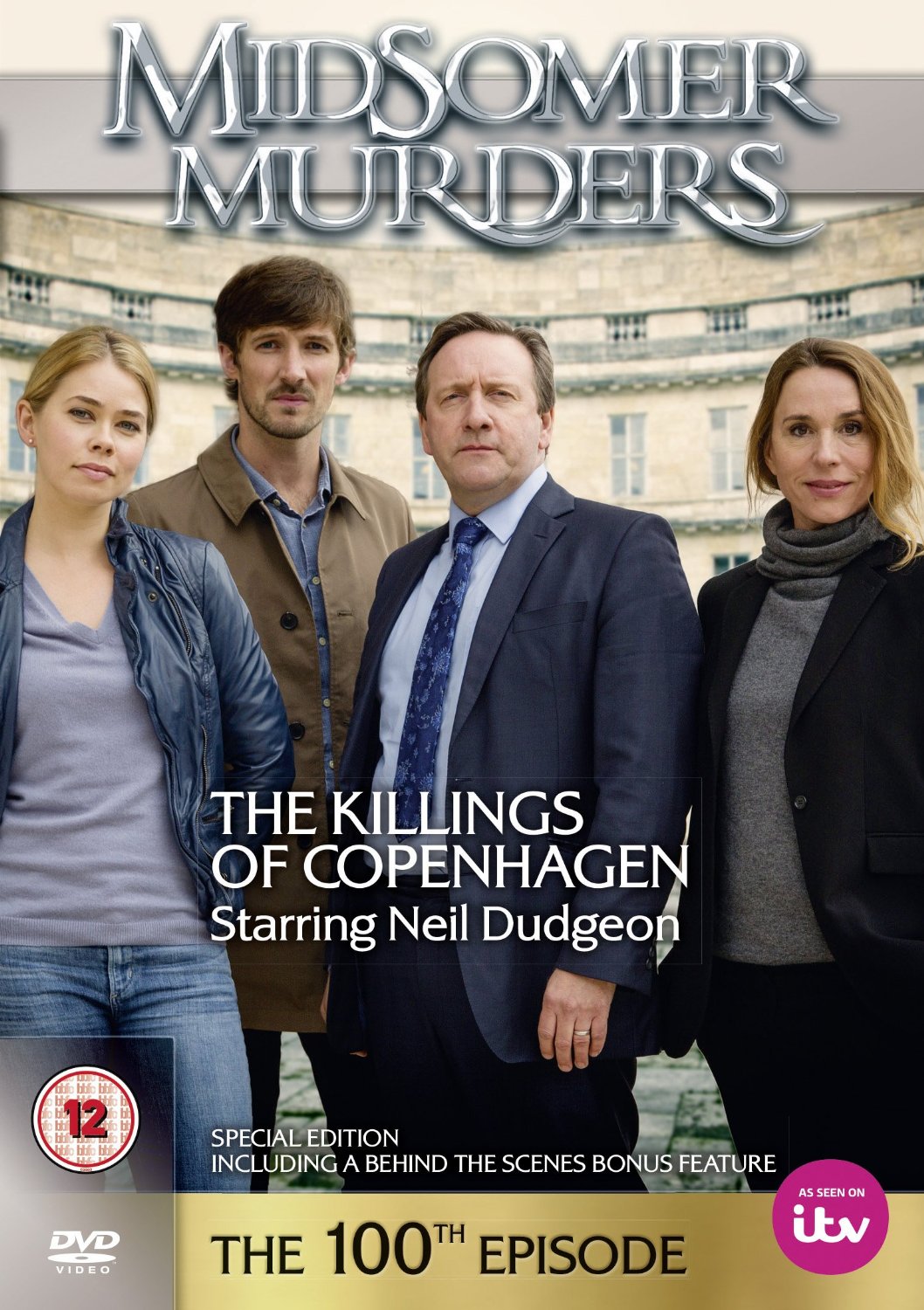 ***This is a technical review only. For reviews on the show from various critics, we recommend visiting HERE.***

Barnaby (Neil Dudgeon - Life of Riley) and Nelson (Gwilym Lee - Restless) join forces with two female detectives when the boss of a Midsomer biscuit company is found dead in Denmark. Poulsen (Ann Eleonora Jorgensen) and Degn (Birgitte Hjort Sorensen) are city detectives, sceptical about working with coppers from a sleepy English village. But Barnaby and Nelson soon discover the dead man had more linking him to Copenhagen than just his famous Golden Clusters.

Despite it's picture postcard setting, more than 300 people have died before their time in Midsomer. A further nine have died from natural causes. There has been 281 murders, 12 accidental deaths and 11 suicides with Badger's Drift the village with the highest death toll.

Bizarre and gruesome murder implements since the series began include death by cow, electrocution from a faulty microphone, death by poisonous frog, a French guillotine, a hatpin in the ear, bottles of relish, a tower of newspapers, a gargoyle from a roof, and even shelves of Midsomer blue cheese.

The Killings of Copenhagen is the 100th episode of the acclaimed show.

Video


Independent studio Acorn Media have released the 100th episode of "Midsomer Murders" onto DVD in the original broadcast ratio of 1.78:1. The transfer is anamorphic, and is unsurprising in appearance. It looks just like it did on original broadcast - nothing special.

As is often the case with recent television shows that find their way onto home media formats, not much work is done to the transfer - generally because they are already of a high standard. Although "Midsomer Murders" is no different and looks good, it doesn't set the world alight. There is a bizarre white spot that flickers for a couple of brief frames at 65:58, but this could be a reflection of the on-set lighting. Apart from this, there is no damage visible in the tranfer. I noticed no scratches, blemishes, or edge enhancement, and only mild and brief occurrences of aliasing. Detail is solid, especially in the scenes that take place in the biscuit factory, and the murdered owner's home, though shadow detail doesn't have the clarity I would have hoped for. Colours are natural, and typical of detective drama sequences, with sequences in Denmark taking on the currently favourable 'Nordic Noir' tones. Blacks aren't always deep, but they exhibit no signs of crushing, and still look pleasing enough to the eye.

The feature runs 88:44.

Audio


Acorn Media have provided a single English/Danish Dolby Digital 2.0 Stereo track which is more than adequate, and, like the transfer, is reflective of the original broadcast. Channel separation is kept to a bare minimum, but directionality is technically sound when it occurs. Dialogue is clear at all times, and volume levels are consistent between the score, effects and speech. As should be expected for a new episode of one of the UK's most beloved shows, there is no damage to the audio track to be found. I noticed no signs of background hiss, and no drop outs or scratches. To be honest, there really isn't much more to say here. No issues, but not reference quality.

Optional subtitles have been included in English, though they are forced for all Danish dialogue.

Extras


The extras start with an interview with director Alex Pillai which clocks in at 16:24. He talks about how each episode is like a feature film, due to very few recurring characters, and plenty of guest stars. He also talks about moving part of an episode out of Midsomer for the first time, working with Danish cast and crew and Denmark's hit shows "The Killing" and "The Bridge". Pillai obviously has a lot of love for the genre, and praises Danish crime shows as a heavy influence in this episode. It's a good interview which also feature a few clips from the episode littered throughout.

Next up, we have a featurette entitled "Series 16, Behind the Scenes", which runs 22:08. The featurette is essentially interviews with the director and the main British cast members who talk about the bond between the two detectives, and the various aspects of the four episodes which make up series 16. We even get little sound bites from some of the guest stars including Les Dennis! We also get a little bit of footage from behind-the-scenes in-between the sound bites. It's a standard making of, but there's enough info here to make it worthy viewing.

The rest of the extras are self explantory.

Picture Gallery (0:35)
Cast Biographies/Filmographies:
- Fiona Dolman (2 pages)
- Neil Dudgeon (2 pages)
- Gwilym Lee (2 pages)
Author Caroline Graham biography (2 pages)
Broadcast Dates list (9 page)

Overall


There is a reason "Midsomer Murders" has been sold to over 225 territories, and that's because it's a consistently solid and well made show. The 100th episode adds a Danish twist, and doesn't disappoint. The technical presentation is of broadcast standard, and there is a nice little selection of extras included, though a commentary would've been a welcome addition.


| | | | | |
| --- | --- | --- | --- | --- |
| The Show: B+ | Video: C+ | Audio: B | Extras: C | Overall: B |