The Film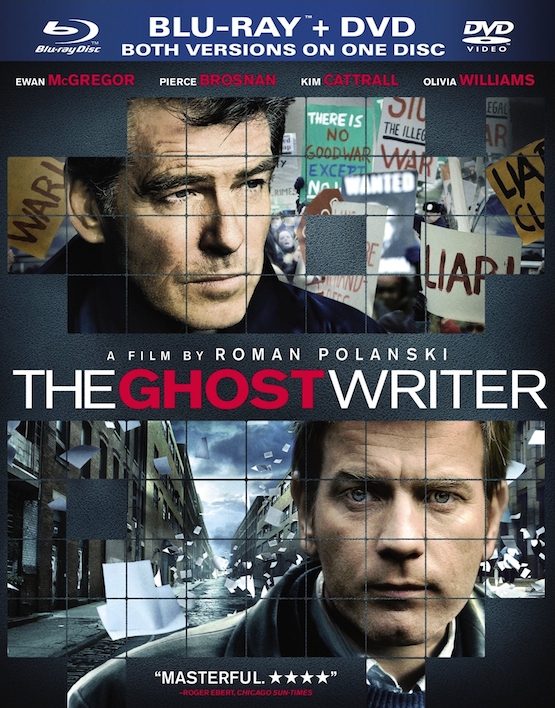 Aside from a rather stagnant period in the 80's, director Roman Polanski has been working consistently since the early 50's. The reception his films have received has been mostly mixed since 1979's "Tess", however, with Polanski eventually garnering acclaim once again for "The Pianist" (2002), a film that managed to snag Adrien Brody an Oscar. People have very mixed feelings about Polanski as a person – he is, after all, living in self-imposed exile from America after being brought up on charges of raping an underage girl – though few can argue against his directorial merits. The man knows how to make taut, stirring cinema full of emotion and usually ending with a stinger that is cause for serious reflection on what you've just witnessed. "The Ghost Writer" (2010), released as "The Ghost" internationally, is arguably one of his finest efforts in years. Its release, however, was nearly overshadowed by an old enemy rearing its head once more.

In September 2009, the U.S. decided to reopen the Polanski case and attempted to have the director extradited back to American soil. He was arrested in Switzerland and placed under house arrest, eventually being freed when the Swiss declined to approve his extradition. The case remains open to this day. An Interpol red notice is still out there should Polanski slip up and find himself somewhere that would swiftly send him back to the U.S. for sentencing. All of that sounds extremely stressful for a then-76-year-old man. And, yet, despite all the furor his fervor remained; Polanski oversaw post-production work on "The Ghost Writer", completing the film while under house arrest in Gstaad. That alone should be testament to the man's commitment to his craft; that he could even clear his mind well enough to put the finishing touches on such a subtle, sly thriller is, frankly, astounding.

A new ghostwriter (Ewan McGregor) has just been hired to pen former British Prime Minster Alan Lang's (Pierce Brosnan) memoirs after Lang's previous ghostwriter, Mike McAra, was found dead, washed up on a beach. The publishing company wants the book put on the fast track since Lang is about to be indicted for alleged war crimes. He is accused of handing over terrorist suspects to the CIA so they could be tortured for information, according to his former Foreign Secretary Richard Rycart (Robert Pugh). Lang is staying in a vacation home on Martha's Vineyard with his wife, Ruth (Olivia Williams), and his staff, which includes personal assistant Amelia Bly (Kim Cattrall). The writer moves in to Lang's home so they can work closely on the book, which had been roughly drawn up by his predecessor. Upon arrival, the writer clears out some of McAra's old personal effects and stumbles upon an envelope containing photos that indicate he may have dug up some old dirt on the former PM. The writer does some digging around the island and learns from an old man (Eli Wallach, still acting at 95!) that the place where McAra's body was found doesn't jive with the island's tides. He thinks it was placed there. Further adding to the mystery, an old woman who supposedly saw activity on the beach that night was pushed down a flight of stairs and is in a coma.

After an unexpected tryst with Lang's wife, the writer decides it might be best to go back to his prior hotel. But when he takes off in the guest vehicle previously used by McAra, he finds a pre-programmed route indicating where McAra had last been before he died. The writer follows the route all the way to the home of Professor Paul Emmett (Tom Wilkinson), who was shown pictured was with Lang in one of the hidden photos McAra left behind. When Emmett becomes evasive and perturbed under questioning, the writer begins to think he's on to something. He dials a number McAra had scrawled on the back of a photograph, one he called earlier and quickly hung up upon learning it led to Rycart. But now he needs his help. The two meet up and Rycart lays out a timeline suggesting Lang has been nothing more than a CIA mole all these years, doing everything in his power to aid the U.S. Armed with this information and a new resolve, the writer leaves to confront Lang and find out the truth - a truth which may have been right in front of him the entire time.

To say anything more would spoil a tense climax. Polanski's film operates under such a tight script, with a mystery that tricks viewers into thinking the end result has been determined and the film simply needs to figure out how to connect the dots. Yet things are never so simple, especially in Polanski's world. The writer, who is never named by the way, isn't a political character by definition; he says so himself. His method is to get to the heart of his subjects, a characteristic that gives him good insight into Lang and those he surrounds himself with. Lang, however, is seemingly nothing more than a mouthpiece concerned with preserving a sense of dignity for posterity through his memoirs. When pressed to elaborate on his early acting days, he not only flatly refuses but grows noticeably annoyed, too. Is Lang hiding something that would kill his reputation should it get out? Or is he just a stuffy, closed politician? The script, written by Polanski and Robert Harris – author of the novel, "The Ghost", upon which this film is based – toys with the character of Lang's true intentions constantly; he's the ultimate red herring. And that ending is perfectly executed. No pun intended?

It's telling that in spite of Polanski's well-known misdeeds the man can still draw an A-list cast like few others. Brosnan and Cattrall were attached early on, along with Nicolas Cage as the writer and Tilda Swinton as Ruth. When production hit a snag both dropped out, being replaced by Ewan McGregor and Olivia Williams, respectively. Brosnan is perfect as Lang. He's got this sort of myopic, tunnel vision thing going on where even in private life he can't help but act like a damned politician. There's a vacancy to his eyes at times that makes you question whether he's actually smart enough to even have done the things he's accused of by his former aide. Lang is loosely modelled after actual former UK Prime Minister Tony Blair, who was good friends with President George W. Bush.

McGregor brings a great sense of curiosity and caustic apathy to our unnamed writer. He doesn't like politics or the people who do those jobs, and he only takes this job because the pay is so damn good. He isn't one to listen to others, always operating to the beat of his own drum. Even though his predecessor died under mysterious circumstances, and the evidence is mounting that a vast political conspiracy could be presenting itself to him, he continues on with his investigation because he knows this is something huge and he's got to see it through. It's hard to imagine Cage inhabiting the role after seeing McGregor's performance. Olivia Williams is wonderfully cold and blunt as Lang's distant wife. Her opinion is seen as invaluable to him, deferring to her on nearly every major decision he has to make. Kim Cattrall has had a pass from me since "Big Trouble in Little China" (1986). She's fantastic here as the controlled and confident personal assistant who is also doing a little extra side work with Lang.

"The Ghost Writer" presents a mystery that begins as a nebulous concept that hasn't fully revealed itself, and once the stakes are known and the groundwork is laid the story seems to be less about figuring out who is responsible and more so why. But great political thrillers aren't made by showing a hand so easily, which is why this film is such a gripping example of how to do it right. Polanski's direction radiates with the assuredness of a man who knows his craft inside and out. Add in a small leading ensemble delivering killer performances and what you get is an underrated thriller that saves the biggest surprises for the finale.

Censorship information: In order for this film to secure a "PG-13" rating in the United States language has been censored in order to remove several usage of the "f-word", "c-word" and also "a**hole". If you are seeking an uncensored version, the film has been released without censorship in Canada and the UK.

Video


What an exemplary image the film's 2.35:1 1080p 24/fps AVC MPEG-4 encoded image provides; it's practically flawless. Detail is absurdly exquisite across the board; doesn't matter whether shots are close, wide, or anywhere in between. Everything is crisp, from facial features down to clothing textures and fine wood grain in the Lang's modern beach home. The color palette favors a steely, cold aesthetic, with blues and greys making up the predominant hues. Contrast is fantastic, with black levels maintaining a deep saturation in any conditions. There isn't a bad thing to say about the picture here.

Audio


The English DTS-HD Master Audio 5.1 surround sound track (48kHz/24-bit) is no slouch either, though its strength is in providing latent support to the action on screen, not dominating the ears through a particularly noteworthy score. That isn't to knock composer Alexandre Desplat's subtle, intriguing compositions, which really tighten the tension as the plot slowly unfolds. Dialogue is handled perfectly, never drowned out or hard to hear in the mix. Despite the lack of any real bombastic moments, there's a fantastic range to the track full of atmospheric cues that really sell the setting. The LFE track never booms with authority, but there are many moments when it perfectly supports any action occurring on screen. Subtitles are included in English for the hearing impaired and Spanish.

Extras


"The Ghost Writer", confusingly, arrives on a BD/DVD combo flipper disc. Yes, you read that right - Blu-ray on one side, DVD on the other. Didn't anyone learn anything from HD DVD? The supplements aren't very in-depth or exhaustive, but Summit has included a decent selection nonetheless.

"The Ghost Writer: Fiction or Reality?" (1080p) is a featurette that runs for 10 minutes and 46 seconds. Author/screenwriter Robert Harris talks about the inspiration for his book, explaining that it took him around a decade to crack the story. Serious patience.

"The Cast of The Ghost Writer" (1080p) is a featurette that runs for 11 minutes and 48 seconds. All of the film's principals discuss their appeal to the material, as well as how it was working with Polanski and their other esteemed colleagues.

"An Interview with Roman Polanski" (1080p) featurette runs for 8 minutes and 36 seconds. The legendary director talks about what drew him to this script, how he wanted to film it like a Raymond Chandler novel, and making sure the suspense stayed high.

A couple of bonus trailers (1080p) are also included:

- "Letters to Juliet" runs for 2 minutes and 32 seconds.
- "Remember Me" runs for 2 minutes and 34 seconds.

Packaging


The flipper disc comes housed in a Blu-ray keep case, with a slip-cover featuring matching cover art.

Overall


Polanksi's political thriller is taut, tense and terrifically acted in every respect. A rare thriller that feels immensely satisfying right up to the very end.
| | | | | |
| --- | --- | --- | --- | --- |
| The Film: A- | Video: A | Audio: A- | Extras: C+ | Overall: B+ |