Call Centre (The): Series 1 (TV)
R2 - United Kingdom - Acorn Media
Review written by and copyright: Samuel Scott (5th April 2014).
The Show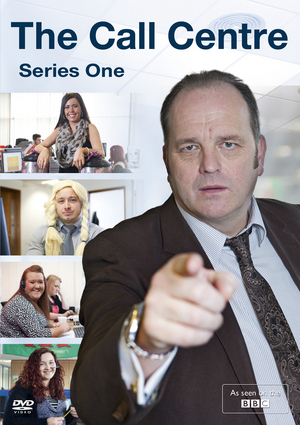 ***This is a technical review only. For reviews on the show from various critics, we recommend visiting HERE.***

Meet Nev Wilshere, the inimitable boss and star of The Call Centre, the hit fly-on-the-wall documentary that follows the up-and-downs of a Swansea call centre.

Itís like The Office meets TOWIE, as Nev makes it his business to know the ins and outs of his call centre workersí professional and private lives and introduces a wonderful team of extraordinary characters.

Acorn Media provide all five episodes of the first series for the first time on home media.

Donít hang up, get acquainted with The Call Centre.

Video


Acorn Media have released BBC Three's surprise hit show about life in a Swansea call centre onto DVD for the first time, using the shows original broadcast aspect ratio of 1.78:1. As to be expected for such a new show that aired on a well-known channel, it's a solid transfer.

All five episodes have been put onto a single disc, so some may expect there to be a few compression issues. Although one or two moments of compression artefacts are noticeable, it's a rare issue, and far from becoming a nuisance. Colours are natural throughout, especially skin tones which range from the pale whites due to the overuse of make-up, to a horrible orange thanks to the abundance of fake tan. Detail is surprisingly solid, especially in long range shots that give views right the way across the large open plan for the work spaces, and during the meetings which take place in the stairwell. Aliasing does appear a couple of times, mainly due to the shirts that are being worn, but like the compression artefacts, it isn't an overbearing issue. For those who enjoyed the shows run in 2013, you'll be more than happy with the transfer here.

The episodes have slightly varying run times as outlined below (there is also a play all option):
- Episode One (57:07)
- Episode Two (57:18)
- Episode Three (57:20)
- Episode Four (57:11)
- Episode Five (57:12)

Audio


Just a single audio track here; English Dolby Digital 2.0 Stereo. As the show is a reality series, there's no need for a fancy 5.1 track which would add little atmosphere apart from the environmental noises of a rowdy office environment - which, quite frankly - would get annoying after five hours! The track we have is technically solid. Channel separation might be minimal, but it is effective, especially when it comes to the occasional score. Dialogue is clear as day at all times, and for those who have an issue with understanding the Welsh accent, optional English subtitles have been provided. There are no dropouts or scratches, and I noticed no background hiss. As solid a presentation as the show needs.

Extras


Just a photo gallery (1:18).

Overall


Love him or hate him, call centre boss Nev Wilshere is a character, which makes for a very different sort of work environment that seems to work well for his business. The disc is technically solid, and fans will be very happy with it, despite the lack of extras.

| | | | | |
| --- | --- | --- | --- | --- |
| The Show: C+ | Video: B+ | Audio: B+ | Extras: E | Overall: C+ |

---
DVD Compare is a participant in the Amazon Services LLC Associates Program and the Amazon Europe S.a.r.l. Associates Programme, an affiliate advertising program designed to provide a means for sites to earn advertising fees by advertising and linking to amazon.co.uk, amazon.com, amazon.ca, amazon.fr, and amazon.de.