The Show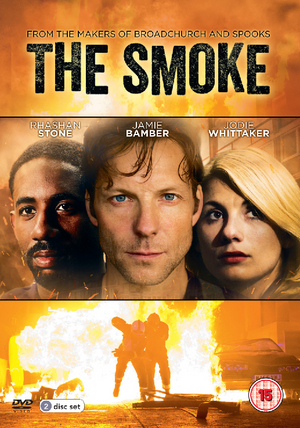 ***This is a technical review only. For reviews on the show from various critics, we recommend visiting HERE.***

From the makers of Broadchurch; high-octane, gripping, adrenaline-fuelled drama at its best.

What is it to be a hero in everyday life? What is it to be a man?

The White Watch crew set screens alight in this stunning series that defies all expectations.

Jamie Bamber stars as Kev, a veteran firefighter searching for justice after the most traumatic call-out of his career causes him to question himself, both as a hero and as a man. Jodie Whittaker plays Trish, Kevís girlfriend, who is striving to hold on to love and hope against the odds, while Rhashan Stone is Kevís best mate Mal, whose loyalty is tested to the extreme.

Video


Acorn Media have released Sky One's firefighter drama "The Smoke" onto DVD in the United Kingdom, using the original broadcast aspect ratio of 1.78:1. As to be expected for a recent and reasonably well budgeted show from a major channel, it looks pretty damn good.

As I watched the show, I was quite surprised with just how good the transfer was. There are a few stylistic choices I don't like (the light shining into the fire station and the effect it has on parts of the screen), but it was technically excellent. Colours are natural at all times, with skin tones perfect, and the fires show great clarity without any blooming effects or colour bleeding. Blacks are deep and show only mild signs of crush on a couple of occasions. Detail is also strong throughout, especially shadow detail which was almost reference quality for DVD. Hair, skin blemishes, and the make-up effects of cuts and bruises look fantastic. There are plenty of moments where aliasing could be prevalent, but I noticed no signs of it, with mid to long range shots managing to stay detailed on items that usually fall victim to such effect. There's no damage to the transfer, and no compression issues. Overall, it's crisp and clean.

The show is uncut, and spread over two disc. The first three episodes are on disc one, with the remainder on disc two.

Audio


There's just a single English Dolby Digital 2.0 Stereo track available for the show, which is unfortunate, as there are plenty of moments where it would've benefited from a 5.1 track. Still, when it comes to television shows, stereo is the usual option, and there are no issues with what we have. The effects and score make reasonable use of the two channels, and dialogue is clear throughout, except when slightly mumbled by fire masks (though this is done on purpose). The crackles of the fire and explosions sound realistic, but never out performs the dialogue. I noticed no signs of drop outs, no scratches, and no background hiss. It's a clean and precise track.

Optional subtitles have been included in English.

Extras


All extras can be found on disc one.

First up, we have a "Behind the Scenes" featurette (23:24). This is a typical made-for-TV special which features a few clips of the film, some clips from behind-the-scenes, and plenty of interview snippets. It's interesting to hear about the training the cast members had to undertake, the research that was done in order to make fires as accurate as possible, and where CGI was required. It's a well made featurette with enough info to keep the technical minded happy, without being too technical for the average viewer.

Next, we have an interview with executive producer Noelle Morris which runs 4:07. She talks about how the project started, why they decided to make the characters to generally be good people, and the mental obstacles that certain characters have to overcome. I can't say how firefighters feel about the show, but from watching it, I would like to think they have delved into how tragedies they attend can affect them without feeling the need to be overly showy.

The interviews continue with various cast members:
- Play All (26:01)
- Jamie Bamber (6:24)
- Jodie Whittaker (3:56)
- Rhashan Stone (3:46)
- Gerard Kearns (2:05)
- Sam Gittens (2:06)
- Taron Egerton (3:14)
- Pippa Bennett-Warner (2:29)
- David Walmsley (1:57)
These are enjoyable little snippets, but to be honest, are not in-depth enough to give us any information we were not expecting. Each person talks a little about their character, how they fit into White Watch (apart from Gog and a couple of others), the chemistry between the cast, and the show in general. I would note though, there are several spoilers here (especially when it comes to Ziggy), so watch the episodes on disc two before watching the interviews.

We finish up with a picture gallery (1:14).

Overall


It's been twelve years, but it looks like we finally have a worthy replacement for London's Burning.


| | | | | |
| --- | --- | --- | --- | --- |
| The Show: B+ | Video: A- | Audio: B | Extras: C- | Overall: B |