The Film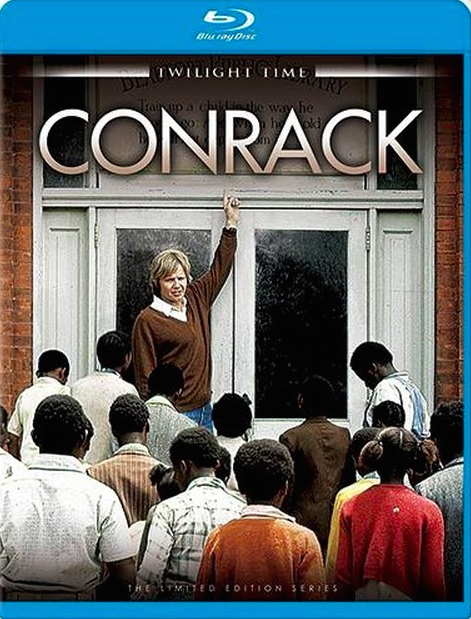 Every genre has a sub-genre, in the field of inspirational movies, there is a sub-genre that exists that focuses on teachers, to be specific it's the inspirational teacher movie. I've seen many of these, in fact I am a self confessed inspirational movie freak - and any sub-genre will do, teacher, sports, whatever. The bigger the challenge, the greater the underdog story, the better. "Stand and Deliver" (1988), "Dead Poets Society" (1989), "Mister Holland's Opus" (1995), "Half Nelson" (2006) and "The Great Debaters" (2007) are a few that come to mind, and I've enjoyed them all. Before receiving this Blu-ray I'd never heard of "Conrack" but it ticks all the boxes, inspirational teacher movie - check, seemingly insurmountable challenges - check, A-list star - check. The film is quite obscure, even if you google "Best Inspirational Teacher Movies" this film will almost always not be included in any lists. That's a shame, because it should be.

"Conrack" tells the story of Pat Conroy (Jon Voight), a teacher that's assigned to teach at an isolated island off the coast of South Carolina. Pat quickly discovers that the island, "Yamacraw", is mostly made up of poor black families, and the population are completely isolated from the outside world, they are uneducated and speak a strange dialect called Gullah. Pat has the mission of teaching the kids about the outside world and inspire them to excel, otherwise they have little hope of making a life in the larger world.

One of the reason this film is such a terrific piece of entertainment is Jon Voight's performance, at this point in his career Voight's star was on the rise, he appeared in "Midnight Cowboy" (1969), "Catch-22" (1970) and "Deliverance" (1972) before this film. He's a solid performer, with a natural, nice guy persona but has a cocky self-righteousness and seems a perfect fit for the title character of this film. The scenes of Conrack teaching his students make up the best parts of this film, and I never thought I'd write a sentence like that before but for this film it's wholly true.

Upon first impression this film may seem like the typical Hollywood-white-guy-saves-the-poor-black-people film, and in some ways it is, but it does stand out as being rather empathetic and never does it feel like it panders or is patronizing. Additionally the film forgoes the traditional happily ever after ending. Most typical Hollywood films would have changed the ending to this film in a heartbeat- sad, depressing endings are not the norm and "Conrack" ends with a feeling that despite his best efforts nothing he did would ever change the futures of these children. Pretty bleak huh? But the film isn't a Disney product, it isn't about fluffing reality, it's about presenting the "actual" reality and the filmmakers did a commendable job of that.

"Conrack" may have been made 40 years ago, but the film's themes of racial disparity, economic opportunity and cultural expectations are just as relevant today as they were in the 70's. This is a surprisingly good film, and can easily be considered among the best films about teachers ever made.

Video


Presented in the film's original 2.35:1 ratio mastered in high definition 1080p 24/fps using AVC MPEG-4 compression. For a 40 year old movie this film looks surprisingly good, although somewhat muted. The image looks decent, with some good color representation, mostly with the skin tones. The transfer does feature some heavy grain at times, especially in darker scenes, depth and sharpness isn't that great, however detail looks fine. The good news is that the film is mostly clean and there is no evidence of digital noise reduction or compression related issues.

Audio


A single English DTS-HD Master Audio 2.0 mono (48kHz/24-bit) is included, this is likely the film's original audio track. This film is mostly dialogue centric, and it does a decent job of presenting the film's audio, aside from the occasional Gullah dialogue, the dialogue is clean and clear. Ambient sounds are limited, as is the score, primarily due to the single mono mix. There's nothing particularly outstanding about this track, it simply does an adequate job. There are no subtitles.

Extras


Twilight Time has released this film with an audio commentary, an isolated score, a theatrical trailer, a catalogue and booklet round out the extras. Below is a closer look at these supplements.

First up is a feature-length audio commentary with film scholar Paul Seydor and Twilight Time co-owner Nick Redman. Much like other tracks produced for Twilight Time releases, it's a mixture of production information and history lesson. We get a good amount of both, most especially about the Gullah dialect, trivia about the making of the film is ample, these two prove a worthy, entertaining and informative listen.

The disc also includes an isolated score presented in DTS-HD Master Audio 2.0 stereo, you can view the film with solely with its score by the great John Williams.

The film's original theatrical trailer (480p) runs for 2 minutes 41 seconds.

Distributor Twilight Time has included a catalogue consisting of 24 pages that shows off their collection of films on Blu-ray, all titles are limited to 3,000 copies only and a few of them are already sold out.

Rounding out the supplements is an 8-page liner notes booklet.

Packaging


Packaged in a standard eco Blu-ray keep case, this edition is limited to 3,000 copies only.

Overall


Available to purchase exclusively only at Screen Archives Entertainment.

Like Twilight Time on Facebook by going here.
| | | | | |
| --- | --- | --- | --- | --- |
| The Film: A | Video: B | Audio: B | Extras: B- | Overall: B+ |