The Film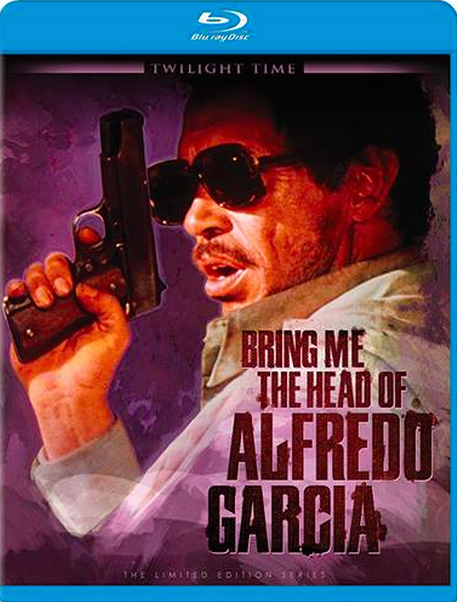 When you consider the most divisive filmmakers, Sam Peckinpah is a name that easily comes up. Peckinpah made harsh films, with tough themes, tougher complex and hugely flawed characters, also there was violence, lots and lots of violence. He was a filmmaker that pulled all the punches, and those punches were brutal and occasionally just hits you right in the face - unapologetically. That's why his films split audiences, to some he's a cinema god - a true auteur, and to other he's a vulgar hack and to many of the people he knew, he was always a son of a b*tch. Peckinpah himself was a complicated man, he was occasionally abusive, drank like a fish and manipulated and played mind games with his actors. He was an ultimate villain and his attitude is steeped deeply in every frame of his movies but studios have constantly tried to edit, alter, or change his movies.

It's easy to see why many studios are simply either put off or scared to release his material, "The Wild Bunch" (1969) was an orgy of violence (violence not previous seen before in a major Hollywood film, it was stylized and glorified - something that's all too common in today's cinema), "Straw Dogs" (1971) features one of the most shocking rapes captured onscreen, the original cut of "The Killer Elite" (1975) featured heavy graphic violence (which Peckinpah cut himself to achieve a "PG" rating!). He's a filmmaker that's had to make many compromises and his true vision was never seen for years after their theatrical exhibitions - it was 24 years before audiences could finally see the Director's Cut of "The Wild Bunch". In 1974 Sam got to make a long time passion project, and according to the filmmaker, it's a film in which he got to control everything including the final cut.

"Bring Me the Head of Alfredo Garcia" is a difficult film to watch, in fact upon release it was poorly reviewed and was a box office failure. Many critics simply hated the film. However, over the years the film has seen a sort of resurgence as new Peckinpah fans start to discover the filmmakers "other" films or later output that wasn't as popular as his mainstream/commercial movies like "The Getaway" (1972). I've seen this film several times and I'm still on the fence on whether it's a train wreck or a masterpiece. One thing is for sure, the more I watch it, the more I'm able to appreciate it.

In "Bring Me the Head of Alfredo Garcia" a wastrel sometime piano player, Bennie (Warren Oates) finds himself lost in the wilds of Mexico. He and his beautiful, tragic lover, Elita (Isela Vega) stumble upon one last, perilous chance at happiness. In order to claim more money than they've ever dreamed of, all they have to do is retrieve the head of a wanted man. But the path to their ultimate escape is littered with dangers- some, of course, of the fatal variety.

One thing is painfully clear upon the viewing of this film, it's quintessentially a Peckinpah film. The themes of lost men, the rhythm, the grittiness, the alcohol-soaked lead character, the violence, all wrapped in the squinty-eyed sun drenched desserts of Mexico. Watching this movie is the equivalent of going on an all night bender in a windowless room and then going outside into the blaring sun, complete with the worst hangover you've ever had. But, this isn't necessarily a bad thing. It's a film about a man who has nowhere else to go, and nothing to lose, not the rosiest of pictures but amid the darkness there are bright spots. One of those bright spots is the actor encapsulating this tormented figure, the great Warren Oates. He's so incredibly perfect for this role he may as well be Bennie. Oates has always impressed and it's a shame he wasn't as big a name as his contemporaries like Steve McQueen or William Holden. He always delivered solid, natural, often understated and always believable performances, a true professional in every sense of the word.

On a technical level the film's score by Jerry Fielding and the photography by Álex Phillips Jr. are two more bright spots, and at this point it can be difficult to conjure up any more. As I said the film is a difficult watch, Bennie, is not the typical anti-hero and there's not a lot to like about him. His plan for one last attempt at happiness is vile, degrading and lacking in morals. Peckinpah paints a harsh world- "Bring Me the Head of Alfredo Garcia" is often dreary, depressing and moves at its own pace and never ends well. It has tested my patience at times but in the end I always manage to make it through each viewing. There's something new to explore each time, and that curiosity keeps me coming back. Peckinpah manages to do something very few filmmakers have, he turns his audience into the abused, and like many abusive relationships, we keep coming back, knowing full well that we should walk away.

Video


Presented in a widescreen ratio of 1.84:1 mastered in high definition 1080p 24/fps using AVC MPEG-4 compression. The film makes its debut in HD with a somewhat flawed transfer. The major issue is that the print isn't as clean as it could be, there are specks that pop up on occasion as does some print damage, contrast is not consistent and some heavy noise is evident in many darker scenes. Onto the pros, the overall image does well showing off it's natural colors, skin tones look good and the HD image presents the film in a much sharper image than we've ever seen before.

Audio


A single audio track is included in English DTS-HD Master Audio 2.0 mono (48kHz/24-bit), the good news is that the audio track appears clean or any hiss, pops or other age-related issues normally associated with films of this age. The bad is that the audio lacks any dynamics, while dialogue is well presented, everything else from the directional effects to the score feel cramped, there's no range here. Which is a shame. Subtitles are included in English for the hearing impaired.

Extras


Twilight Time has released this film with a solid collection of supplements that includes two audio commentary, an isolated score, a documentary, a featurette, a slideshow, TV spots, a theatrical trailer, a bonus trailer as well as a catalogue and booklet. Below is a closer look at these extras.

First up is an audio commentary with co-writer/co-producer Gordon Dawson and moderator Nick Redman. Redman does a great job of moderating this discussion, as he essentially offers up a feature-length Q&A with Dawson, covering the film's long development, working with Peckinpah and on the making of the film among other things. This is a true gem of a track.

A second audio commentary features Peckinpah scholars Paul Seydor, Garner Simmons, and David Weddle and moderator Nick Redman. All participants have written about Peckinpah and they offer their insight into the man's career and more importantly on this film. There's a lot of information to digest in this track but again, it's all gold and fans of the filmmaker will not want to miss listening to this track either.

An isolated score track is presented in DTS-HD Master Audio 2.0 mono, you can listen to Jerry Fielding's score while watching the film.

"Passion and Poetry: Sam's Favorite Film" is a documentary (480i) which runs for 55 minutes 36 seconds. This feature takes an in-depth look at the making of this film and features some terrific interviews with Peckinpah's family and friends as well as people he worked with.

Next up is "A Writer's Journey: Garner Simmons with Sam Peckinpah in Mexico", a featurette (480i) that runs for 25 minutes 54 seconds. This is a neat clip that takes a look at how Simmons started with writing a book about the filmmaker to being invited onto the set of the film.

"Promoting Alfredo Garcia" is a slideshow (480i) that features printed material and runs for 5 minutes 59 seconds.

There's a collection of U.S. TV spots (480i) that play in a reel which runs for 3 minutes 57 seconds.

The film's original theatrical trailer is also included (480p) and runs for 1 minute 57 seconds.

The disc includes a bonus trailer for:

- "MGM 90th Anniversary" (1080p) which runs for 2 minutes 6 seconds.

Distributor Twilight Time has included a catalogue consisting of 24 pages that shows off their collection of films on Blu-ray, all titles are limited to 3,000 copies only and a few of them are already sold out.

Rounding out the supplements is an 8-page liner notes booklet.

Packaging


Packaged in a standard eco Blu-ray keep case, this edition is limited to 3,000 copies only.

Overall


Available to purchase exclusively only at Screen Archives Entertainment.

Like Twilight Time on Facebook by going here.
| | | | | |
| --- | --- | --- | --- | --- |
| The Film: C+ | Video: C+ | Audio: B | Extras: A | Overall: B- |