The Film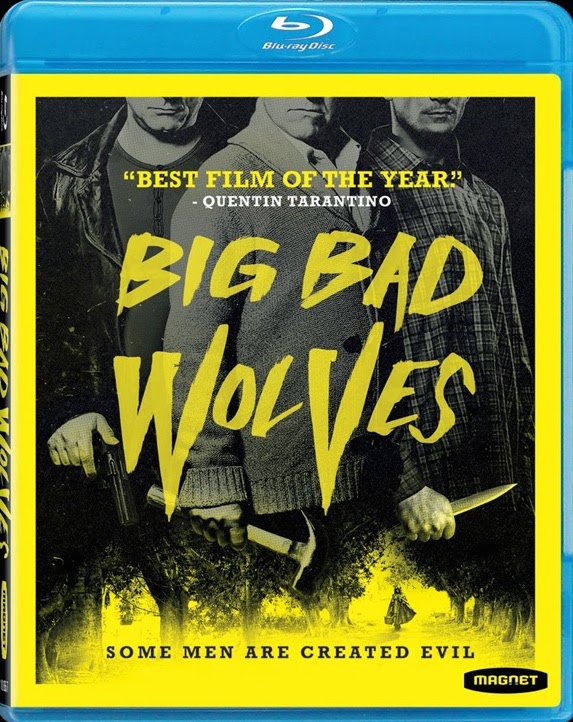 When considering the pantheon of world cinema, Israel isn't usually one of the countries that first come to mind. Cinema has only been produced there since 1948, not nearly as old as movies themselves. The country has produced acclaimed films from time to time, though not much has gained traction in the Western world. But any country with filmmakers and ambition is bound to make a mark that resonates at some time. That time has come with "Big Bad Wolves" (2013), a suspenseful tale of revenge and morality that, according to Quentin Tarantino is the "best film of the year." Tarantino's name has become a handy marketing tool for little-seen films that need a boost in awareness. His tastes do sometimes run counter to what his fans might expect, though, so keep that in mind any time you see that "stamp of approval". As a fan of world cinema, it's almost embarrassing to note that this is the first Israeli production I've seen. Though, to be fair in 2013 the country only produced SEVEN total films. We sometimes get that in a single weekend here in the States. "Big Bad Wolves" is produced with many of the darkly humorous qualities American pictures employ, which should hopefully bode well not only for its own future but that of the Israeli motion picture industry, too. The trailblazers who made it – the writing/directing team of Aharon Keshales and Navot Papushado – were responsible for making the first Israeli horror film ever, "Rabies", which was produced in 2010. Crazy to think the country's first ever horror film is only four years old. It isn't hard to imagine this dup getting poached by a Hollywood studio sometime soon because "Big Bad Wolves" is the kind of film that shows strong promise.

When a little girl goes missing during a game of hide-and-seek with some friends, the police are called in to investigate Dror (Rotem Keinan), a local religious schoolteacher who was supposedly seen with the missing girl. The police team, led by Micki (Lior Ashkenazi), tortures the man and beats him quite severely, unaware that a kid hiding around the corner is recording everything. The video is uploaded to YouTube and Dror is set free, while Micki loses his job and is forced off the force. Convinced Dror is his man, Micki decides to do his own investigation as a civilian. Meanwhile, Gidi (Tzahi Grad), the father of a young girl who was recently found beheaded, decides to kidnap Dror and make him confess where her missing head is located. Jewish custom dictates that a body must be buried whole. Only thing is, Micki happens to be there when Gidi goes for Dror, so he just takes both of them out to his new, remotely-located home with a deep, soundproof basement. Gidi is former military himself, and he really doesn't want to kill a cop, so he offers Micki the option of joining him in torturing Dror for information. He reluctantly agrees. Gidi wants to torture Dror just as the young girls he murdered were – knocked out with a sedative-laced cake, sexually abused (which he & Micki both agree they'll just leave out), fingers broken, toenails ripped from feet and, finally, head sawed off with a rusty blade. Dror looks scared, rightly so. During the few times Gidi leaves the room, however, Dror plants in Micki's head the idea he may not be guilty. Micki floats this idea past Gidi, who not only doesn't buy it but he knocks Micki out again and cuffs him to a pipe.

Gidi's father comes to visit later on and discovers what's been going on. Yet, rather than turn his son in or convince him to give it up, he agrees to join in and try extracting information himself. He, too, is a former military officer who misses the thrill of combat shenanigans. They just want Dror to tell where the head is hidden, and then he can die quickly. But what if everyone has been wrong all along? Dror has a daughter himself and he continually professes his innocence, even under extreme duress. Is Gidi prepared to go all the way even with the possibility of knowing Dror isn't his man?

"Big Bad Wolves" succeeds in riding that fine line of "is he or isn't he?" in terms of Dror's guilt. Keinan does a fantastic job playing a quiet, bookish schoolteacher who seems like the kind of mild-mannered guy that people are either totally wrong about or he's been slyly fooling them all this time. Maybe a monster does lurk beneath his wiry glasses and physique. It's hard to watch Dror's alone time with Micki and not be reminded of Harvey Keitel and Tim Roth's exchanges in "Reservoir Dogs" (1992). As human beings, it's hard not to sympathize with a man professing his innocence and talking about his daughter at home. After all, the only eyewitness to his presence was another little girl, and eyewitnesses can be unreliable. Once the film does show its hand, the moment is so casually handled you'll probably miss it the first time around. There's a sharp intelligence to the script that allows for such a simple concept to be elegantly executed.

Although this isn't a traditional horror film, there are some very horrific moments. Dror's torture encompasses just about all of them. The torture scenes involve fingers and toes, appendages that can very easily make a moviegoer cringe when they're abused on screen. The filmmakers break up this unbearably palpable tension by throwing in a bit of levity. Giri, despite being a 49-year-old military man, still has to take his mother's cell phone calls or she gets upset. He has to stop from breaking a man's fingers to tell his mother he's sick so she doesn't come over. And what happens later? His dad stops by with soup his mother made because he said he was sick. It's all this latent humor that is purely situational; nothing is sold as straight comedy. "Big Bad Wolves" succeeds in presenting sharp moments of dark comedy alongside really horrific attempts at retribution. Keshales & Papushado have stepped up as names to watch for in the near future.

Video


This Blu-ray's 2.40:1 1080p 24/fps AVC MPEG-4 encoded image is much sharper than a rusty saw. The source is digital-to-digital, so this is a mirror image of what the Arri Alexa cameras captured on set. The picture is pristine, though with the absence of any grain it does lack a filmic appearance. Still, detail is fantastic in nearly every shot. Colors look strong, contrast levels are solid. There's a moderate level of depth to the image. A few shots here and there appear slightly soft, mostly in medium shots. Much of this film takes place in a deep, dank basement with the expected "bad" lighting, but cinematographer Giora Bejach lights this image perfectly, allowing detail to come through despite the shadowy conditions. With so many newer films being shot with digital cameras it's not too often you come across a truly bad transfer. Magnet consistently produces exemplary transfers that match a director's original intentions. "Big Bad Wolves" is a slick, well-shot picture that looks just great in hi-def.

Audio


You can choose between a Hebrew or English DTS-HD Master Audio 5.1 surround sound track (48kHz/24-bit) to deliver the lossless audio here, though I'd highly recommend the original Hebrew track because dubs are inferior and cannot capture the true emotion of a performance as the acting was giving it. Don't be afraid of subtitles. There's a great undercurrent of sinister playfulness thanks to composer Haim Frank Ilfman's score. Panning is seamless, with a solid separation of sound effects, dialogue and music. Dialogue comes through clear and discernible. There are no audio defects. Rears come into play every so often to buttress the action or punch up the sound, doing so subtly to provide immersion. Subtitles are included in English, English for the hearing impaired, Spanish, and French.

Extras


"Big Bad Wolves" just gets one big bad bonus feature, along with a couple throwaways. There are a meaty featurette, a less meaty featurette, and a theatrical trailer.

"Making of Big Bad Wolves" (1080p) is a featurette that runs for 16 minutes and 17 seconds. This is presented in Hebrew with English subtitles. The filmmakers talk about how their intent was to make an adult fairytale, they discuss working with the actors, the designs for the characters, and so on. It's a fairly interesting piece.

"AXS TV: A Look at Big Bad Wolves" (1080i) is a featurette that runs for 2 minutes and 57 seconds. If you've ever seen an AXS TV EPK, you know it's just a quick piece that gives an overview of the film. It's just fluff and mostly pointless once you've seen the film.

The film's theatrical trailer (1080p) runs for 1 minute and 43 seconds.

Packaging


The single disc comes housed in a Blu-ray eco-case. Why, Magnet, why did you switch over to the eco-case? I used to respect you guys. We had a good thing going.

Overall


I love twisted films, and I love that this particular twisted film came to us from Israel. International cinema has SO MANY incredible films out there, just waiting to be discovered by a larger audience. "Big Bad Wolves" has a sharp script with some great, developed characters and a superb stinger for an ending. It may not be the "best film of the year" as Tarantino put it, but it's a damn good effort.
| | | | | |
| --- | --- | --- | --- | --- |
| The Film: B+ | Video: A- | Audio: B+ | Extras: C | Overall: B |