Stranded (Blu-ray) [Blu-ray]
Blu-ray B - United Kingdom - Signature Entertainment
Review written by and copyright: Samuel Scott (18th April 2014).
The Film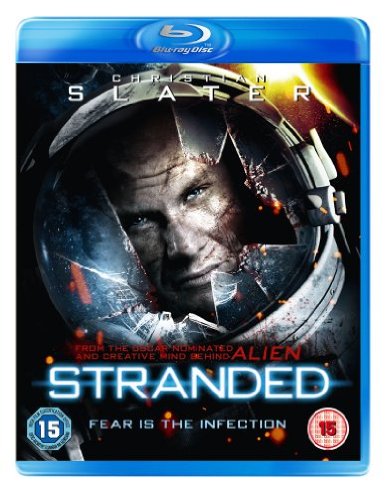 ***This is a technical review only. For reviews on the movie from various critics, we recommend visiting HERE.***

Fear is the infection.

Colonel Gerard K. Brauchman (Slater) leads a team of isolated astronauts on board the ARK moon base. When a meteor collides with their base, the astronauts find themselves in immediate danger — spores from the meteorite can replicate, reproduce and mutate human cell structure, leaving everyone on board to fight for their lives.

Directed by Oscar nominated Roger Christian; the creative mind behind Star Wars and Alien.

Germinate. Contaminate. Annihilate...

Video


Independent British distributor have released the low budget sci-fi horror "Stranded" onto Blu-ray for the United Kingdom locality using the original aspect ratio of 2.35:1. The transfer is 1080p, and uses an AVC MPEG-4 encoded. It's a better transfer than I had anticipated.

"Stranded" is a very dark film, and with that can come many problems such as black levels and details. Black levels in this transfer aren't bad at all, strong for the majority, though background blacks can sometimes appear a little soft. There is also some crushing and banding in some of the more forefront blacks, but not enough to be considered an issue. Shadow detail is quite good. Long shots generally use small light sources to make the viewer focus on a particular element, and in these scenes, the shadow details are above average. Closer details are more than reasonable, and facial close-ups can look very strong indeed. There is a particular low-lit feel to the film (as expected considering the storyline), and there are not many opportunities for brighter colours. However, the various shades of greens and greys show good clarity throughout. Skin tones can perhaps be a smidge soft, but are also generally pleasing to the eye. There are no problems with the source material like scratches or other unsightly blemishes. The transfer is far from reference material, but as far as low budget sci-fi horrors go with a lot of dark environments, it holds up well.

The feature runs 87:43.

Audio


There are two audio options available here:
- English DTS-HD Master Audio 5.1
- English LPCM 2.0 Stereo

For my viewing, I opted for the English DTS-HD Master Audio 5.1 track, and it did a pretty good job of setting the tone. Considering the budget and genre, the sound stage is surprisingly productive and makes full use of both the surrounds and the LFE whenever the opportunity arises. There's a meteor shower at the start which really gives the LFE a nice little workout, but it's the subtle sound effects that show the space ship's systems in a state of dis-repair that impress. The score is also well utilised through the surrounds. Directionality can seem ever-so-slightly off at times, but is generally fine. Dialogue is clear and concise throughout, and there are no problems with background hiss, drop outs, or scratches.

No subtitles have been included.

Extras


The "Making Of" featurette (15:01) is strictly EPK level material. It's essentially a few film snippets interspersed with interview footage where cast members outline the story and their characters, and crew members talk about the beginnings of the film and how the production came about. Unfortunately, we don't get any in-depth information about how the visual effects were done, or how certain scenes were shot.

There are also a couple of start-up trailers:
- "The Heist" (1:10)
- "Hirokin" (2:04)

Overall




| | | | | |
| --- | --- | --- | --- | --- |
| The Film: C- | Video: B | Audio: B | Extras: D- | Overall: C |

---
DVD Compare is a participant in the Amazon Services LLC Associates Program and the Amazon Europe S.a.r.l. Associates Programme, an affiliate advertising program designed to provide a means for sites to earn advertising fees by advertising and linking to amazon.co.uk, amazon.com, amazon.ca, amazon.fr, and amazon.de.