The Film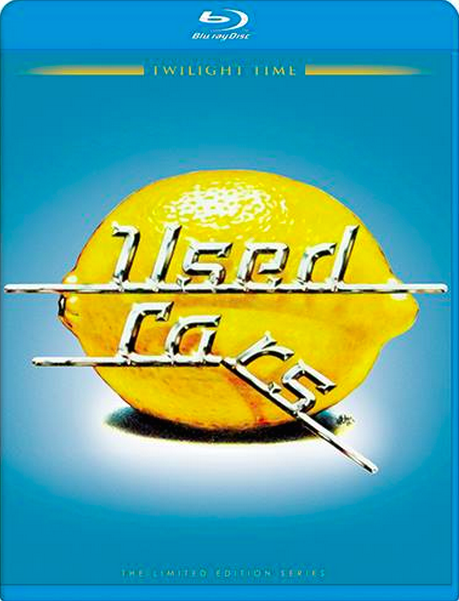 With some filmmakers it's easy to see the filmmaker they'll eventually be from their early output, the genesis, so to speak. With Robert Zemeckis, none of that is remotely gleaned from his 1980 effort "Used Cars". You don't see any of the qualities that made him a standout director of the 80's and 90's, you don't see his sense of comedic timing (despite this film being a comedy), you don't see his knack for creating likeable characters, of his knack for adventure storytelling. "Used Cars" is a strange one in his filmography, it's like a film he had to make as apposed to wanting to make.

This is a screwball comedy, as was the fashion back then, is often zaney, off-the-wall and catered for a more adult crowd. Featuring cursing and some nudity of course. This style of comedy has dated badly, very few films these days tend to verge on the screwball format, well maybe the output of Jason Friedberg and Aaron Seltzer comes close, even though their films are technically considered spoofs. In any case, Zemeckis never made another screwball comedy - even though there's obvious gags and plenty of comedy in "Romancing the Stone" (1984), The "Back to the Future" films (1985-1990) and of course "Who Framed Roger Rabbit" (1988), "Used Cars" stands alone, in a dusty, dated dealership.

"Used Cars" tells the story of Rudy Russo (Kurt Russell), a charming yet nefarious used car salesman caught up in a war between feuding car-lot owners, the twin brothers Roy (Jack Warden) and Luke Fuchs (also played by Jack Warden). When Luke dies of a heart attack, his conniving Brother Roy tries to take over his car-lot in order to make way for a new highway that will come right through, hopefully boosting business. Meanwhile Rudy needs to raise money to run for political office, but Roy's death puts a hamper on things, so he hides the body and pretends that Roy has left for a vacation to Florida. Rudy and his rag-tag fellow employees put on a series of stunts to reel in more customers and to help him reach a $10,000 goal for his campaign fee.

First impressions are that everything is dated, not only the late 70's early 80's production design, costumes and cars but also the humor. The screwball adult comedy is something that's long since been abandoned. There was a resurgence of the "adult" comedy in the late 90's and early 00's with hard "R" ratings. Showing bare breasts in comedies made a comeback after years of attempted raunchiness at a "PG-13" level (it's just not the same). The harder "R" rated films featured less screwball and more raunch and while "Used Cars" features its fair share of raunch, a lot of the jokes that are based on said raunch tend to fall flat. I guess this is one of those movies that you must have loved when it first came out to truly appreciate today? Viewers have been spoiled with far more sophisticated comedies in recent years that this one barely registers today.

Kurt Russell manages to be affable, he certainly brings a charm to the character and it's easy to see why he was such a draw in the 80's. Sadly the rest of the cast manages to offer a series of annoying or obnoxious performances, Jack Warden plays the typical money grubbing a**hole villain that was popular in almost every 80's comedy. Frank McRae and Gerrit Graham play Russell's co-workers and they bring many eye-rolling moments throughout the entire film. Even the film's love interest, Deborah Harmon, is uninteresting.

"Used Cars" is a time capsule of how comedies used to be made, it's tired, dated, and considering the pedigree - Zemeckis, Russell, writer Bob Gale and executive producers Steven Spielberg and John Milius it's frankly a lemon.

Video


Presented in the film's original theatrical ratio of 1.85:1 mastered in HD 1080p 24/fps using AVC MPEG-4 compression. Twilight Time have licensed this title from Columbia Pictures, the HD presentation is most likely taken from the same mastered used to create the 2002 DVD release. The upgrade to HD brings some added depth and crispness but overall the image is average at best. Some scenes look nice and sharp, while others appear soft and lacking in detail (this is most evident in the scenes that take place at night). Grain is present but never feels obtrusive, some minor specks pop up but other than that it's certainly better than the standard definition transfer from years ago.

Audio


Two audio tracks are included in English DTS-HD Master Audio 5.1 surround mixed at 48kHz/24-bit as well as the film's original English DTS-HD Master Audio 2.0 mono. For the purposes of this review I chose to view the film with its DTS-HD 5.1 audio. The sound track is up-mixed from the original mono, the sound is rather weak, hardly much activity. This is fairly common for films of this age which have been expanded to 5.1 channels, the original audio just wasn't made for this many channels, there's not enough audio information to offer a decent expanse over the 5.1 channels. Dialogue is front heavy, music and some directional effects are about the only things that make use of the surrounds. If you're going to watch this film I'd pick the 2.0 mono, it's a much better audio track despite the limited range. Optional subtitles are included in English for the hearing impaired.

Extras


Twilight Time has packed this Blu-ray with a decent collection of supplements all licensed from Columbia and had been originally produced for the 2002 DVD release. They include an audio commentary, two isolated scores, a gag reel and outtakes, radio and TV promos, a series of galleries, the film's theatrical trailer, a catalogue and booklet. Below is a closer look at these extras.

A feature-length screen specific audio commentary features director Robert Zemeckiss, writer Bob Gale, and actor Kurt Russell. This is a fun track, the participants seem to enjoy revisiting this film from early in their careers. Joking about various moments in the film and also commenting on some of the more shoddy aspects of the small budget production. I have to admit I had more fun watching the film with this commentary than its original sound mix.

The first of two isolated score track is of the film's original score by composer Patrick Williams is presented in DTS-HD Master Audio 2.0 surround. There's also a second isolated score track which is of the unused score by composer Ernest Gold also presented in DTS-HD Master Audio 2.0 surround and is quite different than the one the filmmakers went with. Nice additional to have both scores presented here.

A fairly generic gag reel and outtakes is next (480i) and runs for 4 minutes 25 seconds.

There's a collection of radio and TV promotional materials that features:

- Kurt Russell Darner Chrysler commercial (480i) which runs for 32 seconds.
- Kurt Russell radio interview which runs for 5 minites 2 seconds.

A series of 7 radio spots include:

- "Epic" which runs for 1 minute 2 seconds.
- "Hey You" which runs for 55 seconds.
- "Phone Message" which runs for 2 minutes 54 seconds.
- "Rebate" which runs for 28 seconds.
- "Roy Rudy Barbara" which runs for 1 minute 3 seconds.
- "Rudy 2" which runs for 27 seconds.
- "Yankee Stadium" which runs for 1 minute.

A collection of 4 galleries (1080p) are next and feature:

- "Action and Stunts" features 25 images.
- "Unused Ad Concepts" features 8 images.
- "Behind the Scenes" features 8 images.
- "Posters and Lobby Cards" features 10 images.

The film's original theatrical trailer (1080p) is included and runs for 1 minute 50 seconds.

Distributor Twilight Time has included a catalogue consisting of 24 pages that shows off their collection of films on Blu-ray.

A liner notes booklet is included in the case and features an essay written by Julie Kirgo.

Packaging


"Used Cars" comes to Blu-ray courtesy boutique home entertainment distributor Twilight Time as part of their "Limited Edition Series". Like other Twilight Time titles, the Blu-ray is limited to 3,000 units. The region free disc is packaged in an Infiniti keep case.

Overall


Available to purchase exclusively only at Screen Archives Entertainment.

Like Twilight Time on Facebook by going here.
| | | | | |
| --- | --- | --- | --- | --- |
| The Film: D+ | Video: B- | Audio: C | Extras: B+ | Overall: C+ |