The Show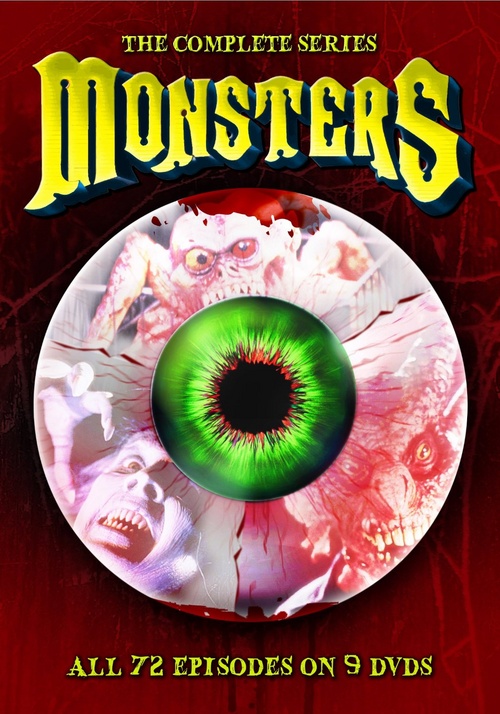 Horror has had a presence on television for nearly as long as the medium has existed, and most fans would agree it hit an apex in the 1980's. In the middle of that decade, small screens across America were graced with updated versions of both "The Twilight Zone" (1985-1989) and "Alfred Hitchcock Presents" (1985-1989), as well as new series like "Tales From the Darkside" (1983-1988). All of these shows shared the common bond of featuring short-form stories (around 22 minutes) that told some kind of morality tale, usually with a twist ending literally right before the credits rolled. When "Tales From the Darkside" ended its run, show producer Richard P. Rubinstein (whose name should be very familiar to devotees of George A. Romero) immediately got to work on a new production that took the morality tales in a fantastic new direction. "Monsters" (1988-1990) made its debut a mere three months after "Tales from the Darkside" ended, only this series put more of an emphasis on ghoulish creatures brought to life via the wonders of practical FX.

The show's famous opening set the tone by featuring a family of, well, monsters who appeared to be an average nuclear family sitting down to watch TV while eating their favorite snack made by mom: candy critters. It immediately conveyed to viewers the tone and make-up effects that would permeate each new episode – gruesome creations alongside darkly humorous story lines. Some episodes played as straight horror, others as straight comedy, but all incorporated elements of both to varying degrees of success. The series went on to last for three seasons – 72 episodes – before getting the axe. Many viewers who are familiar with the show likely caught the extensive reruns done on the SciFi (now SyFy) Channel back in the early 90's.

There were a number of notable faces and names that appeared during the series' run. First and foremost, legendary FX artist Dick Smith was the supervisor for practical FX work, overseeing all of the ghastly, twisted, horrific beasts designed for each episode. Many famous actors and actresses lend their talents to the show, too. Famous faces such as Adrienne Barbeau, Linda Blair, Ashley Laurence, Darren McGavin, Tom Noonan (who also directed an episode), Pam Grier, and many, many more graced episodes each season. The list of directors isn't quite as impressive, though a few notable names dropped in each season. John Carpenter's longtime producer Debra Hill helmed an episode, as did FX artists Greg Cannom and Mark Shostrom.

Fans of the series are well aware of the long road it's been to get these episodes a proper home video release. A number of twofer VHS tapes were released in the 90's, but the series has been conspicuously absent from the DVD market for years. This has led most fans who were rabid for their "Monsters" fix to hit the bootleg circuit, where multi-disc sets of the series (featuring poor tape transfers from the SciFi Channel airings) were ubiquitous. Fret no more, because Entertainment One has come to the rescue by releasing a box set containing every single episode from the series' three seasons. All 72 of 'em. Glorious. Revel in the fact that back in the 80's networks were more than happy to grant a full order of 24 episodes per season to their shows. Nowadays that number would have been halved, and we'd be lucky to get more than a single season.

Every season features a few solid hits, a few clunkers, and a lot of just good-ol' TV-level horror; the type of stuff that's easy to watch just about any time the mood strikes. If you're at all a fan of horror anthologies, or the aforementioned series from the opening of this review, then chances are you're already a fan and don't need to be sold on a thing because you want town this. If, by some small chance, you've never seen the show but love properties similar to "Tales From the Darkside", then this is absolutely a must-own. It's not the ideal box set fans would have liked (more on that later), but it gets the job done - the job in this instance being just getting the episodes out – in reasonable quality – onto DVD. And now, after a long wait, it's finally here.

"Monsters" includes each season's 24 episodes spread across 3 discs, totalling 9 discs for the entire run. The seasons have (thankfully) been broken up within the box set, with each housed in its own case. The inside of each case contains a breakdown of what episodes are included on which disc, as well as a brief description of each. No air dates, though, which I know some fans (like myself) enjoy seeing. The breakdown per disc is:

DISC ONE:
Includes 8 episodes:
- "The Feverman"
- "Holly's House"
- "New York Honey"
- "The Vampire Hunter"
- "My Zombie Lover"
- "Where's the Rest of Me?"
- "The Legacy"
- "Sleeping Dragon"

DISC TWO:
Includes 8 episodes:
- "Pool Sharks"
- "Pillow Talk"
- "Rouse Him Not"
- "Fools' Gold"
- "Glim-Glim"
- "Parents from Space"
- "The Mother Instinct"
- "Their Divided Self"

DISC THREE:
Includes 8 episodes:
- "Taps"
- "The Match Game"
- "Rain Dance"
- "Cocoon"
- "All in a Day's Work"
- "Satan in the Suburbs"
- "Mannequins of Horror"
- "La Strega"

DISC FOUR:
Includes 8 episodes:
- "The Face"
- "Portrait of the Artist"
- "A Bond of Silk"
- "Rerun"
- "Love Hurts"
- "The Farmer's Daughter"
- "Jar"
- "The Demons"

DISC FIVE:
Includes 8 episodes:
- "Reaper"
- "The Mandrake Root"
- "Half as Old as Time"
- "Museum Hearts"
- "Habitat"
- "Bed and Boar"
- "Mr. Swlabr"
- "Perchance to Dream"

DISC SIX:
Includes 8 episodes:
- "One Wolf's Family"
- "The Offering"
- "Far Below"
- "Micro Minds"
- "Refugee"
- "The Gift"
- "The Bargain"
- "The Family Man"

DISC SEVEN:
Includes 8 episodes:
- "Stressed Environment"
- "Murray's Monster"
- "Bug House"
- "Cellmates"
- "Outpost"
- "The Hole"
- "Small Blessings"
- "A Shave and a Haircut, Two Bites"

DISC EIGHT:
Includes 8 episodes:
- "The Young and the Headless"
- "The Waiting Game"
- "Sin-Sop"
- "A New Woman"
- "Malcolm"
- "Household Gods"
- "The Space Eaters"
- "The Waiting Room"

DISC NINE:
Includes 8 episodes:
- "Leavings"
- "Desirable Alien"
- "A Face for Radio"
- "Werewolf of Hollywood"
- "Talk Nice to Me"
- "Hostile Takeover"
- "The Maker"
- "The Moving Finger"

Video


Each episode is presented in the broadcast standard of the time – 1.33:1 4x3 standard definition. There is zero doubt this looks better than whatever old VHS tape or convention circuit bootleg you possess. Each episode looks fairly remastered, with a moderate-to-heavy layer of grain seen throughout. The show was shot on 16mm, so you have to provide some leeway in the presentation's appearance. Colors and contrast are about as good they need to be. Nothing spectacular; just perfectly acceptable.

Audio


Likewise, the English Dolby Digital 2.0 stereo track has as much presence as whatever speakers your television is rocking right now. The track is serviceable and clean, with no audible anomalies present. There are no subtitles.

Extras


Here's the sad part – nothing to be found here. I suppose at the least it's kinda cool they kept the show's bumpers intact during each episode, right? Right?

I know. There should be some awesome retrospective stuff here but there's not.

Packaging


An average cardboard side-loading slipcase houses three individual clear amaray DVD keep cases. Within each case is a swinging hub that includes a disc per side, plus a third disc on the inside hub. Episode information is listed inside each case.

Overall


I love the hell out of this show and would have bought it no matter what, and this is literally an "or what" release – bare bones and as minimal as it gets. But it's done and I'm happy.
| | | | | |
| --- | --- | --- | --- | --- |
| The Show: A- | Video: B | Audio: B- | Extras: F | Overall: C+ |