The Film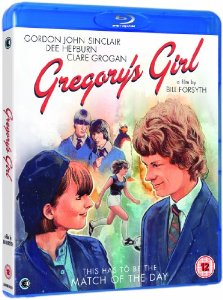 Gregory's Girl (Bill Forsyth, 1981)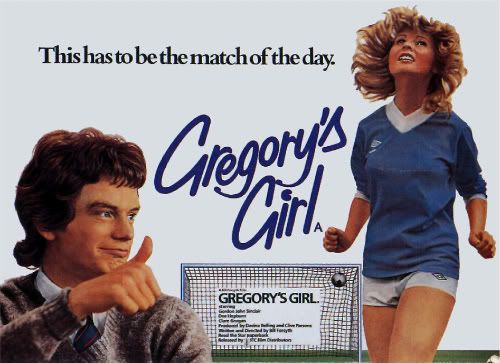 The second film directed by Bill Forsyth, Gregory's Girl (1981) shares many similarities with his first, That Sinking Feeling (1979): both films offer a warm, comic look at young Scottish men and their relationships with the world around them. Both films also share a number of cast members. Notable as the first Scottish feature film made by a Scottish director, That Sinking Feeling, which focuses on a group of unemployed young men who plot to steal and sell stainless steel sinks, had been shot for £6000, with £3000 of this funding provided by the Scottish Arts Council, after the British Film Institute turned the project down because it was seen as 'too commercial' (see Forsyth's commentary on this disc).

Set in the 'new town' of Cumbernauld, situated just outside Glasgow, Gregory's Girl focuses on Gregory (John Gordon Sinclair), who becomes infatuated with Dorothy (Dee Hepburn), when she is taken on as a striker in the school football team for which Gregory also plays. Some members of the school community, including Gregory's friend Andy (Robert Buchanan) are up in arms about a girl being taken on as a member of the school football team. However, Gregory argues that it is simply 'modern'. Gregory is coached in his romantic ambitions by his younger sister Madeline (Alison Forster). However, Dorothy's friend Susan (Clare Grogan) shows a great deal of interest in Gregory.

Much has been made of the ambiguity in the film's title, which asks us to consider which of the girls (Dorothy or Susan) will become 'Gregory's girl'. Whilst the girls are depicted as sporty 'go getters', the young men are shown to be hopeless romantics: Gregory's friend Andy daydreams about Caracas, as he has been led to believe in Caracas there are eight women for every one man. The boys lust after anything in a skirt: the opening sequence shows five of them watching through a window as a nurse undresses. They move on after she has stripped to the waist. A couple of younger boys take their place. 'All that fuss over a bit of tit, eh?', one of the younger boys notes. 'Hey, look. The knickers -', his friend intones, and the pair stare intently at the (offscreen) window. This opening sequence deftly establishes the film's focus on the camaraderie of young men, their fascination with the world of sex and their lack of experience in the ways of women and love. References to this site of voyeurism, which represents the boy's sexual naivete and their inability to 'make contact' (in the words of one of Gregory's mates) with the opposite sex, bookend the film. At the end of the film, one of Gregory's friends, a budding photographer, heads to the site with his camera and a 300mm telephoto lens, intent on producing prints of the nurse that he might sell to the other young men at the school. However, this is too late for Gregory, who has matured and found 'his' girl (Susan), and Gregory subtly mocks the naivete of his school pal.


From the outset, Gregory is shown to be carefree to the point of passivity. Confronted by the school PE teacher/football coach, Phil Menzies (Jake D'Arcy), after yet another poor display in his role as striker, Gregory shrugs off Menzies' criticisms of his performance: 'Football is all about entertainment. It's only a game', Gregory protests. Later, Gregory is shown to be immune to the subtle come-ons of his apparently gay friend Steve (William Greenlees), whose ears prick up when, during a cookery class, Gregory tells him he's 'in love' with a member of the football team: 'Have you told anyone else about this? Probably just a phase. Who is it, Andy?', Steve asks. Later, keen cook Steve pecks around Gregory after reminding him, 'Hours and hours I spend, making you lovely things'. It's this carefree attitude that seems to be attractive to Susan, and at the end of the film Gregory still hasn't completely shed it - although he's more active in his pursuit of the unattainable Dorothy (and then, Susan, who reciprocates his affections).

Barriers are in place to the shifting of gender roles that is precipitated by Dorothy's 'try out' for the school football team. When she arrives for the try outs, Menzies tells her to try for hockey: 'It's the boys I want for the trial', he says. 'Doesn't say so on the notice', Dorothy reminds him: 'Says "talented players"'. Later, whilst watching a match from the sidelines (whilst Gregory plays as the goalkeeper), Andy complains to Gregory that it's 'not right' to have a female striker. 'It's modern, Andy. Modern girls, modern boys. It's tremendous. Look', Gregory urges him. 'Girls weren't meant to play football. It's too tough, too physical', Andy moans. 'Tough? Have you ever seen them playing hockey? They're like wild animals', Gregory protests, 'If women were meant to play football, they'd have their tits somewhere else', Andy suggests.

Forsyth has commented that he 'was trying to make the kids in the film, the young people, […] the articulate ones, the ones who wanted to make sense of their lives, and I wanted to make all the adults childlike' (see the commentary on this disc). The wisest character in the film is also the youngest, Gregory's sister Madeline. Madeline advises Gregory on his romantic dreams, offering him sage advice. When Gregory says that he dreams about Dorothy, Madeline tells him that this must mean he loves her. 'What do you dream about?', he asks her. 'Just ginger beer and ice cream. I'm still a little girl, remember?', she reminds him. Drinking her ginger beer and lime juice with ice cream, Madeline sagely notes (in words that may also refer to the transient state of first love), 'The nicest part is just before you taste it. Your mouth goes all tingly, but that can't go on forever'. (This awareness about the fact that it 'can't go on forever' arguably makes the film's ending, in which Gregory and Susan begin a hesitant romantic relationship, a little bittersweet.) Madeline also has a young suitor, Richard (Denis Criman), who comes to the door and, in a highly amusing scene, is turned away by Gregory, who demonstrates the kind of protective ire usually reserved for display by the parent of a teenaged girl: 'What's the idea, coming to people's doors, seducing their sisters. Act your age', Gregory tells the eleven year old boy, 'Break some windows; demolish some phone boxes [….] Seducing children. You're a freak [….] Underage walks, dates. You'll run out of vices before you're twelve'.

Meanwhile, the teachers are shown to be no different to their pupils: their world is driven by the same adolescent sense of humour and the same desires. In the staffroom, two of the other teachers mock Menzies. Like an adolescent boy who has just discovered the ability to grow facial hair, Menzies brags about his new moustache; his colleagues tell him, 'makes you look very grown-up [….] Makes you look fifteen already'. Meanwhile, they joke about a sixteen year old female student who has been sending love poems to her English teacher. (Forsyth's 1999 sequel, Gregory's Two Girls, confronted the taboo topic of teacher-student infatuation in a more direct manner: in that film, an adult Gregory, now an English teacher at his old school, fantasises about a sexual relationship with one of his students.)

The film is uncut and runs for 91:37.


Video


The film is presented in its original aspect ratio of 1.85:1. The 1080p presentation uses the AVC codec. Colours are strong, and contrast is generally good, although in some darker scenes there seem to be some crushed blacks. The naturalistic photography is well-represented here. Natural film grain is evident, although it seems that some digital noise reduction may have been applied – not too zealously, it has to be said, though enough to soften the image just very slightly.

Audio


Audio is presented via a LPCM 2.0 stereo track. Although very bassy, this is clean and audible throughout.

The alternative dub of the film prepared for the US market, where the Scottish accents were considered a barrier to comprehension of the dialogue, is also included (via a LPCM 2.0 stereo track). The characters still speak with Scottish accents in this dub, but these accents are softened. Again, this is clear throughout. It's inclusion is to be commended; however, it's little more than a curiosity piece. (The whole exercise seems fairly redundant, as the Scottish accents in the original audio are hardly difficult to understand.)

Optional English subtitles are included.

Extras


Audio commentary with Mark Kermode and director Bill Forsyth
Kermode and Forsyth discuss Forsyth's work prior to Gregory's Girl and the origins of this film. They discuss its shooting and the response to it. It's an entertaining and informative commentary that is well worth a listen.

Interviews:
- 'Bill Forsyth: The Early Years' (20:07)
In this interview, Forsyth discusses how he came to be involved in film-making, despite his lack of interest in films, and his early career in documentaries. There is overlap with some of the comments made on the commentary track, but Forsyth is nevertheless a lively interviewee.

- 'Gregory's Girl Memories' (11:06)
Clare Grogan talks about her involvement in the film. Again, this is a lively, engaging interview, despite its short length.
(The interviews are presented in HD.)



Overall



The sexual confusion generated by adolescence was hardly a new subject for cinema when Gregory's Girl was produced: from the mid-1960s onwards, a wave of 'coming of age' films had been and gone. (Clive Donner's Here We Go Round the Mulberry Bush, 1968, is an interesting point of comparison: both films are set in a 'new town' environment.) However, Gregory's Girl treads this well-worn path with an engaging warmth and, as with Forsyth's That Sinking Feeling, some great naturalistic location photography. Forsyth also works in some wonderful visual humour: there's a repeated sight gag featuring one of the students bizarrely (and inexplicably) dressed in a penguin costume, who appears in the film from time to time. The insistent score arguably works to the film's detriment: it jars with the mostly naturalistic photography. Nevertheless, It's a charming film that is deserving of the praise it has attracted and the strong cult following that has developed around it.

This release of Gregory's Girl easily surpasses any of the DVD presentations. The presentation is very good, and the contextual material, despite the overlap between the commentary and the interview with Forsyth, is equally impressive – although sadly, the film's trailer is not included. Fans of the film should be pleased with this new HD release.