The Film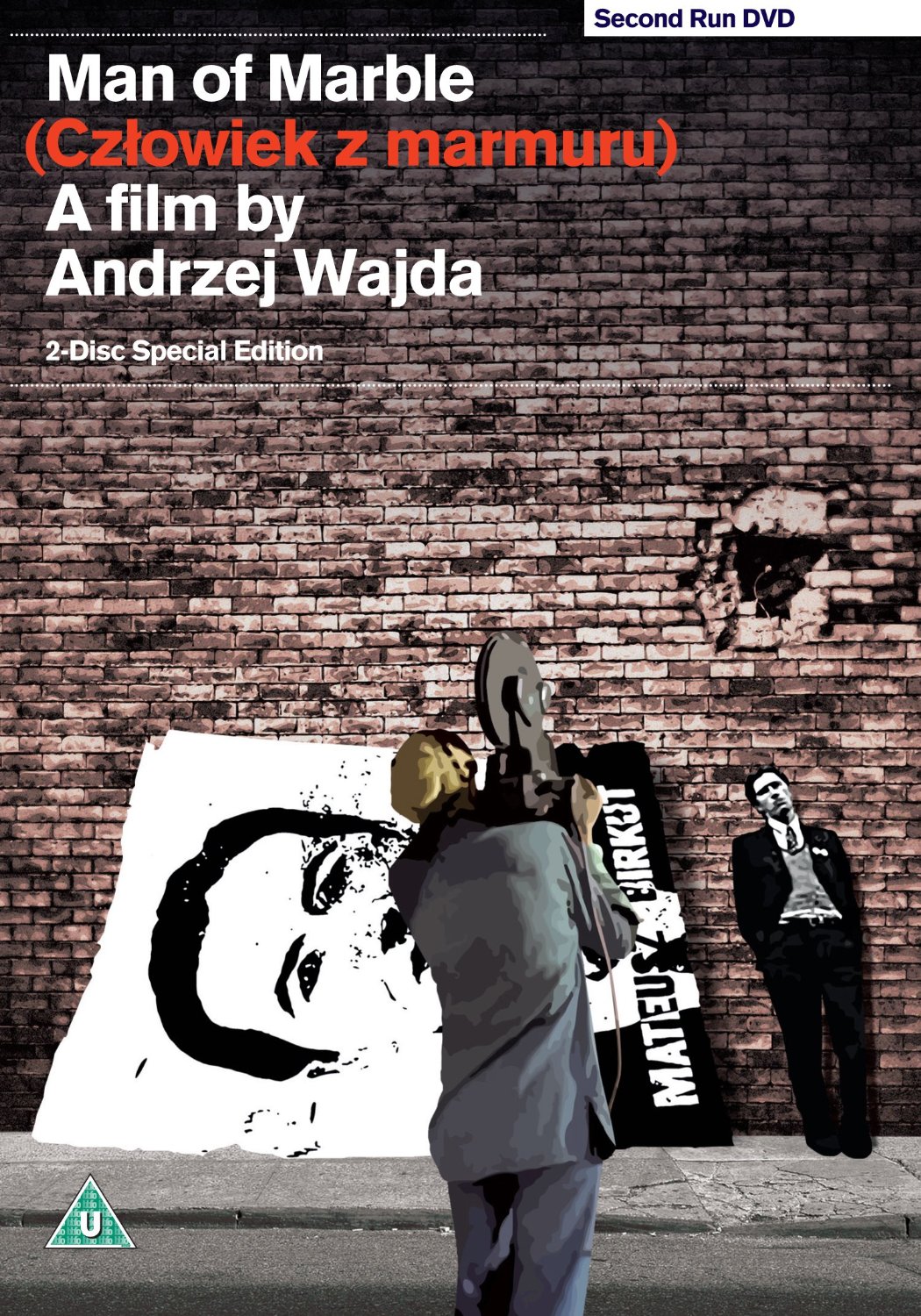 Man of Marble (Andrzej Wajda, 1976)
Andrzej Wajda's Man of Marble (1976) offers a vivid denouncement of the Stalinist era of Polish politics, and was followed by its companion piece, Wajda's Man of Iron, in 1981. Man of Marble begins in the present (1976), in which a young female filmmaker looks towards Poland's past in an attempt to explore the life of a Stalinist 'worker hero', the film's titular 'man of marble', who disappeared from public life in the mid-1950s. The film was originally written in the early 1960s but the script was suppressed by the propaganda department of the Central Committee until the mid-1970s (see Wajda, 2000: np).

The film's structure draws heavily on the jigsaw-like structure of Orson Welles' Citizen Kane (1941): like the reporter Jerry Thompson (William Alland) in Welles' film, in Man of Marble 28 year old film student Agniesza (Krystyna Janda) interviews witnesses and gathers archival material in order to produce her diploma film, a study of an enigmatic figure – in this film, Mateusz Birkut (Jerzy Radziwilowicz), a 'worker hero' of the Stalinist government of the mid-1950s who fell from grace and disappeared from the public eye. Like Charles Foster Kane (Orson Welles), Birkut is the character whose actions (in the diegetic past, the 1950s) form the locus of the film and whose absence (in the diegetic present, the mid-1970s) drives the narrative forwards. As Citizen Kane opens with the bravura 'News on the March' newsreel about Kane's life, in the opening sequences of Man of Marble Agniesza views, in a private screening room, a 1950s newsreel about Birkut entitled 'They Are Building Our Happiness'; she is also shown outtakes from this newsreel, which was directed by a now-retired Polish filmmaker named Burski (played in the 1970s sequences by Tadeusz Lomnicki, and in the analepses that take place in the 1950s by Jacek Lomnicki).

Agniesza's quest leads her to uncover the truth about the ways in which Birkut was exploited and then disposed of by the system that made him into one of its 'worker heroes'. Burski's newsreel 'They Are Building Our Happiness' represents the official version of Birkut's history, but as Agniesza interviews witnesses – including Burski, Birkut's former friend Witek (Michal Tarkowski), and Birkut's wife Hanka (Krystyna Zachwatowicz) – she discovers that the truth is far more complex. The interviews are punctuated by extended analepses/flashbacks depicting the events that are under discussion, which overlap with the events shown in Burski's newsreel about Birkut. We are shown a reluctant Birkut being coached and cajoled into participating in Burski's film, his diet and even his shaving habits changed for the purposes of representing him as one of the state's 'worker heroes': Birkut is given Brazilian coffee, elite cigarettes and his own barber. ('You can't stuff a man like a goose', Birkut protests at one point.) During the exercise in which he is elevated to the status of a worker hero, in which he and five assistants must lay 30,000 bricks, Birkut is heavily directed by Burski. Burski even restages the moment in which Birkut is congratulated on his endeavour, despite the obvious exhaustion writ across Birkut's face.

As the film progresses, Agniesza discovers that Birkut became increasingly trapped in a Kafka-esque nightmare. During one display of his prowess as a bricklayer, his hands are burnt by a brick that is passed from Witek (who is wearing gloves) to him. Witek soon disappears, and Birkut searches for his friend, eventually discovering that Witek has been imprisoned for an act of treason: it is claimed that he has confessed to sabotaging the brick that burnt Birkut's hands, ending Birkut's career as a bricklayer. At Witek's trial, Birkut is called as a witness against his friend, but in a display of solidarity Birkut deliberately implicates himself in the act of treason for which Witek is being prosecuted. Both Witek and Birkut are imprisoned; they are released after the decline of the Stalinist era in Polish politics, to find that the world has become a very different place.


In making her documentary, Agniesza faces opposition from her producer, who tries to turn her attention towards a more commercial and more accessible subject. He tries to persuade her to make a documentary about 'a real issue': the new steelworks that is being erected, and which will be overseen by Witek. However, Agniesza is committed to her film about Birkut, the idea for which came from her father's stories about the man. (Much later in the film, we are shown a devastated Agniesza, facing a major rejection from her producer, interacting with her father: perhaps surprisingly given the brashness and self-confidence she displays elsewhere in the film, she comes from a very humble background.) The producer tells her that her project is too controversial and will never be released. Later in the film, he tells her that it will be impossible to assemble, at least without the input of Birkut or his son – both of whom remain frustratingly elusive. To make Agniesza's life even more difficult, the producer then denies her access to cameras and film stock. Despondent, she visits her father, who asks her, 'And you can't find him [Birkut, or his son] without the camera?' This reignites Agniesza's desire to complete her project.

The idealistic Agniesza, who is driven by a non-commercial desire to make a film about the 'truth' of Birkut's life, is contrasted with Burski, whose propagandistic newsreels offer a cynical exploitation/misrepresentation of history that also erases and reimagines the facts surrounding Birkut. Ironically, in one of the newsreels the narrator discusses the new Polish art, which is set against the 'degenerate' art of the capitalist West, a narrator intones that 'It's no accident that in their [Western artists') hands the human figure loses shape and substance'. Of course, this is exactly what Burski's documentary about Birkut does for its human subject. However, both Agniesza and Burski seem to share a comprehension of the immediacy of the documentary form: as Burski notes, 'Film, my dear colleague, especially documentary, isn't literature. With documentary, nothing can wait till tomorrow. It's either now or never. One must know what is important and have this awareness'. As if to emphasise this immediacy, Agniesza continually reminds her cameraman, the ageing Mr Leonard (who also worked for Burski, thus linking the two documentarians of Birkut's life; he is played by the real life cinematographer Leonard Zajaczkowski), that he should shoot without a tripod: 'No more shooting with a tripod, eh', she tells him, 'only hand-held camera, and use wide-angle lenses'. Again, this links her to Burski, whose documentary about Birkut was similarly shot using a handheld camera (see Coates, 2004: 184).

The film is complete and runs for 154:10 mins (PAL)<


Video


The film is presented in the 4:3 aspect ratio. The print is in pristine shape, and is based on a new HD digital transfer approved by Wajda himself.

Wajda's film skillfully interweaves footage set in the diegetic present with both real and newly-shot newsreel footage (the newly-shot newsreel footage masterfully emulates the aesthetic of the genuine newsreels), presented in 16mm monochrome, and analepses/recollections by Agniesza's intervewees set in the 1950s. Both colour 35mm footage and monochrome 16mm material is presented handsomely on his disc. The transfer is vivid and organic, showing off the different textures of the 35mm and 16mm footage.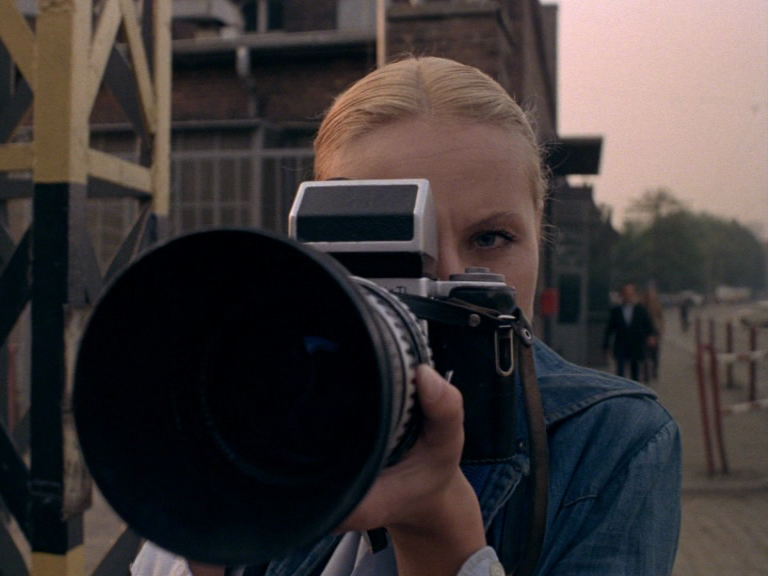 Audio


Audio is presented in Polish, via a two-channel stereo track. This too is clean and free of issues. Optional English subtitles are provided.

Extras


This is a two-disc set. The film is presented on the first disc. The second disc contains an interview with director Andrzej Wajda (21:43), in which Wajda talks about the film's origins and discusses its production and reception. An interview with lead actress Krystyna Janda (13:40) features Janda discussing how she became involved in the film, her relationship with Wajda, the redrafting of the script as production was taking place, and the response to the film in Poland. The interview with (uncredited) assistant director Agniesza Holland (20:09) focuses largely on some of the currents within post-war Polish society. Finally, a restoration comparison (1:25) offers a side-by-side examination of the restoration of the film.

These interviews with Wajda and Janda are presented in Polish, with optional English subtitles. The interview with Holland is in English.


Overall



Man of Marble is a sprawling, epic, but deeply human film about the intersection of the personal and the political. The film's tone is satirical and heartfelt. Wajda 'romanticise[s] and glorifie[s]' Birkut, a symbol of 'the common man' (Falkowski, 2007: 165). Birkut's fall from grace as a Stalinist idol results in his commitment to social utopianism: following the incident which leaves him unable to continue working as a bricklayer, he fights for worker's rights and 'tries to open the eyes of the spectator to the historical truth' (ibid.). Marek Haltek (2002) argues that Man of Marble 'denounces Stalinism' and offers a 'retelling' of the 1950s through its narrative of Mateusz Birtuk's 'exploit[ation] by the communist authorities as a national hero' (209).

Like Citizen Kane, whose approach to narrative Man of Marble shares, the film interrogates the media's role in representing (and misrepresenting) history: as Janina Falkowska notes, 'Man of Marble explores the creation of a public image [that of Birkut] while simultaneously pursuing its own investigation into the reality behind official myth' (op cit.: 166). Man of Marble is a thoroughly fascinating examination of propaganda and the ways in which it exploits its human subjects. This DVD contains an excellent presentation of the film and some very good, and thorough, contextual material. As such, this release comes with a very strong recommendation.


References:
Coates, Paul, 2004: 'Cztowiek z marmaru Man of Marble'. In: Hames, Peter (ed), 2004: The Cinema of Central Europe. London: Wallflower Press: 181-90

Falkowska, Janina, 2007: Andrzej Wajda: History, Politics, and Nostalgia in Polish Cinema. London: Berghahn Books

Haltek, Marek, 2002: Polish National Cinema. London: Berghahn Books

Wajda, Andrzej, 2000: 'Czlowiek z marmuru [Man of Marble]'. [Online.] http://www.wajda.pl/en/filmy/film20.html