The Film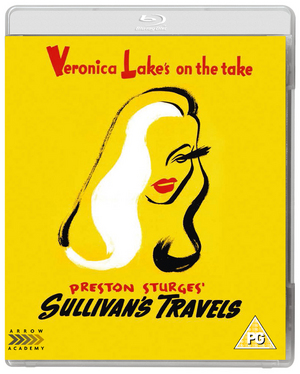 ***This is a technical review only. For reviews on the movie from various critics, we recommend visiting HERE.***

Director John L. Sullivan (Joel McCrea) is one of Hollywood's hottest talents, with an uncanny gift for getting audiences rolling in the aisles. But he's dissatisfied: he wants to abandon comedy for Serious Statements, and buys the rights to celebrated social-realist novel 'O Brother, Where Art Thou?'.

To make his masterpiece as realistic as possible, Sullivan naturally has to understand how the book's downtrodden characters must have felt, so he takes to the road as a hobo, is taken under the wing of a failed actress (Veronica Lake), and learns several valuable home truths about the importance of not patronising his audience.

Writer-director Preston Sturges had an inspired run in the 1940s, turning out some of the funniest American comedies ever made (The Lady Eve, The Palm Beach Story, The Miracle of Morgan's Creek). Sullivan's Travels is one of his best: not just hilarious but also truly wise.

Video


Independent British distributor Arrow Films have released "Sullivan's Travels" onto Blu-ray as part of their "Arrow Academy" range, using the original aspect ratio of 1.37:1. The transfer is 1080p and uses an AVC MPEG-4 encode. To put it bluntly, it's absolutely stunning.

When I first heard that Arrow Films had managed to license this film from Universal Pictures, and that it was an 'off-the-shelf' release (HD transfer already done by the licensor), I was a little worried. Universal are the most hit-and-miss out of the major studios and have become renowned for their overuse of digital noise reduction. Thankfully, it appears as though someone with a bit more intelligence was in charge when it came to this one as it looks as beautiful as Veronica Lake. Blacks are deep, and the clarity between the various shades results in great depth, and strong details, especially in the various close-ups, and with Veronica Lake's hair. You can even distinguish the dirt on the tramps. There are no signs of major damage and no aliasing, or edge enhancement. That's not to say the print is squeaky clean though - there are some minor blemishes and scratches which are barely noticeable - but when you consider that we are looking at a movie over seventy years old, I'll be surprised if this can be bettered. Roll on more Sturges releases!

The disc is region B encoded, and the feature runs 90:46.

Audio


Arrow Films have included a single audio option for this release; and English LPCM 2.0 Dual Mono track. Just like the video, this has been very well replicated without any issues to speak of. The depth is surprisingly good considering the mono elements, especially during the church singing in the final third, and dialogue is clear at all times, despite the speedy delivery Sturges' films have become renowned for. There are no issues at all with the audio such as scratches or drop outs, and I noticed no signs of background hiss.

Optional subtitles have been included in English.

Extras


We start off the fantastic extras package with an audio commentary by film maker and Monty Python alumni, Terry Jones. His manner is very excitable and his enthusiasm is catching. He discusses what certain scenes are portraying, some of the meanings behind particular shots, and the scripting and cast/crew in general. He does become a little overly descriptive at times about basic stuff happening on-screen, and he also has a tendency to mumble on occasion, but it's an interesting track that is worth listening to, despite the dead spots.

Next up we have the "Preston Sturges: The Rise and Fall of an American Dreamer" documentary portrait from the American Masters series by Kenneth Bowser, which clocks in at 75:13. This is a great look into Sturges' life, from his beginnings as a writer, to opening the door to other writers who aspired to be 'more', right through to his feud with Paramount, resulting in Sturges joining Howard Hughes as part of the California Pictures Corporation. His first film as a studio executive even managed to pull Harold Lloyd from his fifteen year retirement. Plenty of interviews, plenty of footage, plenty to digest.

"Kevin Jackson on Sullivan's Travels" is an appreciation by the writer and broadcaster, lasting 21:28. He gives an in-depth analysis to certain aspects of the film, and carries himself well. What interested me, is how he talks about how it is Hollywood's most Dickensian film, and how Sturges' writing here, makes characters between "Sullivan's Travels" and Dickens novels similar.

Next, we have "The Preston Sturges Stock Company" documentary which is a celebration of Sturges' regular character actors and bit-part players (45:52). What a fantastic piece this is. Not only do we hear about why Sturges kept using the same supporting cast throughout many of his movies, we get to learn more about these often forgotten actors and actresses, and the parts they played. I just hope people take the time to explore this fascinating extra and don't skip it. The highlight for me? Former Keystone Cop Chester Conklin.

"Safeguarding Military Information" is a Sturges-scripted propaganda short released in the same month as Sullivan's Travels, running 10:22. It stars Eddie Bracken and Walter Huston and is about the importance of the dangers of inadvertent dispersal of military information. It does have quite a bit of damage attached to it and is showing its age, but a welcome addition to the disc.

The on-disc extras finish with a theatrical trailer (1:48).

We also receive a reversible sleeve featuring original and newly commissioned artwork by Jay Shaw, and a booklet featuring new writing on the film, by screwball comedy expert Peter Swaab, plus archive pieces by Geoff Brown and Preston Sturges, illustrated with original stills and poster designs.

Overall


Arrow have done it again. A cracking release!


| | | | | |
| --- | --- | --- | --- | --- |
| The Film: A- | Video: A- | Audio: A- | Extras: B+ | Overall: A- |