The Film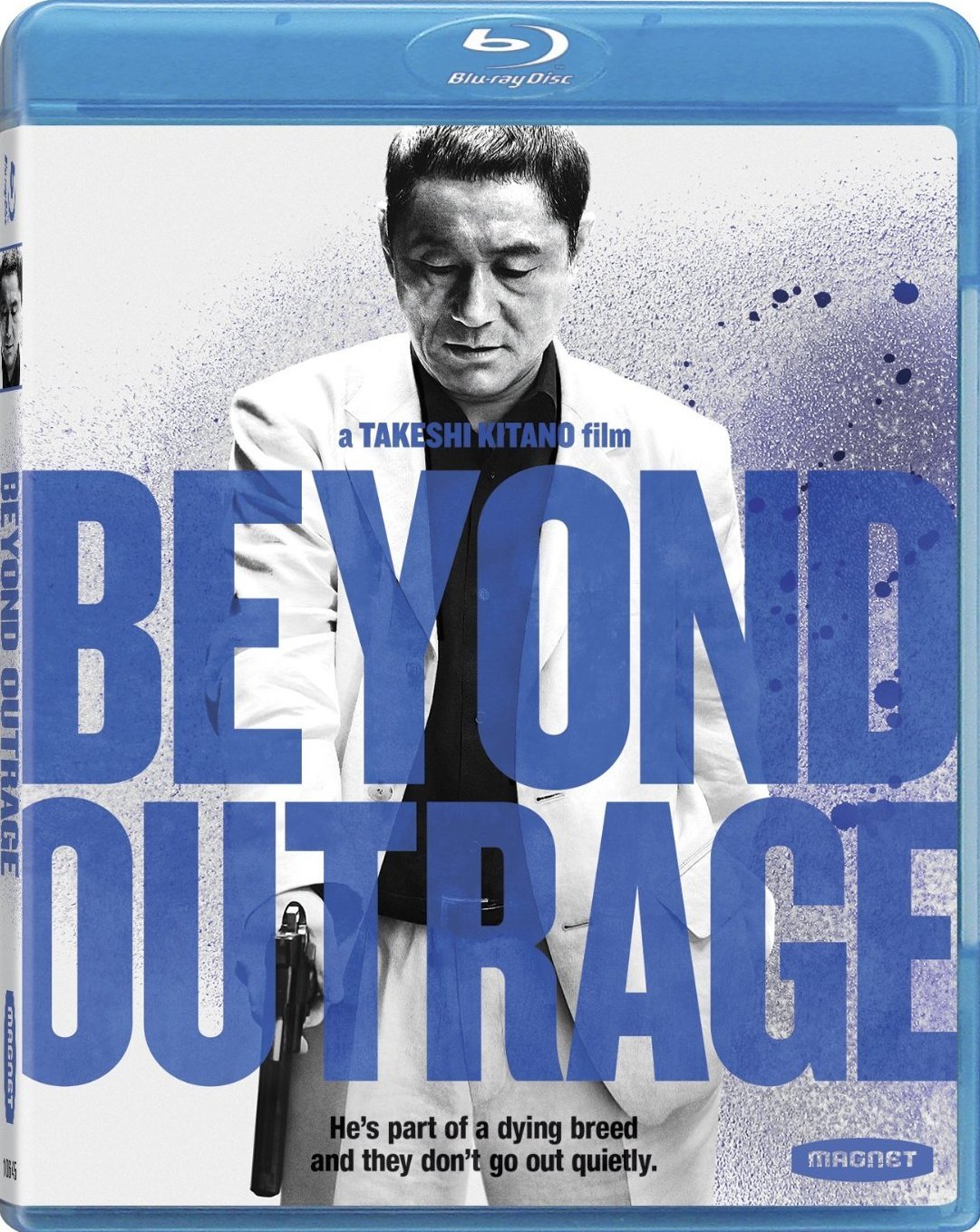 There is an inherent danger in going into a sequel blind, having neglected to see the previous entry that may or may not be required viewing. Sequels that pander to new audiences will often provide a basic recap of the prior film's events so everyone can feel caught up. Others eschew any flashbacks or references, preferring to dive right into the next entry "cold". Such is the case with "Beat" Takeshi Kitano's "Beyond Outrage" (2012), which is a sequel to his 2010 film, "Outrage"; however, you wouldn't know this by giving the back cover a cursory glance. Magnolia/Magnet did put out both films, and it is likely assumed that if you're watching "Beyond Outrage" you've seen the first entry already, but keeping up with the myriad characters and plotting can be an exercise in patience and memory if not. Kitano didn't make a prototypical gangster film that plods along, hitting expected plot points and culminating in a nice wrap-up. No, "Beyond Outrage" is very atypical in that most of the running time is spent building up characters and story lines that languidly lumber forth before exploding with sudden bursts of hyper-violence. In that regard, this makes Kitano's film not unlike something David Cronenberg might have helmed, he being another master of strong characterization and deliberate plotting peppered with violent outbursts that have a visceral impact. While I can't lie and say "Beyond Outrage" clicked with me as a viewer once the credits started rolling, it was evident this is a picture that requires great attention and repeat viewings to properly allow all of its nuances and subtleties to sink in and marinate.

A police investigation into the death of two people found in a submerged car uncovers evidence of a possible gang war between rival clans. There's a new Yakuza leader in town, Kato (Tomokazu Miura), who runs the Sanno-kai crime syndicate, and he must reaffirm the longstanding peace with their rivals on the other side of town, the Hanabishi-kai clan. When the bodies are identified, it's discovered that one of the deceased was a high-ranking figure in the government, leading to police speculation that Kato has grown in power and is shielded by other high-powered, corrupt officials. In an effort to disrupt the tenuous peace between both gangs, the police chief sends in Det. Kataoka (Fumiyo Kohinata) in hopes he can create a rift that will lead to a full-on gang war. He doesn't plan on doing this alone. Kataoka finds a way to speed up the release of Otomo (Takeshi Kitano), a former Yakuza who was sent to a maximum security prison at the conclusion of "Outrage". Otomo's renewed presence in the underworld might be enough to stir up old tensions after how things were left before he went away, especially since he has serious beef with Kato. Upon release, Otomo hooks up with the Hanabishi-kai clan and his former nemesis, Kimura (Hideo Nakano). The two bury the hatchet and work together toward their common goal: decimating the Sanno-kai clan and restoring balance to the Yakuza. The only possible thing standing in their way is Otomo himself, who refuses to play nice, turning their covert plans into an overt massacre.

Takeshi Kitano is something of an entertainment renaissance man in his native Japan. He not only acts and directs, but he writes, does comedy, edits, sings, and paints, just to name a few of his other endeavors. He's as prolific as they come, being seen by many as a successor to the great filmmaker Akira Kurosawa. Kitano has appeared in or directed numerous Yakuza themed films during his career, many of which have garnered significant acclaim. He employs a style reminiscent of Kinji Fukasaku, with whom he worked closely on the cult classic "Battle Royale" (2000). Characters are pushed into situations that continue to build tension before violent eruptions occur at unexpected moments. Kitano doesn't pander to the audience's expectations, preferring to drop in shocking moments that catch you off guard. He allows for a subtle streak of dark humor to blend in with the heavier moments, allowing for bits of levity here and there.

Mistrust also runs high in this world. There's nobody to put total faith in, especially those you think can be trusted most. Double-crosses are ubiquitous, as are the resulting deaths from those behind-the-back deals, making it painfully obvious that anyone who makes it past 30 in this business is either incredibly smart or incredibly ruthless – more than likely both. Speaking of ruthless… you really don't want to be killed by a rival Yakuza clan. You're lucky if a shot to the head is all you have to endure. Some of these guys get dispatched in lengthy, painful, occasionally clever ways. You know how those automatic pitching machines at batting cages are typically used for comedic effect in films? Kitano gives it a new use that will probably have you thinking twice about how funny it is getting hit by a speeding ball. And the age-old tradition of cutting off one's finger as a sign of penance for disrespect is exacted with gnarly results. By not littering the film with continual violence, Kitano imbues the sparse moments of bloodshed with greater impact.

"Beyond Outrage" is intended to be the second film of a planned trilogy, though there is no set date for the third entry. As such, it has to find a balance between existing as a film that can be taken on its own merit but also a bridge between Otomo's introduction – in "Outrage" – and his eventual conclusion in the next chapter. Once the dust has settled, the table has been perfectly set for what is likely to be a bloody conclusion to Otomo's powerful rise. Those looking for the flash and dazzle of contemporary gangster films may find the methodical approach here tedious and lacking in energy; those who relish in the slow unfolding of events married to strong character building will find this a satisfy exercise in restraint. Here's to hoping Kitano continues the style presented here with the culmination of Otomo's trilogy.

Video


Magnolia's 2.40:1 1080p 24/fps AVC MPEG-4 encoded image is expressly proficient, with a cool, steely palette that mirrors the film's stony characters. Much of the picture is swathed in cold hues of blue and grey, though interior shots are considerably warmer. The image is very clean and crisp, with sharp detailing present in every scene. Black levels are generally deep and consistent. Cinematographer Katsumi Yanagishima's photography pulls viewers into the seedy underbelly of the Yakuza without glamorizing it through excess color or warmth. This is a brutal business and the distant, stripped aesthetic beautifully conveys the isolated world these gangsters inhabit.

Audio


No dubbing found here. A Japanese DTS-HD Master Audio 5.1 surround sound track (48kHz/24-bit) is a dialogue-heavy affair. This is a film that relies mainly on the conversations between characters, and as such there aren't many robust moments for the score to shine. There is a subtlety in the sound design that effortlessly draws in viewers without being overbearing. Composer Keiichi Suzuki's score weaves dramatic underscoring into the film without being too bold. The sparse, jazzy score is reminiscent of Seijun Suzuki's gangster films of the 60's.

Extras


Other than a handful of bonus trailers, the disc includes one lone extra: a making-of documentary.

"Making of: Outrage "Further" Beyond" (480i) is a documentary that runs for 1 hour, 1 minute and 58 seconds. This in-depth piece looks at the making of Takeshi's first sequel as a director, featuring interviews with all of the film's principals. A great deal here is dedicated to showing off behind-the-scenes on set as shots are composed, allowing for a glimpse at Takeshi's style of direction. This is presented in Japanese with English subtitles.

The requisite reel of Magnolia bonus trailers (1080p) is also included:

- "The Last Days on Mars" runs for 2 minutes and 31 seconds.
- "Here Comes the Devil" runs for 1 minute and 51 seconds.
- "How I Live Now" runs for 2 minutes and 6 seconds.
- "Big Bad Wolves" runs for 1 minute and 42 seconds.
- "AXS TV promo" runs for 32 seconds.

Packaging


The single disc comes housed in a Blu-ray eco case.

Overall


Watch "Outrage" first, and then settle in with "Beyond Outrage" to see how Takeshi masterfully weaves a tapestry of deceit, revenge, and double-crossing set amidst a world of honor and respect.
| | | | | |
| --- | --- | --- | --- | --- |
| The Film: B+ | Video: B | Audio: B- | Extras: C+ | Overall: B- |