The Film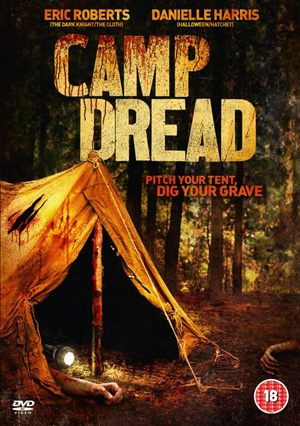 ***This is a technical review only. For reviews on the movie from various critics, we recommend visiting HERE.***

Imagine a reality show where the contestants – a succession of unpleasant characters – are eliminated not by standard ejection but by hanging, drowning, strangling, beheading and all manner of murderous methods. Welcome to Camp Dread.

A group of misguided young adults – amongst them killers, blackmailers, sex offenders – have been sent to the camp as part of a new reality show. This is their last chance to avoid prison or rehab and if they avoid elimination they could win $1 million along the way.

Manipulating the contestants is down-at-heel horror director Julian Barrett played by Oscar nominee Eric Roberts, using the same set as his old horror franchise Summer Camp. And as the competition progresses, it becomes more than just a battle to win. It's a desperate, gut-wrenching fight for survival.

Pitch your tent. Dig your grave.

Video


Image Entertainment continue their low budget horror campaign in the United Kingdom by releasing "Camp Dread" on to DVD using the original aspect ratio of 2.35:1. The transfer is PAL, has been anamorphically enhanced, and is unfortunately a little disappointing at times.

When it comes to low budget horror movies, I always give a little leeway when it comes to picture quality, as the film makers don't often have the best of equipment to hand. In this instance however, I am surprised that a film which manages to bag some known actors like Eric Roberts and Danielle Harris, looks as mediocre as it does. Some of the daytime scenes look pretty good, with the river dual at 43:02 looking particularly strong. In these scenes, the lighter colours pop well, whilst the murkiness of the lake is still clearly evident. Details in these scenes aren't bad either. The darker scenes are a different story though. Blacks crush, shadow detail is non-existent, and contrast levels inconsistent (47:01 is a good example). The transfer also suffers from sharpness issues at times, and in badly lit scenes, skin tones can look unnatural. With all that said though, there are no major issues such as scratches or dirt, and the transfer is overall clean. Wholly watchable.

The feature is uncut and runs 90:11.

Audio


There are two audio tracks available on this release:
- English Dolby Digital 5.1
- English Dolby Digital 2.0 Stereo

Annoyingly, the film starts with the stereo track by default, so be sure to switch the 5.1 track on the menu screen first. The 5.1 track is okay, but doesn't really utilise the surrounds too well. Used mainly for the score, and some cheap scares, the surrounds are often quiet for long periods of time, even causing me to double check I had the right track selected at one point. Dialogue is occasionally a little quiet, with volume levels slightly inconsistent throughout. Directionality is sometimes a little off, and depth to the track can feel flat at times. There are no signs of damage to the track though, with no drop outs or scratches detected. It was also clear of background hiss.

No subtitles have been included.

Extras


Start-up Trailers:
- "The Invoking" (1:10)
- "Sparks" (1:38)
- "The Black Water Vampire" (1:09)

Overall


Horror fans should give "Camp Dread" a chance, but keep your expectations low. It's fun, but nothing to shout home about.


| | | | | |
| --- | --- | --- | --- | --- |
| The Film: C | Video: C | Audio: C | Extras: E- | Overall: C |