The Film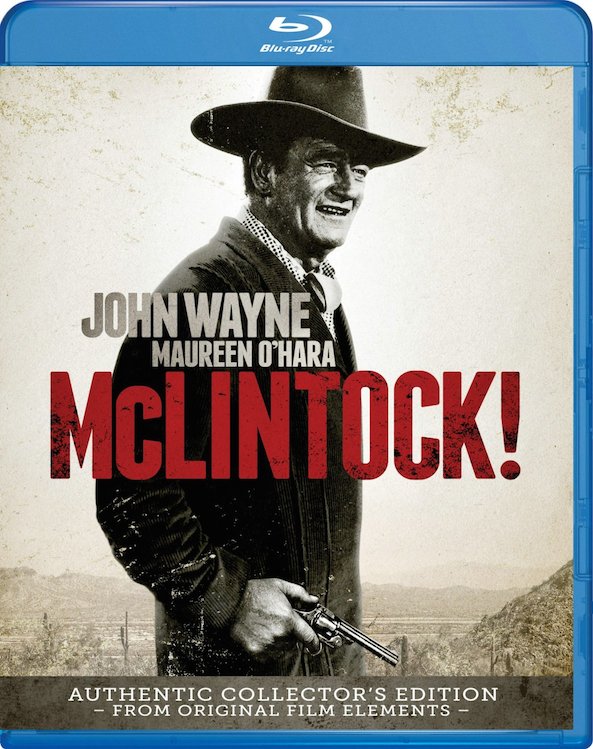 "This is probably the first marriage I've ever seen that started out with a spanking!"

Like many a movie star in the Golden Age of Hollywood—and perhaps more so than any other silver screen icon, ever—John Wayne was typified to the point where, in every single role, he simply played to the public's image of him. He was, and still is nearly four decades after his death, the quintessential cowboy. With his peculiar predilection for calling co-stars "pilgrim", and a walk best described as a slightly tipsy, off-balance, stroke-victim-like swagger—parodied to great effect by Nathan Lane in "The Birdcage" (1996)—Wayne was machismo personified, and rarely an actor praised for his range. This truism is of course an oversimplification, and there's variance in Wayne's filmography if one looks, subtle though it may be. Most well known for westerns, and perhaps second best known for his war pics, "the Duke" still held together action films and dramatic romances (John Ford's magnificent "The Quiet Man" (1952) features his most nuanced performance) quite well, and his stilted delivery loosened in his latter-day pictures, which were almost always infused with some element of comedy. Case in point: "McLintock!"

Ostensibly based on William Shakespeare's "The Taming of the Shrew"—yes, the Duke did Shakespeare… in his own way—"McLintock!" is one of Wayne's lightest features. At the time of production, the actor, however unknowingly, found himself right on the cusp of beginning his final decade on screen, where he often played to the delight and acclaim of even the audiences that had grown jaded of the rest of Old Hollywood by the 1960's. Although considered a fan favorite today, "McLintock!" was nonetheless conceived as a carefully calculated business deal. That it is an entertaining and less challenging romp was an afterthought; a result of the crudely refined formula with which it was concocted. Released in the wake of Wayne's folly—his mega-budgeted pet project, "The Alamo" (1960), which had nearly cost him his fortune and creative independence within Hollywood—"McLintock!" was, at least on its most basic level, a shrewd scheme. Produced on a modest $2 million budget, it was thought up as a way to make some money, prove he still had worth as a star, and fulfill a deal with United Artists. If the film was a success, it would allow the actor/producer to buy back the rights to a few of the other Batjac Productions that he had forfeited as collateral to finance his directorial debut, the legacy of which loomed large over the West and the future career of its cinematic archetype.

As a safety net to further ensure "McLintock's" success, Wayne surrounded himself with familiar faces, including some of his frequent character-actor co-stars (the great Chill Wills, Jack Kruschen, Strother Martin, and Bruce Cabot among them), and his often-on-screen squeeze, Maureen O'Hara, with whom he'd made "Rio Grande" (1950) and several other films. The script was penned by Wayne's favorite screenwriter, James Edward Grant, who'd written "Hondo" (1953), "The Comancheros" (1961), and many other films. The cinematographer, William H. Colthier, had previously lensed Wayne in a number of films, including "Fort Apache" (1948), "The Horse Soldiers" (1959), and "The Man Who Shot Liberty Valance" (1962)—and those were just the ones directed by John Ford. Envisioned as a recreation of the surprising box office returns he'd found in gold rush comedy "North to Alaska" (1960), "McLintock!" was supposed to be directed by "Alaska's" Henry Hathaway. When Hathaway proved too expensive, television helmsman Andrew V. McLaglen, son of veteran actor Victor McLaglen (who was Wayne's Oscar-nominated co-star in "The Quiet Man" (1952)) and Batjac company boy, stepped up. Whatever formula at work—an odd one for certain, which has Wayne playing wealthy cattle baron George Washington "G.W." McLintock as a charismatic drunk fed up with the women in his life, carrying himself in a sort of slyly sucker punch happy slapstick mode—proved worthy, and the picture made back more than five times its budget.

Credit Wayne's chemistry with Maureen O'Hara—who plays Katherine, G.W.'s estranged wife suddenly returned to the family farm in search of a divorce and their daughter, Becky (Stefanie Powers)—and how the screenplay toys with the couple's previous history off-screen. Or a similarly effective exploitation of the Duke's relationship with his own offspring. McLintock's employed a widowed mother, Louise (Yvonne de Carlo), as his kitchen-dwelling cook. Her son, Dev, a feisty, occasionally fisty rogue named Dev, is played by Patrick Wayne; a very young Aissa Wayne is in one scene as Dev's younger sister, Alice. Credit to, really, any number of plots and subplots in the film—because there are a lot of them—which intersect in interesting but not always relevant ways. McLintock butts heads with a band of homesteaders, lead by an old rival (Gordon Jones); he rants about the terrible territorial Governor (Robert Lowery), who wants to move a band of Comanche indians off their land; his daughter brings home her banjo-playing, Harvard-educated, blowhard boyfriend Matt Douglas Jr. (Jerry Van Dyke) whom she intends to marry; and Douglas just happens to be the son of McLintock's nemesis, much to his chagrin.

The rather caveman-ish sensibilities, and Wayne's conservative-leaning politicizing will all appear slightly jarring to modern audiences not familiar with westerns of the era (or, concerning the politics, Wayne's increasingly antagonistic control of his pictures, to which he began ascribing moral and political messages). But "McLintock!" fits the bill as light genre entertainment, offering cattle drives, an indian raid, and not one but two predictably resolved love triangles (Becky is forced to choose between dutiful Dev and miserably lame Matt; in a lesser sense, G.W. wants his wife back, but she's none-to-pleased he has another woman living in his house). The film is filled with fisticuffs aplenty—including a massive mudslinging brawl, which is one of the most famous scenes in all of Wayne's filmography—and some very funny lines (Chill Wills' Drago: "I'm sorry, Katherine—that Katie just slipped out from times when I remember you as being nice people…") Yes, the final act, during which a chase through the center of the town that bears McLintock's name on the 4th of July, ends with G.W. throwing a woman over his knee and bopping her on the bum. But then even Shakespeare himself didn't shy away from misogyny for the sake of broad comedy.

Video


"McLintock!" entered into the public domain several years ago because of some rather complex legal foibles with the rights. Ultimately, a court case decided that while the film no longer had a copyright, its soundtrack did. The film and its many fans have often suffered for this decision, as the market has been flooded with terrible, cut-up copies with irregular runtimes and alternate cues. After years of borderline unwatchable DVD's transferred from cropped 16mm prints and/or video-based sources—and that's saying nothing of the awful and actually unwatchable VHS releases and television broadcasts—the film finally saw its first proper widescreen presentation of the original cut since the theater, on DVD in 2005, when Paramount transferred the film from pristine 35mm elements held by the Wayne Estate. History has somewhat repeated itself on Blu-ray. "McLintock!" first rode into high definition not in high definition at all, as part of a public domain John Wayne Collection, with a handful of other titles and a documentary all on one BD-50, each up-converted from crummy standard definition to 1080i, courtesy of Gaiam. A considerably better release by Olive Films followed in 2013. Not only was Olive's Blu-ray in proper 1080p; it was transferred from a print of the complete film to boot. I thought Olive's disc looked quite good—easily the best "McLintock!" ever had—but that was before this new version came along.

Paramount's absolutely stunning remaster of "McLintock!" is the definitive edition of the film on any format, obliterating all public domain releases that came before it, and even reducing the Olive Blu-ray to borderline mediocrity. For this "Authentic Collector's Edition" Blu-ray, which presents the film in its original 2.35:1 widescreen ratio in 1080p 24/fps AVC MPEG-4 encoded high definition, the studio has again returned to the 35mm film elements held by the Wayne family and minted a new, unmolested transfer which is considerably sharper than whatever master was used on the Olive release. The new rendering preserves a fine layer of natural film grain. The print is pristine, without a single speck, instance dirt or damage throughout the runtime. Like many western of the era, especially those shot by Wayne's contracted cinematographer, William H. Clothier, "McLintock!" is full of gorgeous vistas and sumptuously packed widescreen frames, which are rife with rich period detail and satisfyingly saturated color. Contrast is solid, with inky blacks and excellent delineation in shadows, and, in direct comparison, the natural levels of the Paramount disc show just how boosted even the Olive release really was during night scenes. Skin tones, once flushed and overly pink or sickly and pasty are also more stable. Processing—like artificial sharpening and digital noise reduction—and encoding anomalies and compression artifacts are a non-issue. Setting aside the film's history of shoddy releases and even ignoring a few of the lackluster Blu-ray "upgrades" of other titles in Wayne's filmography, Paramount's remaster of "McLintock!" is a beautifully organic rendering. Considering the history and other Wayne films on BD, it's downright magnificent.

Audio


"McLintock!" was released theatrically in mono, and remixed in 5.1 surround sound by Paramount for the "Collector's Edition" DVD in 2005. The Blu-ray replicates both the newer remix, now encoded in English Dolby TrueHD 5.1, and the original theatrical, in English Dolby TrueHD 2.0 dual mono. Although slightly thinner, the dual mono—which can be processed by most receivers back into the center channel—plays better overall to my ears. Perhaps its just an authenticity bias. I spot-checked the remix and it is not bad. Galloping horse hooves and the score expand beyond their monaural origins but appear still largely locked to the fronts, with subtle panning between left, right and center. Still, there are times when the effect is obvious and a little gimmicky. Unfortunately, the trade off with the mono is that Frank De Vol's score suffers on the brittle high end. The same motifs are slightly fuller and richer sounding in the 5.1 track, as though the recordings were pulled from stereo stems during the remix. Dialogue is rarely effected on either track, and is always intelligible with an appreciable clarity. The disc also includes dubs in French Dolby Digital 5.1, Spanish Dolby Digital 5.1, and Portuguese Dolby Digital 5.1, with optional subtitles in English, French, Spanish, and Portuguese.

Extras


Paramount's "Authentic Collector's Edition" Blu-ray of "McLintock" vaults ahead previous releases—save for the similar DVD from 2005—with a number of worthwhile extras, including a multi-participant audio commentary, featurettes, theatrical trailer and more. The disc has been authored with optional bookmarks.

The audio commentary is an edited affair, which pieces together separately recorded comments from critic/film historian Leonard Maltin, Frank Thompson, Maureen O'Hara, Stefanie Powers, Michael Pate, Michael Wayne, and Andrew V. McLaglen. Maltin serves has a sort of after-the-fact moderator and guide—a job he does elsewhere on the disc as well—all the while throwing out interesting bits of trivia about the film's production between archival recordings with the cast and crew. It's a solid track, although most of the information is repeated in the other supplements.

An optional introduction by Leonard Maltin (non-anamorphic 2.35:1/1.78:1 widescreen, 480i; 2 minutes 39 seconds) can be played before the film or viewable separately from the extras menu.

A meaty 3-part featurette, titled "The Making of 'McLintock!'" (non-anamorphic 2.35:1/1.78:1 widescreen, 480i; 41 minutes 28 seconds), is comprised of interviews with several key members of the cast and crew, including producer Michael Wayne, director Andrew V. McLaglen, actress Maureen O'Hara and many others. Leonard Maltin once again makes an appearance, offering an introduction to each chapter with various bits of information about the making of the film. Individual chapters are titled:

- "The Batjac Story Part II: The Legacy of Michael Wayne".
- "Maureen O'Hara and Stefanie Powers Remember 'McLintock!'".
- "A Good Ol' Fashion Fight".

In a costume-centric featurette, Louise Coffey-Webb, curator of the Fashion Study Collection at Woodbury University, discusses the titular undergarment in "The Corset: Don't Leave Home Without One" (non-anamorphic 2.35:1/1.78:1 widescreen, 480i; 7 minutes 49 seconds). The piece has less to do with "McLintock!" and is more an overview of the fashion accessory in the era in which the film is set.

In a featurette titled "2 Minute Fight School" (non-anamorphic 2.35:1/1.78:1 widescreen, 480i; 2 minutes 18 seconds), stuntmen Tom Morga and Wayne Bauer dissect one of the most memorable moments in "McLintock!", a madcap mudslinging fight between the main cast and dozens of extras.

A photo gallery (HD; 34 images) offers a look at the film's various posters, publicity stills and cast photos, candid behind-the-scenes snapshots and more, scanned at high resolution and encoded within a high definition widescreen frame.

Finally, the original theatrical trailer for "McLintock!" (2.40:1 widescreen, 1080p; 2 minutes 46 seconds) has been included, and is encoded in high definition.

Packaging


Paramount Home Entertainment brings "McLintock!" to Blu-ray in an Authentic Collector's Edition. The single disc release, a dual-layered BD-50, is housed in an Elite keep case. A cardboard slip-cover has been included in first pressings.

Overall


"McLintock!" is one of John Wayne's most beloved films. Loosely based on William Shakespeare's "The Taming of the Shrew", it is indeed one of the better "light", comedic efforts from both men—albeit equally, if decidedly not fatally, marred by misogynistic elements (and in the specifically case of "McLintock"!", Wayne's attempts at integrating his own politics into the narrative). The new Wayne Estate approved Blu-ray edition features brilliantly remastered video, satisfying lossless audio, and a worthwhile collection of extras. If there's a version of this fan favorite that deserves space on your shelf, Paramount's Blu-ray is the one. It is without doubt the definitive release of "McLintock!" on any format. Recommended.
| | | | | |
| --- | --- | --- | --- | --- |
| The Film: B | Video: A+ | Audio: B | Extras: B | Overall: B+ |