The Show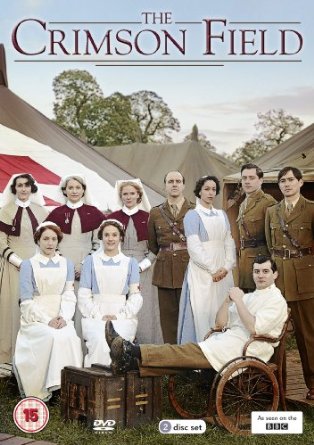 The Crimson Field (BBC, 2014)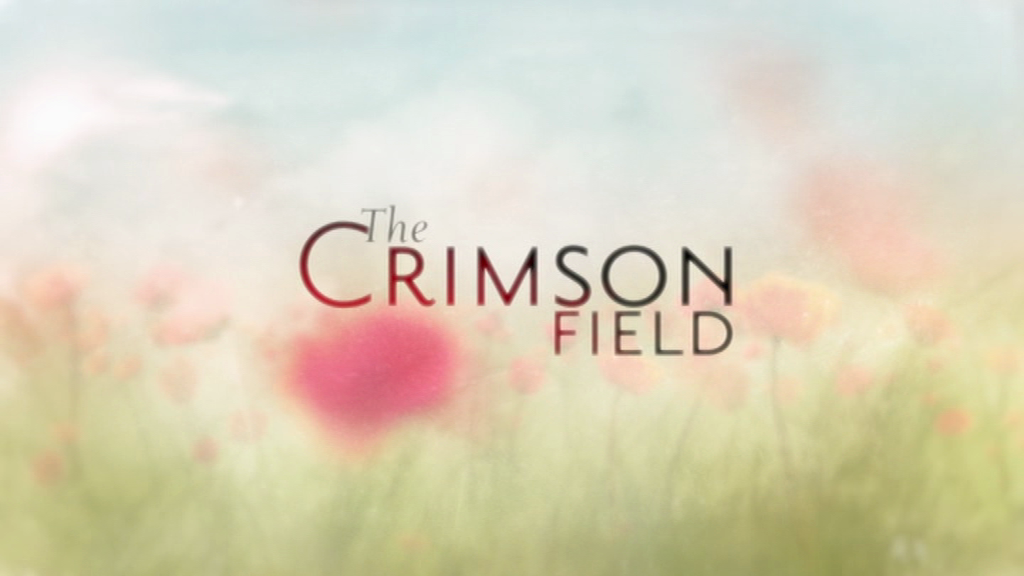 Part of the BBC's First World War centenary programming, The Crimson Field was developed as a six part mini-series by writer Sarah Phelps. The series focuses on a field hospital, but M*A*S*H it ain't. The first episode opens in 1915 and introduces three volunteer nurses (members of the Volunteer Air Detachment), Kitty (Oona Chaplin), Flora (Alice St Clair) and Rosalie (Marianne Oldham), who are shipped to a military hospital in Etaples, where they fall under the tutelage of Matron Grace Carter (Hermione Norris) and Sister Margaret Quayle (Kerry Fox). Into this mix is thrown another volunteer, Sister Livesey (Suranne Jones), who hides a dark secret: she is in love with a German soldier.

Kitty, whose presence anchors the series, is herself hiding a part of her past: this is signalled in the opening sequence of the first episode where, arriving in Boulogne by boat, she drops a wedding ring over the side of the ship and, as she disembarks, finds herself the subject of the amorous attentions of the British troops there. She has a child, a young daughter, back home, and as the series progresses it is revealed that she has volunteered as a means of escaping from her creepy, abusive husband Elliot Vincent (Samuel West). Meanwhile, over time she begins a halting relationship with Captain Thomas Gillan (Richard Rankin), whilst she is also pursued by a besotted Captain Miles Hesketh-Thorne (Alex Wyndham).

As Kitty steps off the ship, any romantic illusions about the work for which she has volunteered are shattered immediately. A corporal tells Kitty and Flora, 'Do not put down your luggage. Do not let go of anything you value: you'll never see it again'. Kitty and Flora are sent to 'Hospital 25A, not far from the front. Hope you like it lively'. At the hospital, they face prejudice from the established nursing staff, who see the VAD nurses as inexperienced short-timers: 'Girls with a few months' training. Our nurses feel the insult most keenly', Margaret complains when they arrive. Upon entering one of the tents in which the injured troops are being treated, the sound of a buzzing fly is allowed to dominate the soundtrack as Sister Margaret tells the volunteers that 'I imagine it'll be a little different from what you're used to'. The new nurses are shocked when one of them asks 'Where are the conveniences' and, in response, Margaret tells them, 'There are chamber pots under the beds'.


In the first episode, Kitty and the other new VAD nurses are introduced to the harsh realities of life on the front lines as Margaret and Grace debate the treatment of a soldier who enlisted in order to escape from the law back home. Later, Kitty is informed of the necessity of lying to the families of her patients: when one of the soldiers under her care dies, Kitty is told by Grace that 'You always tell the families that the death was reasonable and without pain, even when it is not'.

Later episodes foreground the inequalities within the ranks. In episode two, when a major is injured and loses his legs, his wife visits the hospital and rudely interrupts proceedings to demand that her husband be jumped to the front of the queue for treatment. Grace reminds her that 'There are relatives here who I have to give bad news. Please, do them the courtesy of waiting'. However, the major's wife also insists that her husband is separated from the other troops: 'He should be among his own rank', she protests, even though Margaret has informed her that the major wishes to be treated alongside the other soldiers under his command.

In the third episode, the nurses treat a soldier, Nicholls, who has been accused of injuring himself with the hopes of being sent home: a detonator exploded in his hand, destroying it. If found guilty of inflicting the injury on himself, Nicholls faces execution. Alongside this, we are presented with a secondary narrative focusing on two soldiers from Northern Ireland, one of whom struggles to reconcile his republican leanings (his mother sends a letter saying that at home, his brothers and sisters are jeered at due to the fact that their sibling is fighting with the British army) with his duty to fight for a king who, in his words, is 'not the king of my fucking country'. (His sergeant, McCafferty, keeps him in check, telling him that he is going to get into 'the kind of trouble I can do nothing about'.)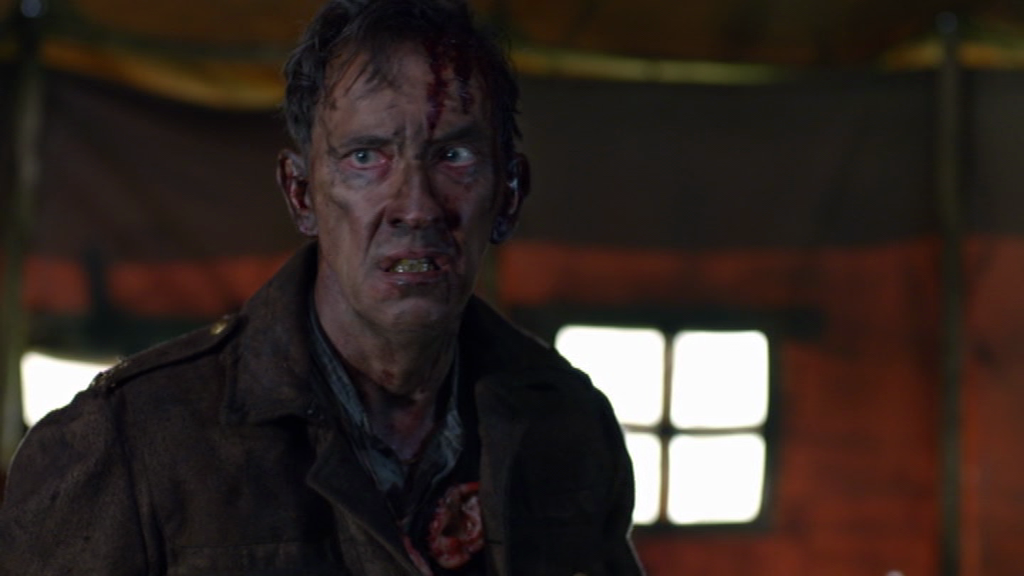 As this might suggest, each episode is issue-led to the point that, given the compressed length of the series (six one hour episodes) the topics (closet homosexuality, desertion, treason, self-inflicted injuries, inequality between ranks/classes, spousal abuse, mixed race relationships) covered by the episodes occasionally feel 'crowbarred' into the narratives – although, of course, the same could be said of many soap operas, for example. On this framework are built very modern plots. Owing to the compressed length of the series, the series' attempt to examine the 'love that dare not speak its name', for example, feels shallow and trite, reduced to a series of clichéd vignettes depicting illicit meetings between angsty men in the woods. In fact, as a whole The Crimson Field has the structure and approach of a soap opera (or more recent 'occupational soaps' focusing on the medical profession, such as the BBC's own Holby City), leaning more heavily on an examination of the emotional lives of its characters than their work as nurses, doctors or soldiers. This is hardly surprising, given that Phelps, the writer of The Crimson Field, has written numerous episodes of the long-running soap opera Eastenders (BBC, 1985-present) and the occupational soap Holby Blue (BBC, 2007-8).

In an interview for The Register in 2007, noted documentary filmmaker Adam Curtis (The Power of Nightmares) suggested that in the age of reality television and modern soap operas such as Eastenders (for which Phelps used to write), television programming – including television drama – is becoming increasingly homogenised, with a focus on 'tell[ing] you [the audience] how to feel [….] From Eastenders to reality format shows, you're on the emotional journey of people – and through the editing, it gently suggests to you what is the agreed form of feeling. "Hugs and kisses", I call it' (Curtis, quoted in Orlowski, 2007: np). Curtis goes on to say that within this context, much modern television focuses on 'a system of […] emotional guidance', where once it offered moral guidance: 'if you analyse television now it's a system of guidance – it tells you who is having the Bad Feelings and who is having the Good Feelings. And the person who is having the Bad Feelings is redeemed through a "hugs and kisses" moment at the end' (Curtis, quoted in ibid.). The Crimson Field follows the template of 'emotional guidance' outlined (and criticised) by Curtis to the tee, foregrounding the conflict between 'Good Feelings' and 'Bad Feelings'. Although this reliance on the structuring conventions and clichés of the soap opera may appeal to some viewers, it may very well alienate those expecting a more traditional drama.


Video


Shot on HD digital video, the series contains some good photography but has the modern, crisp look of a series shot digitally. Interestingly, some liberties seem to have been taken with the facts seemingly for aesthetic reasons: in reality, the Queen Alexander's Royal Army Nursing Corp wore scarlet shoulder capes, but here their capes are maroon.

The series is presented in an aspect ratio of 1.78:1, as per its television broadcast. It's a handsome presentation of the series, displaying good contrast and strong colour consistency.


Audio


Audio is presented via a two-channel Dolby Digital track. This is clear throughout.

Optional English subtitles are provided.


Extras


The disc breakdown is as follows (extra features are in bold) -
DISC ONE (DVD):
Episode One (57:32)
Episode Two (59:31)
Episode Three (59:24)
An Interview with the Writer, Sarah Phelps (4:09). Phelps talks about the origins of the series. She repeatedly asserts that she's 'read really widely' and 'read a great deal and read from all sorts of different sources and all sorts of different places' – but there's an overall lack of specific detail. (Forgive me if I sound cynical about this: it's because I've heard students repeat similarly vague phrases when it's patently obvious that they haven't 'read really widely'.) It's a short and fairly superficial interview.
Cast Interviews:
- Suranne Jones (2:07)
- Hermione Norris (2:38)
- Kevin Doyle (2:30)
- Kerry Fox (2:40)
- Oona Chaplin (1:34)
- Alice St Clair (2:29)
- Marianne Oldham (3:07)
- Alex Wyndham (2:31)
- Richard Rankin (2:42)
- Jack Gordon (2:02)
- Jeremy Swift (2:49)
These short interviews with the cast feature the actors talking about their characters and the roles they play within the drama.
Picture Gallery (1:39). A series of still images, in colour.

DISC TWO (DVD):
Episode Four (59:33)
Episode Five (58:18)
Episode Six (58:46)


Overall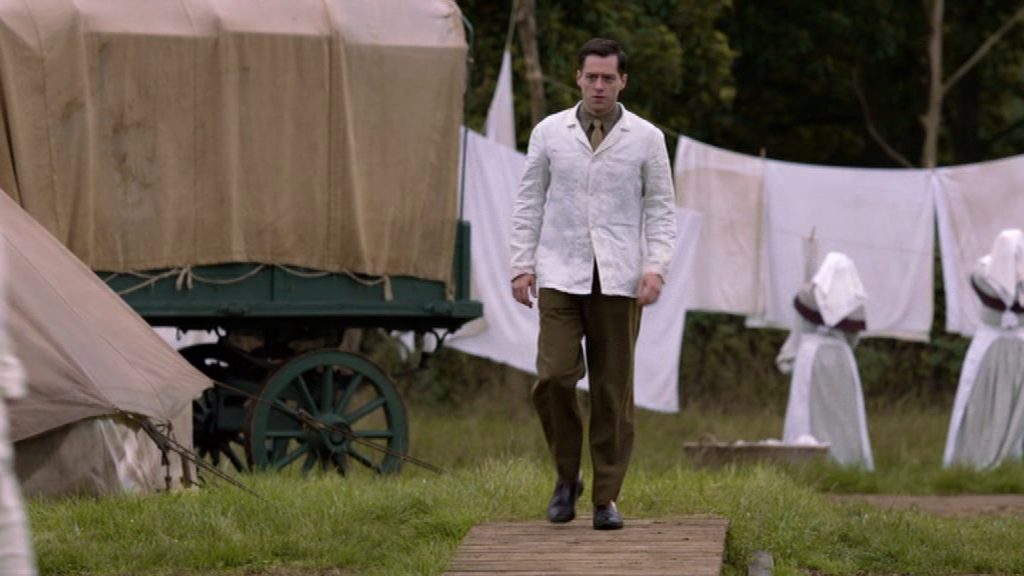 The series is arguably guilty of trying to cram too many issues into a condensed narrative and ultimately ends up wallowing in bathos. Had these storylines been spread over, say, ten episodes rather than the six that are presented here, the series may have been able to explore them in greater depth. However, as it stands watching The Crimson Field sometimes feels like an exercise in box ticking with regard to the social issues built into the series. The focus here is on a soap opera-like examination of the emotional lives of the characters: the product is a mini-series that could arguably best be described as Holby City in the trenches. Frustratingly, the series offers little examination of the realities of medicine in this era – all the more frustrating given that Sarah Phelps, the writer of the series, was apparently heavily influenced by Lyn Macdonald's searing book The Roses of No Man's Land, filled with first-hand accounts of nursing on the front lines during the First World War that would make an excellent basis for a series. (In The Crimson Field, there is a noticeable absence of military or medical discourse, and some of the dialogue feels decidedly anachronistic.)

Where there are flaws in the writing, these are concealed by the superb execution: as with many of the BBC's period dramas, the production design is excellent, and the photography is crisp (though not in any way daring). The cast are also uniformly very good. It's commendable that the BBC have tried to cast light on a subject that has rarely been covered in films and television before (the work of nurses on the front line during the First World War, or for that matter any conflict), but the writing is too mired in the conventions and worldview of the television soap opera for this to be a complete success. An obvious point of comparison is Altman's M*A*S*H (1968), and it's difficult to watch The Crimson Field and not hope for some of the anti-authoritarian satire and dark humour of that film.

The presentation of the series here is very good, although the interviews with Phelps and the cast are quite lightweight and are essentially promotional interviews. It would have been interesting to see these offset with a more serious discussion of nursing on the front lines, or perhaps readings from some of the interviews in Lyn Macdonald's book.


References:
Orlowski, Andrew, 2007: 'Adam Curtis: The TV elite has lost the plot'. [Online.] http://www.theregister.co.uk/2007/11/20/adam_curtis_interview/