The Show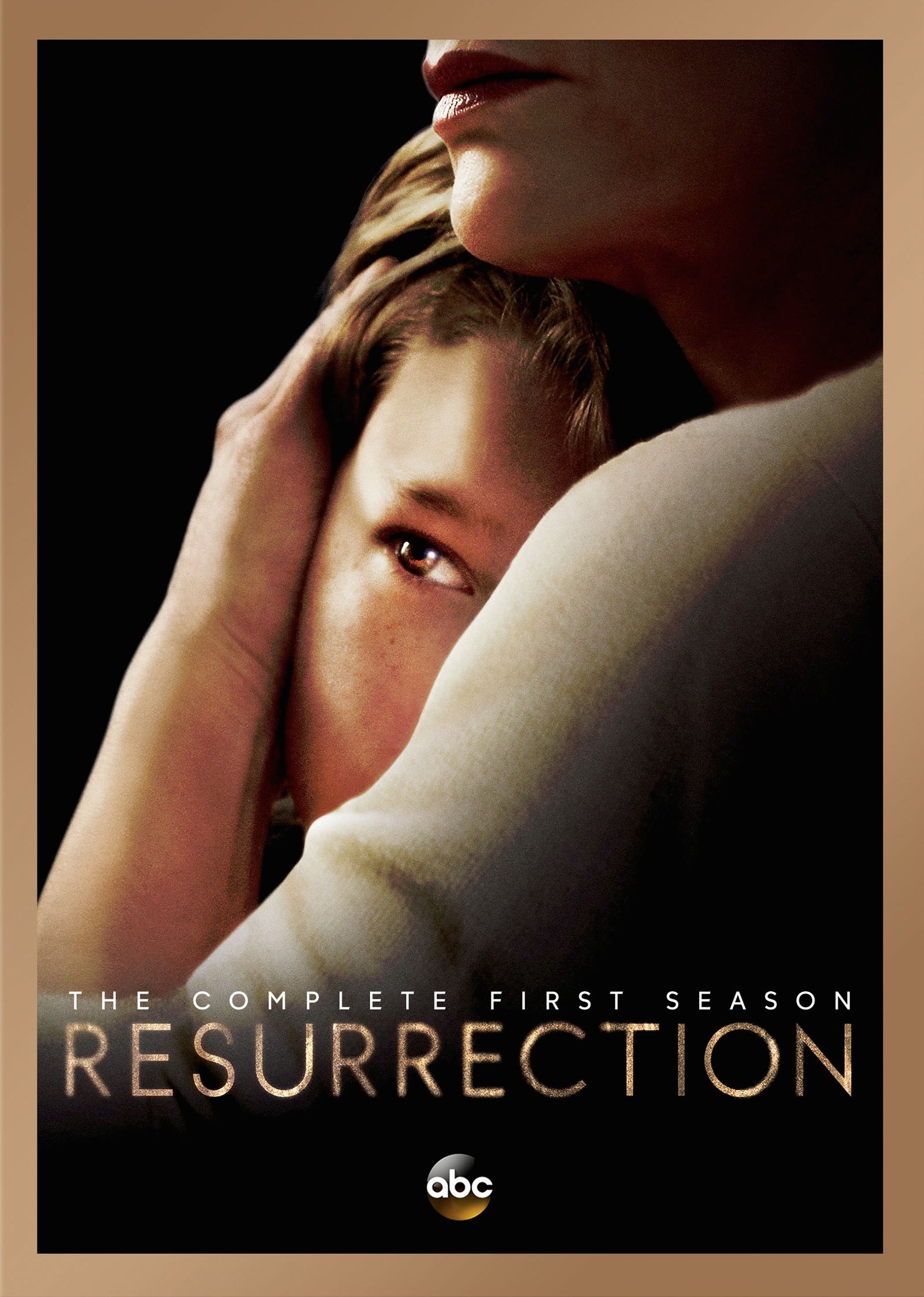 There's nothing worse for a parent than to lose a child. It doesn't matter how old they are when they die, it's an immeasurable loss from which many people never recover. But what if you child came back? Or your dad? The questions that would arise after those intense moments of elation and relief would be endless. How can it be explained? Why? Really, they're too numerous to mention. This is the premise of ABC's new limited run series, "Resurrection" (2014-present), which is based upon the book The Returned by Jason Mott. Despite what my mother insists this is not a retelling of the French series "Les Revenants" (2012) – which was itself based on a 2004 French film called "They Came Back" – although the plot of both shows is unarguably very similar. No matter; you think most American prime timers are watching French TV? The show posits that deceased members from the city of Arcadia, Missouri have begun to return from the dead, but not in the fun kind of way. There's no flesh eating here. Instead, the city's residents experience a range of reactions as loved ones appear out of nowhere and attempt to resume their lives, which is very difficult if, say, you watched your dad's body burned up in the crematorium and yet here he stands before you. Imagine the shock. Not only are families profoundly affected, but the residents of Arcadia are forced to choose sides in either accepting or rejecting the recently un-deceased.

The show plays with some interesting concepts. For one thing, it is a bit refreshing to see people return from the dead and not have it be for the purpose of eating the living. Zombies have been done to death, pardon the pun. Secondly, this is playing right into many people's own fantasies; it's wish fulfilment at the highest level. Who hasn't lost a loved one and wished to see them once again, more than anything? Exactly – everyone has. "Resurrection" tackles one case of this phenomenon after another, with people who died in all manner of ways making their way back to Arcadia. Some have vivid recollections of dying, others not so much. The first, Jacob (Landon Gimenez), is a young boy who returns to his parents – Henry (Kurtwood Smith) and Lucille (Frances Fisher) Langston – thirty-two years after he drowned in a river. Another recent returner, Caleb (Sam Hazeldine), is a father who lived a troubled life before his death. His return is met with mixed emotions from those closest to him. And it's also clearly obvious he's the show's antagonist, what with his smoky looks and narrow features. He's like a network TV version of Jeff Fahey; and you know Fahey is always up to no good. As the first season's eight episodes progress, more members of the community come back to their respective homes. Sadly, no epic pranks are pulled as a result of these unique circumstances.

The problem with "Resurrection" is that once you set the concept aside, what lurks underneath are all the rote trappings of network television. A great example of this is Omar Epps' character, J. Martin "Marty" Bellamy. He's the Immigration and Customs Agent who reunites Jacob with his family; the guy who in most cases would be uninvolved in the remainder of the show almost as soon as his work begins. There's no reason for this agent to hang around, but the writers provide some easy explanation for why he remains. Later on he's given some real purpose since, you know, the guy needs more to do than investigating things since he's not actually an investigator. And let's not even acknowledge the fact that this mystery kid, who appeared almost literally out of thin air, would be so wrapped up in red tape he'd die all over again. There's a formula to network TV shows, and networks are deathly afraid of deviating from it in any way. As such, chances are if you like one network drama you'll be able to watch them all since so many elements are redundant. "Resurrection" is no better or worse than your average show, and the limited run of eight episodes certainly aids in keeping pace and not letting the story get dragged down. The fact that seemingly anyone can be resurrected would lead one to believe there are an infinite number of stories the writers can pull together, and they will. Hey, at least it's not another cop or medical show, right?

"Resurrection: Season One" contains eight episodes spread out over two DVDs, with four episodes per disc. The breakdown is as follows (plot summaries courtesy of IMDb):

- "Pilot/The Returned" - The community of Arcadia, Missouri, is taken by surprise when a young boy called Jacob, who supposedly died 32 years ago, comes back to life.

- "Unearth" - The Langstons, especially Sheriff Fred, are forced to confront secrets from their past they'd rather leave buried when Bellamy pushes to have Jacob's tomb exhumed. Maggie agrees to help Bellamy in his investigation, and Pastor Tom reaches out to Jacob, his childhood friend. The Richards family adjusts to Caleb's return, the second for Arcadia. But unlike Jacob, Caleb claims he has no memory of his death.

- "Two Rivers" - Exhuming Jacob's grave only deepens the mystery of his return. Henry struggles to accept that Jacob is really the son he lost 30 years ago. Bellamy and Maggie search for a connection between Jacob and Caleb's deaths and wonder if the local river may hold a clue. Their digging also unearths Caleb's criminal past - he robbed the bank his daughter Elaine works at just days before his death. Pastor Tom's life is changed forever by a shocking turn of events.

- "Us Against the World" - Bellamy and Sheriff Fred form an uneasy partnership to find Caleb, who has gone on the run after Dale's murder. After Jacob suffers a seizure, Maggie gives him a checkup at the clinic and is shocked by what she finds. Pastor Tom adjusts to the unexpected presence of his old love Rachael in Arcadia.

- "Insomnia" - Bellamy struggles to keep Jacob safe from outside forces. But a tragic incident from his past as a cop continues to haunt him. Elaine is pressured to find out where dad Caleb hid the stolen bank money before the FBI comes to town and learns the truth about Arcadia. Maggie delivers shocking news to Rachael, and Caleb gives Bellamy a chilling warning.

- "Home" - Maggie turns to a person from the past for answers about the mystery; Rachael's secret ends up in the wrong hands; Bellamy and Pastor Tom try to reassure residents of Arcadia.

- "Schemes of the Devil" - With the help of Bellamy and Sheriff Fred, Tom leads the charge in the search for Rachael, but her situation becomes increasingly dire as her captors grow more desperate. Maggie and Dr. Ward continue their medical research on the resurrected subjects and a series of shocking discoveries sets them on the brink of a game changing find, however, their focus shifts when Arcadia is suddenly in the throes of an epidemic.

- "Torn Apart" - The town of Arcadia is in a state of chaos when the return of the deceased reaches a critical mass. Bellamy has no other choice than to ask for outside aid which backfires when Sheriff Fred steps in with his own agenda, triggering a siege on the town that no one saw coming.

Video


The limitations of DVD are crystal clear for this 1.78:1 16xp anamorphic presentation. It's clear the picture here maxes out at the top of what that old, dying format is capable of producing. Definition is unspectacular, colors are nicely saturated, and everything just looks OK. Nighttime scenes exhibit a fair amount of noise, maybe a little banding, too. Flashback scenes are given their own aesthetic, which consists of stripped-down colors and a dreamlike quality to them. If you're accustomed to watching HD video sources nearly all the time, this won't be much to crow about. If you still haven't made the leap from DVD to Blu-ray (and why?), you'll be far less discerning.

Audio


A pretty standard English Dolby Digital 5.1 surround sound track carries the audio here. Dialogue is focused and clear, with a good presence. The track has decent range and some of the dramatic underscoring carries nicely across the front end. There's not a whole lot of rear activity, mostly just some subtle effects. Subtitles are included in English for the hearing impaired, Spanish, French, and Portuguese.

Extras


There are a couple of featurettes, bloopers, a handful of deleted scenes and a bonus trailer included here, not that they're anything substantial or of note. All of the extras are found on disc two.

DISC ONE:

The only "extra" here is a bonus trailer for "Maleficent" (16x9), running for 1 minute and 27 seconds.

DISC TWO:

"Resurrection – Building A Mystery" (16x9) is a featurette that runs for 3 minutes and 2 seconds. Some of the cast discuss what it's like to work on a show where you aren't sure how they story is going to unfold.

"On Location in Georgia" (16x9) is a featurette that runs for 3 minutes and 15 seconds. Georgia has a varied topography, and as a result the show can afford to look like it's shot in more locations than it really is.

Bloopers (16x9) run for 2 minutes and 33 seconds.

A few deleted scenes (16x9) are also included:

- "Philosophizing About the Dog" runs for 52 seconds.
- "Recounting by the River" runs for 1 minute and 49 seconds.
- "Cut Me Loose" runs for 53 seconds.

Packaging


The two-disc set comes housed in a clear keep case, with one disc on a swinging tray and the other on the inside hub. Episode information (only titles) is printed on the inside cover of the DVD jacket. A cardboard slip-case is included.

Overall


Your enjoyment of the show will depend almost entirely on whether you like scripted major network drama or not. Personally, I've never gibed with that element, so this isn't a show I'd continue watching. But I can certainly see the appeal for those who do like this type of program. If ABC can keep the second season as tight as this one was, they may be on to something.
| | | | | |
| --- | --- | --- | --- | --- |
| The Show: B- | Video: B+ | Audio: B+ | Extras: C | Overall: B- |