The Film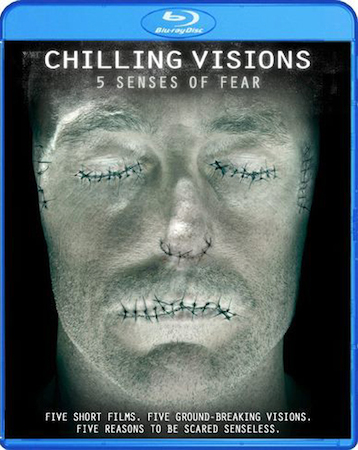 Horror anthologies have made a major comeback in recent years, with a few titles turning into franchises thanks to immense popularity. Unlike most of the anthology films of the 70's and 80's, where typically a single director would spread his vision out across multiple segments, today's pictures are all about showcasing up-and-coming writers & directors. Some of these films still use a traditional wraparound segment, but each segment can look and feel completely different from the last due to clashing styles. So far, it's a concept that's working… mostly. Remember, a lot of these guys (and gals) are still relatively new to the game, which can leave some stories looking like they were done for college course credit while others are polished and a bit more professional. Nearly all of these films have been released direct-to-video and to on-demand services, a couple have received limited theatrical runs, but "Chilling Visions: 5 Senses of Fear" (2013) is an original property to the Chiller network. In case you aren't aware, Chiller is a 24/7 horror channel that shows movies, as well as acquired and original television programming. "Chilling Visions", as the title suggests, features five short films, each with relation to one of the five senses – smell, see, touch, taste, and listen. All of the directors are relatively unknown; a few have had a very minor hit each. One of them is more famous for being in front of the camera, though: Miko Hughes. He's the child actor who played Gage in "Pet Sematary" (1989), and he so eloquently reminded audiences that "boys have a penis, girls have a vagina" in "Kindergarten Cop" (1990). The concept here is interesting, though the end results are expectedly a mixed bag at best.

There isn't really a wraparound segment here, just some enigmatic company, Watershed, which tenuously links each tale together. I guess there has to be some reason why these stories are connected, but if the idea is this weak either drop it or write it better. Anyway, the first segment is "Smell", a story that concerns Seth (Corey Scott Rutledge), a middle-aged man stuck in a dead end job, who recently lost his lady, and he's going nowhere fast. It turns out the problem is just with how he smells; the pheromones he's giving off. A vivacious door-to-door saleswoman shows up with what she thinks is a solution: a bottle of cologne that is guaranteed to change his life. The only catch is that he isn't supposed to use too much of it. Seth thinks it's all bull crap, but he tries it out the next day and notices good things start happening. Of course, like an idiot he continues to use more and more despite very obvious reactions on his skin to the product. Things do not end well. The story idea here is halfway decent, but the execution is severely lacking. The writing needs a few more passes – at least – and the direction is all over the place. Not a great start to things.

"See" is up next. This tale is about an optometrist who steals fluid from his patients' eyes, allowing him to relive their memories. When he sees one woman's memory of her being beaten by her boyfriend, the doc gets an idea to inflict his own brand of torture on the boyfriend. Maybe if he can use his scientific abilities to make the abuser see hellish visions, it will change his tune. Sort of like... well, just about exactly like the Ludovico treatment seen in "A Clockwork Orange" (1971). His plan, naturally, backfires to the kind of horrific results that will please fans of Lucio Fulci. This story isn't much better than the first, but some progress has been made.

The third tale is "Touch"; the story of a young blind boy who is involved in a horrific car accident along with his parents, both of whom are too injured to be able to go for help. Their son must navigate the woods, looking for help and armed only with his cane. He stumbles across a cabin in the woods, and when calling out for help comes across a woman chained up in a hole in the ground. The boy soon finds himself in a cat-and-mouse game against a killer who apparently can kidnap and imprison women but can't manage to quickly kill a blind adolescent. This, too, is utterly forgettable.

The problem with most of the segments up until now is that they all feel like longer scripts that were butchered to fit into an allotted time. Some of these ideas could have worked better with an expanded plot, but that's the problem: you don't have that kind of time in an anthology. Stories need to be very quick, use a lot of shorthand, and entertain as much as possible. You have very little time to make an impact; don't squander it with something half-baked. "Taste" gets it right by having a clear focus on the story it wants to tell, which feels complete by the time its fifteen (literal) minutes are up. A young man goes to a massive office building for a big time interview. He meets with a gorgeous woman who makes him a generous job offer that would make use of his noted hacking skills. The guy foolishly refuses and his not-to-be boss shows him what big teeth she has. The finale plays out like a demented version of the bear trap "Saw" (2004) in reverse, which will make sense once you see it. Of the bunch, this is the standout segment.

"Listen" closes things out found footage style. A group of researchers are trying to piece together an old German song that's been lost for ages; a song which is rumored to have the power to induce madness. The group succeeds, but in the process lots of people die because what else did you think was going to happen? The story felt too similar to John Carpenter's (also forgettable) entry for Showtime's "Masters of Horror" (2005-2007) series, "Cigarette Burns" (2005), another tale that had to do with long lost media (a film) purported to drive people to kill.

There are already plans for a follow-up, this one entitled "Chilling Visions: 5 States of Fear", which should debut on Chiller sometime this year. While this may not have been as strong overall as I, and probably everyone else, had been hoping for, anthologies are fertile ground for new directors to make some significant headway if they play their cards right. For that reason alone, a sequel should be welcomed.

Video


"Chilling Visions" arrives on Blu-ray with a 1.78:1 1080p 24/fps AVC MPEG-4 encoded image. The picture was essentially made-for-cable, though thanks to the prevalence of high-quality HD cameras you probably wouldn't know it. There's a very consistent aesthetic across four of the five segments. The typical HD image shows an appreciable level of details, with minor depth to the picture and adequate color reproduction. Contrast is also good enough, though some darker scenes present do look a little hazy. The one segment that looks drastically different from the rest is "Listen", which is presented as found footage and has a lot of graded, noisy black-and-white footage. Overall, this is a good presentation with few major faults.

Audio


Once you get past the abhorrent dubstep present in the opening, the film's English DTS-HD Master Audio 5.1 surround sound track (48kHz/24-bit) delivers a clean, discernible audible experience, with a dearth of major activity and a somewhat limited range. Rears rarely come into play, which I suppose is in keeping with the original television presentation. Some audio glitches occur in a few segments, but they are clearly intentional. Rears come into play sparingly, providing only the slightest hint of atmosphere. The disc also includes an English DTS-HD Master Audio 2.0 stereo track. Subtitles are included in English.

Extras


There's nothing here, aside from a single deleted scene and some trailers.

The lone deleted scene comes from "Smell", featuring some additional gore, running for 54 seconds.

Teasers & trailers is a reel of Chiller TV promo material leading up to the film's airing, running for 3 minutes and 26 seconds.

Packaging


The single disc comes housed in a Blu-ray keep case.

Overall


While it's exciting to see horror anthologies come back in a big way, this would easily be one of the least successful of the new crop. Here's to hoping the sequel delivers a stronger presentation on all fronts.
| | | | | |
| --- | --- | --- | --- | --- |
| The Film: C- | Video: B | Audio: B- | Extras: D+ | Overall: C |