The Film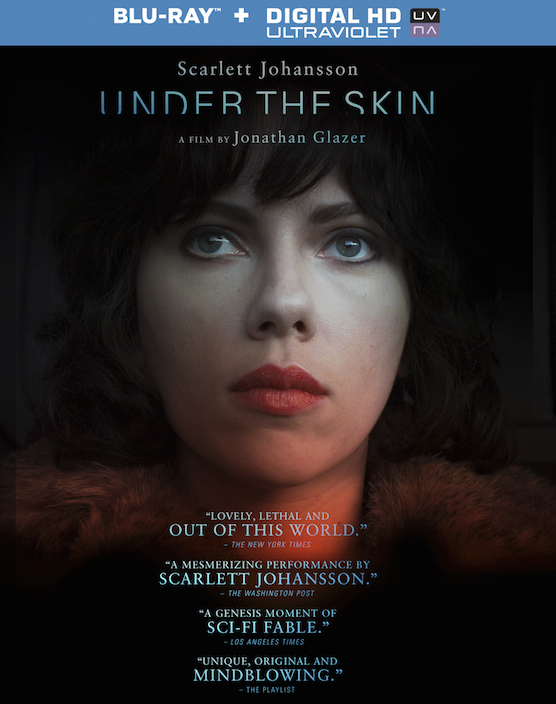 Nearly every ardent film aficionado understands that cinema is highly subjective, with most pictures garnering an equal number of supporters and detractors. Sometimes, half the fun in seeing a new movie is the post-viewing discussion that breaks out among friends over what did and didn't work. Few films, though, can divide audiences more rapidly than art house movies. Where some viewers key in on subtleties and nuance, others see a pretentious mess that could bore a person to death. You don't run across many people who have a "meh" reaction to something intrinsically artistic – either they love it and praise it endlessly, or they hate it and can't spew enough vitriol. One such film that has recently divided filmgoers is writer/director Jonathan Glazer's "Under the Skin" (2013). Adapted from the 2000 novel of the same name, which was written by Michel Faber, it's the tale of an interstellar succubus that travels to Earth for the purpose of luring in lonely men and denuding their bones of flesh via an… unusual method. It has been met with stirring acclaim – it currently holds an 86% "fresh" rating on Rotten Tomatoes - though there seems to be an equal number of critics who found it to be a pointless exercise of languid cinema. While at a cursory glance it may be easy to see where they're coming from, the fact is Glazer's film is purposely unconventional and a bit obtuse, requiring much deeper thought if viewers want to gain knowledge of its true nature. Nothing is overtly spelled out; it's all in the subtext.

An alien (Scarlett Johansson) arrives on Earth to take the place of her predecessor, who has died under unknown circumstances. What these two "women" share are attractive features that would interest most hot-blooded men, which is essential to their purpose. Johansson (her character is never named) drives the streets of Scotland at night, attempting to pick up on single, unattached men who are more than eager to follow her back to her flat. Once inside the austere, blackened tomb where she resides the men strip down and follow her sultry figure across the room before being enveloped by a viscous liquid that preserves them alive, yet slowly softens their skin before sucking the flesh from their bones. It is not a pleasant way to go, even when you consider their final view of her curvaceous backside. She views humans from an objective perspective, with little regard for their lives and emotions; she is merely a tool here to do a job.

Her nightly endeavors hit a snag when she meets a young, deformed man (Adam Pearson, who looks not unlike the legendary Elephant Man, Joseph Merrick) who is shy and unaccustomed to attention from such a beauty. His grotesque exterior belies the gentle person under the skin, and, so, she begins to learn there is more to humans than just their outward appearance. She decides to let him go. Her experience with this young man changes her perception of not only those around her, but herself; of the body she inhabits. This leads her on a journey of self-reflection and stark realization; a trial through which she attempts to assimilate within the human world, experimenting with food and relationships and sex; things which were once so foreign to her. Constantly shadowed by a male of her species, one who maintains a constant vigil over her affairs and cleans up any messes, she is eventually resigned to the fact that despite her best efforts, she will never enjoy the pleasures our world has to offer.

Plot is secondary here; the story is more concerned with capturing the existential journey an alien takes when confronted with the possibility of becoming something more than what it is. Much like the people around her, viewers are kept at a distance, merely observing her actions without becoming deeply involved. Her purpose on Earth is only vaguely defined – we don't exactly know why she's seducing and liquefying these men. So much of the film is left open to interpretation that viewers with a short attention span (i.e., sadly, most of the younger generation) will probably check out early on without considering the messages being conveyed. The title has a double meaning, as it not only refers to there being something more under the skin of Johansson's character, but also of the film's depth. A reasonable comparison might be the work of David Lynch (though this film never reaches those lofty heights) because without a deeper evaluation of what's being shown it would be all too easy to casually dismiss it as artsy, theoretical garbage.

It's hard to believe any man wouldn't jump into a vehicle if propositioned by Johansson, but many of the men she preys upon are either uninterested or oblivious to her intentions. If some of the reactions seem rather candid and genuine, that's because they are. Many of her nightly escapades were shot using hidden consumer-grade cameras mounted in a van, with the actress calling out random men on the street that were only told of the ruse after the shots were completed. It's a subtle touch that adds an extra layer of realism. Even many of the film's characters (none of whom are given screen names) were portrayed by untrained actors. The aforementioned young man with severe facial disfigurement? That's his real face, and his casting is testament to the realism Glazer attempted to achieve. The alien "cleaner" who shadows Johansson's every move isn't an actor at all, but a world-class motorcycle racer. The role required someone who could drive at high speeds on slick roads, and rather than use a stunt double Glazer simply hired Jeremy McWilliams, an Irish professional racer, to don the helmet. As a result of these casting decisions, and the fact that most have very little dialogue, the film's veracity is greatly heightened.

A good film can almost always be elevated by a great score, and the work done here by Mica Levi, aka Micachu (of Micachu & The Shapes), is exemplary. Droning bass lines are punctuated by bursts of Fox string sounds, a technique that has been used for decades to heighten tension and emotion. The score incorporates elements of electronic and acoustic instruments, giving the entire affair an appropriately alien feel. Levi's leitmotif used during the film's sequences of seduction is mysterious and sexy, like a lure that emanates from within and puts these men into autopilot. The atonal compositions are hypnotic, easily lulling viewers into a trance. It's certainly one of the best film scores of the year thus far.

Despite a dearth of major activity, I never found myself bored while watching the film. Sure, Glazer lets himself veer into Terrence Malick territory at times, with long, sweeping wide shots that linger in a fixed position for lengthy periods of time. Thankfully, the Scottish landscape where they shot is so gorgeous that few will be bothered by witnessing its consistent beauty. If some find the film to be cold, well, that was intentional. This is a cold world to an alien being – it's even cold to those who aren't alien - and it succeeds in never allowing viewers to feel much comfort. "Under the Skin" is a stoic reflection of humanity through the lens of the ultimate foreign body. Some of Glazer's directorial decisions are rather puzzling - with many questions left entirely unanswered - but for those who enjoy films that aren't wrapped up in a neat package by the time credits begin rolling this is a cerebral experience that feels satisfactory. It may not be perfect, but it certainly is unique in a sea of homogenized cinema.

Video


Viewers must keep in mind that the film's 1.85:1 1080p 24/fps AVC MPEG-4 encoded image was produced using a variety of cameras, and so the results are going to vary from scene to scene. The color palette veers toward steely, blue hues with saturation stripped down in other colors. The muted aesthetic was intentional, as was the decision to shroud most of the film in a state of near-darkness. Black levels are inky and deep, aside from a few cases where contrast was boosted on purpose, rendering them a bit hazy. The nightly encounters with men on the street were captured using GoPro-style cameras, and they look about as reasonable as can be expected – grainy, not very detailed, and like a home video. Although much of what we see is bleak, the Scottish vistas look simply gorgeous and haunting. This might be far from what Blu-ray aficionados consider "reference quality", but it is no doubt presented just as accurately as Glazer and his collaborators intended.

Audio


A great deal of the English DTS-HD Master Audio 5.1 surround sound track (48kHz/24-bit) rests on the compositions of Levi because there isn't a lot of dialogue to be heard. When characters are speaking, it is presented cleanly and balanced, though good luck making out what half the Scots here are saying. Those brogues are thick as a brick. The most boisterous moments come when Johansson enters a nightclub, with bass thumping and the sound of patrons echoing all around. Otherwise, the track comes to life only when Levi's score is slowly working its magic to immerse listeners. Rears come to life for added ambiance, but this is a very minimal sound design that keeps viewers focused more on the images on screen and less on what they're hearing. Subtitles are included in English for the hearing impaired and Spanish.

Extras


The back cover sells the supplements a bit short, claiming to hold only one featurette. That one featurette is actually several shorter pieces that together form a nice making-of that runs over 40 minutes. The disc also includes bonus trailers for other releases.

Under the banner of featurettes (1080p) are the following:

- "Camera" runs for 5 minutes and 28 seconds, examining the equipment used and the film's long takes.
- "Casting" runs for 4 minutes and 38 seconds, the filmmakers talk about using a mix of both professional and untrained actors for the film, as well as why Johansson was their top pick for the lead.
- "Editing" runs for 4 minutes and 24 seconds, nine cameras running for four hours each produced a lot of footage that required extensive cutting.
- "Locations" runs for 5 minutes and 18 seconds, the crew scouted for allocation that could pass for a modern day Eden.
- "Music" runs for 5 minutes and 14 seconds, Levi talks about her approach to scoring.
- "Poster Design" runs for 2 minutes and 6 seconds, simplistic and spacey was the key.
- "Production Design" runs for 3 minutes and 18 seconds, this focuses mainly on how they made that liquid goop the men sink into.
- "Script" runs for 5 minutes and 46 seconds, this film took ten years to write and went through many permutations, which at one point had Brad Pitt attached.
- "Sound" runs for 1 minute and 56 seconds, the team had to capture unusual sounds to mimic the alien feeling.
- "VFX" runs for 4 minutes and 12 seconds, because the shots were long, not much could be hidden with quick cuts, so the team had to work hard to make it all look very natural.

The disc also includes bonus trailers (1080p) for the following:

- "Enemy" runs for 2 minutes and 14 seconds.
- "Locke" runs for 1 minute and 56 seconds.
- "Spring Breakers" runs for 2 minutes and 15 seconds.
- "The Bling Ring" runs for 1 minute and 49 seconds.
- "The Spectacular Now" runs for 2 minutes and 2 seconds.
- "EPIX" promo runs for 1 minute and 32 seconds.

The disc is also equipped with Lionsgate's standard bookmarks interactive feature. An insert containing a code for digital copy Ultraviolet HD download is included in the package.

Packaging


The single disc comes housed in a Blu-ray eco case. A slip-cover is included for initial pressings.

Overall


This is a "love it or hate it" kind of film that will likely reward viewers with each subsequent viewing. Watching it requires patience and attention, which shouldn't be too hard of a challenge for those who enjoy their cinema a bit more challenging than the status quo.
| | | | | |
| --- | --- | --- | --- | --- |
| The Film: B+ | Video: B+ | Audio: B+ | Extras: B | Overall: B+ |