The Film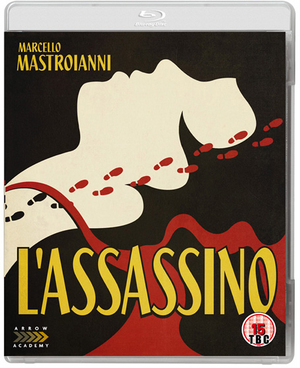 ***This is a technical review only. For reviews on the movie from various critics, we recommend visiting HERE.***

Released within months of Fellini's La Dolce Vita and Antonioni's La Notte, Elio Petri's dazzling first feature L'Assassino also stars Marcello Mastroianni, this time as dandyish thirtysomething antiques dealer Alfredo Martelli, arrested on suspicion of murdering his older, far wealthier lover Adalgisa (Micheline Presle). But as the increasingly Kafkaesque police investigation proceeds, it becomes less and less important whether Martelli actually committed the crime as his entire lifestyle is effectively put on trial.

Best known for Investigation of a Citizen Above Suspicion and The Tenth Victim, Petri was one of the finest and yet most underrated Italian directors of the 1960s and 70s. Highly acclaimed on its original UK release but unjustly neglected since, L'Assassino is a remarkably assured debut from one of the cinema's sharpest chroniclers of Italian social and political realities. Petri said that he wanted to reflect the changes wrought by the early sixties, and to examine "a new generation of upstarts who lacked any kind of moral scruple".

Arrow Academy is proud to present the first ever UK video release of L'Assassino in a gorgeous high-definition restoration created by the Cineteca di Bologna.

Video


Arrow Films have released "L'Assassino" as part of their Arrow Academy range in a dual format edition. The transfer is 1080p and in the original aspect ratio of 1.85:1 using an AVC MPEG-4 encode.

When the film starts, we are first given an Italian text screen which is subtitled to tell us that the transfer was produced using an original camera negative that was missing the first and last rolls, and a first generation inter-positive. The sources were scanned at 2k resolution and the grading was carried out by Titanus by referring to an original print held in the Cineteca di Bologna archives. Titanus have done a good restoration job here, with strong contrast levels, and good amounts of detail clearly visible. Shadow details can feel a little lacklustre at times, as a couple of scenes do feel soft in comparison with the majority, but they are still relatively good also and are not a cause for concern (most folk won't even notice). Depth is a little flat, though nothing to cause concern. Some barely noticeable damage does remain by way of occasional dirt, but this an overall clean print, and I noticed no aliasing, banding, or edge enhancement.

The feature is uncut and runs 98:14.

Audio


Arrow Films have provided a single LPCM 1.0 mono track in the feature's original Italian. When the film starts, along with the notes about the transfer, we are also informed that the audio was digitally remastered after being extracted from a 35mm negative. As to be expected by Arrow's track record, there are no issues with the audio track bar some very light background hiss on occasion, towards the end of the feature. With it being a simple mono track, the audio is rather flat, but dialogue is clear at all times, and volume levels between the dialogue and score are consistent. No problems here.

Optional English subtitles have been included, and they play by default.

Extras


The first extra on the disc is entitled "Elio Petri and L'Assassino", which is an introduction to the feature by Italian cinema expert Pasquale Iannone (9:41). This is an informative introduction to Elio Petri and his filmography/career, though I have to say I wasn't keen on the camera angle Iannone uses on himself. Filmed exclusively in 2014 for Arrow, this is a welcome extra, and in-depth enough to perk interest.

Next up, we have a documentary about Italian screenwriter Tonino Guerra directed by Nicola Tranquillino called "Tonino Guerra: A Poet in the Movies". Clocking in at 51:15, this 2008 documentary by Surf Film is a fascinating insight into Guerra's extensive and varied career by way of a very long interview which has been interspersed with sound bites and footage from various Italian movies. Chapter stops are placed for each section of the documentary, such as Tonino and Antonioni, Tonino and Sica, and Tonino and Fellini, which gives the viewer quick access to the sections of Guerra's career they are most interested in. A chapter selection via menu would've been nice though.

The on disc extras finish with a theatrical trailer (3:45).

Also as part of the overall package, we get a reversible sleeve featuring original and newly commissioned artwork by Jay Shaw, and a booklet featuring new writing on the film by Elio Petri expert Camilla Zamboni, and more.

Note that disc two is a DVD which features the film and the extras in standard definition.

Overall


Elio Petri's debut is a worthy addition to the Academy range. It receives a solid technical presentation, and some intriguing extras.


| | | | | |
| --- | --- | --- | --- | --- |
| The Film: B | Video: B+ | Audio: B | Extras: C | Overall: B |