The Show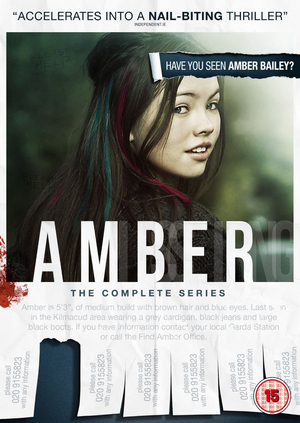 ***This is a technical review only. For reviews on the show from various critics, we recommend visiting HERE.***

When 14 year old Amber Bailey fails to return home, after not turning up at her best friends' house as arranged, a long and drawn-out search is mounted. Her recently separated parents, Ben and Sarah, pushed increasingly into the harsh public glare of the media spotlight, are plunged into an unthinkable nightmare, which only grows with each passing day.

As the days, months and years go by the mystery deepens, and disturbing new clues come to light, raising more questions than answers. And as the nation becomes gripped with the story of the missing teen all people can do is wonder – what on earth really happened to Amber?

Video


The independent British distributor Arrow Films have released the complete Irish mini-series "Amber" on to DVD in the United Kingdom using the original broadcast aspect ratio of 1.78:1. The transfer is anamorphic, and although far from reference material, is likely the same standard of picture quality when it was first shown on television.

Originally filmed in 2012 with a budget of two million Euros, "Amber" didn't air until 2014 on RTE. Like with British shows in the same genre, it uses rather dark and dour colours throughout, though it has also borrowed some of the more blueish hues often found in the current popularity of so called Nordic Noir detective shows. The colours generally look quite good, though contrast levels are perhaps a little too high, and skin tones tend to look ever so slightly hot at times. Facial and close-up details are pleasing throughout, but shadow details can not always be seen, with some blacks exhibiting some minor crush. Some banding is noticeable in one of the scenes at the train station, but isn't overly prevalent. Mid to long range shots look good, with no aliasing problems, and I noticed no signs of edge enhancement or damage to the print such as scratches, or other such blemishes.

The series is uncut, and the play all option runs 198:54 PAL. Each of the four episodes can also be played separately.

Audio


Arrow Films has presented us with a single audio option here; English Dolby Digital 2.0 Stereo. I would hazard an educated guess that this is identical to the original broadcast in every way. Channel separation in minimal throughout, and used sparingly for some of the score, and dialogue of the main characters. Environmental sounds can be a little on the quiet side, but are noticeable enough to make a small impact. Dialogue is clear and concise at all times and volume levels are consistent, with the score never drowning out speech. As to be expected for such a new show that received a large budget of two million Euros, there are no problems with the track such as drop outs or scratches.

No subtitles have been included.

Extras


No extras as such, just a start-up trailer showcasing Arrow's Nordic Noir range of releases.

Overall


The show has a polarising ending, one which I unfortunately didn't like, but it is a mini-series that is worth watching if you can find it cheap. The disc won't set the world alight, but it has no major problems.


| | | | | |
| --- | --- | --- | --- | --- |
| The Show: C+ | Video: C+ | Audio: C+ | Extras: E- | Overall: C+ |