The Film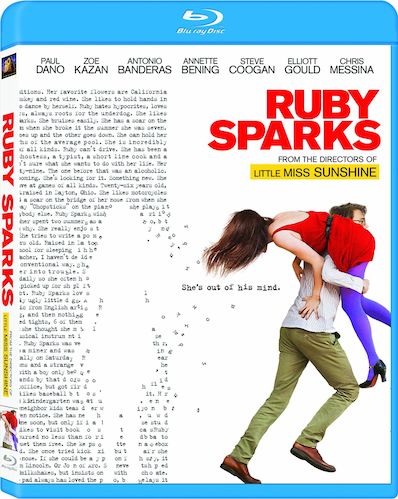 Personal preface: if there's one genre of film that I can hardly stomach, it is the romantic comedy. Perhaps marketing is the real culprit here, but very few of these pictures do much to differentiate themselves from one another outside of casting different actors. There seems to be a stock "boy meets girl, boy does something to lose girl, boy wins girl back" formula that has never seemed challenging or appealing in the right ways. Not to sound sexist (which is usually what someone says right before they say something sexist) but I already live a life within the confines of a relationship that requires real work, so it isn't exactly quality escapist entertainment to watch other people struggle in their own relationships. If I'm going to be watching some romantic shtick, it better have a good hook; something outside the genre norm. And that's why "Ruby Sparks" (2012) is among the few I can recommend without a caveat. Directed by real-life couple Jonathan Dayton & Valerie Faris, the duo behind 2006's indie darling "Little Miss Sunshine", "Ruby Sparks" operates outside the typical genre sandbox, presenting the central romance as a fantastical construct of our lead character's imagination. He literally dreams up the perfect woman and then she appears. Simple enough, right? Well, no, and that's another part of why the film is so endearing. Writer Zoe Kazan, who also stars as the eponymous love interest, delivers a strong commentary on idealizing the perfect partner and the ramifications of forgetting a key universal rule: we are all human, no matter how flawless initial perception may suggest.

Writer Calvin Weir-Fields (Paul Dano) is suffering from a serious case of writer's block. After enjoying massive success as a young novelist, he's struggled to recapture that same literary magic in the years since. It's gotten so bad that he's forced to speak with a therapist, Dr. Rosenthal (Elliott Gould), not only about his lack of writing but also his lack of a love life. Calvin has a difficult time meeting women. He's shy, timid, and rarely confident enough, despite his pedigree, to get a date. His only respite from a loveless existence is his dreams, in which he fantasizes about a young, red-haired woman who is endlessly fascinating and drawn to his idiosyncrasies. She inspires Calvin to write again, and he does so with a fervent passion; his words imbuing her with traits that his ideal partner would carry. She seems so real in his mind. When his brother, Harry (Chris Messina) and sister-in-law, Susie (Toni Trucks), stop by his place for a visit, they notice articles of female undergarments left lying around the place. And Calvin hasn't had a woman over in ages.

One morning, Calvin awakens, walks down his staircase and there she is - Ruby (Zoe Kazan). He, naturally, freaks. This must be some figment of his imagination; maybe he's losing it. He decides to leave the house and get some air, but Ruby insists on coming with him. His assumption that she is a delusion of his own mind shatters when he discovers, quite publicly and embarrassingly, that others can see her, too. She is real life, flesh & blood. And he is elated. So begins a whirlwind romance of watching films under the stars in a local cemetery (Cinespia!) or catching up on absurdist gore pictures at home ("Dead Alice" (1992)!). For once, Calvin is energized with life and things seem perfect. After a visit to his mother's (Annette Bening) house, where Calvin mostly isolates himself from everyone, Ruby starts to feel a longing for more out of her life. The honeymoon period has begun to wane, exposing both Calvin and Ruby for who they are – real people. As she begins to get more distant, Calvin gets more desperate, using his god-like powers of writing to mold her as he sees fit. His prose not only created her, but it also controls her. If she seems to be straying, he simply writes her to be clingy. When that becomes bothersome, her writes her as less attached but still committed. Calvin begins to understand that an ideal can only go so far, and that reality can be a difficult pill to swallow.

Kazan does impressive work pulling double duty here as both co-star and writer of "Ruby Sparks". She manages to successfully realize the danger in creating an idealized person in one's mind, something few are ever able to live up to in reality. Calvin creates this gorgeous, seemingly unattainable creature in Ruby; a person who is impossibly perfect in every way. And it is impossible, because even after obtaining his ultimate dream the veneer of exuberance is eventually sanded away, leaving a person who wants more out of life than to be a living fantasy. Ruby may be a creation of his imagination, somehow come to life, but she still has wants and desires that are independent of Calvin's. Kazan deftly illustrates how making a relationship work requires effort on the part of both parties; that idealizing only goes so far. People are more than just good ideas. This is emblematic of many adult relationships, when the inaugural party is over and two people are forced to see each other as human beings. It can be easy to think someone else out there is a better match, and maybe that's true, but more often than not it's the old adage "the grass is greener on the other side" that belies truth. Nobody is perfect.

If the relationship between Ruby and Calvin seems uncannily organic, that's because Kazan and Dano are a real-life couple, just as the film's directors are, too. For a majority of films made, casting actual couples is not possible, but when it can be pulled off the result is a more believable union. These are two actors who don't have to fake being in love because they already are. It allows for additional flourishes to come through in the performances; little bits of affection that only an actual couple can produce. When you know another person intimately, interactions operate on a higher level. Our two leading actors carry the bulk of the film, but there are also some great supporting roles filled by acting vets Annette Bening, as Calvin's eccentric hippie mom, and Antonio Banderas, as Mort, Bening's lover who is carefree and loose in ways Calvin can't even begin to understand. Though their roles are brief, the time Calvin and Ruby spend at their sprawling, gorgeous compound of a home has significant ramifications that affect the remainder of the picture.

With a sharp commentary on relationships, and strong performances from two capable leads, "Ruby Sparks" is a rare romantic comedy that hits many of the standard beats without feeling like a standard film. The high concept plot allows for a greater range than films of this ilk are typically afforded, and it arrives at an ending that feels earned. Fans of movies such as "Eternal Sunshine of the Spotless Mind" (2004) and "Stranger Than Fiction" (2006) should enjoy the off-beat humor interspersed with heart. This isn't something guys should fear their girlfriends dragging them to watch; it's a romantic comedy that works for both sides of the fence.

Video


The film's 1.85:1 1080p 24/fps AVC MPEG-4 encoded image is striking and stellar. Shot digitally, the film manages to attain a filmic quality without the use of actual film. Impressive details abound, with facial closeups revealing lifelike features, while background elements are consistently in focus. Just check out all of the accoutrements in Calvin's mother's home, which is densely packed with all kinds of eye candy. The clarity is perfect. Colors look very strong, too, especially the vibrant red mane on Ruby's head. Black levels are stable and rich, and detail remains strong even in shadows thanks to good lighting decisions. Depth is minimal, but present. All in all, this is a fantastic image.

Audio


"Ruby Sparks" may hold the record for most audio & subtitle options on a single film. The main track, an English DTS-HD Master Audio 5.1 surround sound (48kHz/24-bit) offering, is mainly dialogue driven with only sporadic moments of activity to fill out the additional channels. Subtlety is key here; the faint sounds of Calvin's typewriter echoing in other rooms, for example, add a nice touch of ambiance to the track. Dialogue comes through as expected – clean, clear and easy to decipher. The score, courtesy of Nick Urata, is playful and emotive, suggesting innovation & hard work early on, followed by bits of wordless choir, classic orchestral cues, and some choice source music. It's the perfect track for this kind of low key effort.

Additionally, the disc includes Dolby Digital 5.1 surround sound options in French, Spanish, Portuguese, Czech, Hungarian, Polish and Turkish. Subtitles are available in English for the hearing impaired, French, Spanish, Portuguese, Arabic, Bulgarian, Cantonese, Croatian, Czech, Greek, Hebrew, Hungarian, Icelandic, Indonesian, Korean, Malay, Mandarin (Traditional), Polish, Romanian, Serbian, Slovenian, Turkish, Ukrainian and Vietnamese.

Extras


The extras found here are just a handful of featurettes, all with brief running times and theatrical trailers. Given the intimate involvement of the cast & crew, it's odd that an audio commentary wasn't included.

"The Story" (1080p) is a featurette that runs for 4 minutes and 7 seconds, the cast & crew talk about the script, how it evolved, what drew them to it.

"The Cast" (1080p) is a featurette that runs for 3 minutes and 39 seconds, the directors talk about how they chose the film's cast, which seems to have come together rather organically.

"Real Life Couples" (1080p) is a featurette that runs for 2 minutes and 56 seconds, this explores the unique dynamic of the directors and leads.

"Be Careful What You Wish For" (1080p) is a featurette that runs for 3 minutes and 47 seconds. The cast & crew talk about the film's fantastic premise and the creative process.

"Los Angeles: The Other Character" (1080p) is a featurette that runs for 3 minutes and 12 seconds, some of the city's best vantage points and locations were used for filming.

The film's theatrical trailer (1080p) runs for 2 minutes and 12 seconds.

Bonus trailers (1080p) are also included for the following:

- "The Sessions" runs for 2 minutes and 2 seconds.
- "Lola Versus" runs for 1 minute and 48 seconds.

Packaging


The single disc comes housed in a Blu-ray eco case.

Overall


Fun, different, and made with heart "Ruby Sparks" is a romantic comedy that doesn't adhere completely to convention, making it an easy watch for those who want something outside the typical rom-com boundaries.
| | | | | |
| --- | --- | --- | --- | --- |
| The Film: B | Video: A- | Audio: B+ | Extras: C+ | Overall: B |