The Film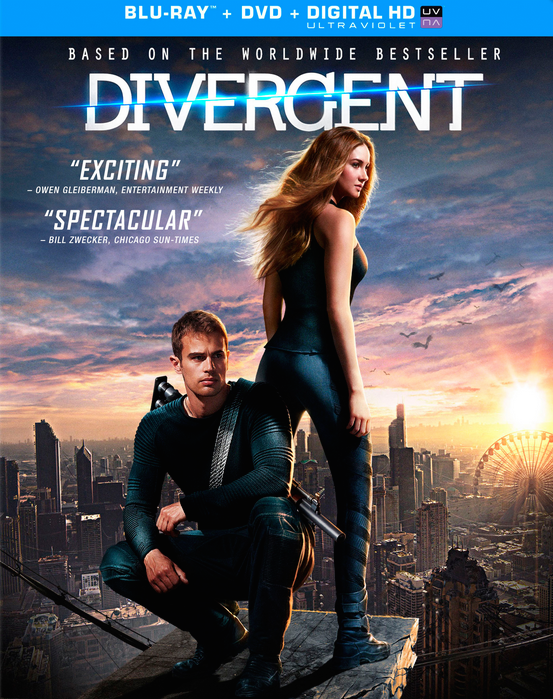 If there's one thing you can count on in Hollywood, it's that studios will desperately attempt to ride the coattails of recent successes in an attempt to build their own franchises. You can't exactly blame them for trying, though the end result is usually that the market is flooded with pale imitators marketing themselves as thinly-veiled carbon copies of whatever managed to hit it big. First, Summit Entertainment – a minor player whose most successful film was "Never Back Down" (2004), which grossed a paltry $24 million and change – hit it big when "Twilight" (2008), the highly divisive vampire tween drama, was unleashed upon audiences worldwide. The film was the butt of many a joke (and rightfully so), but Summit was laughing all the way to the bank when it pulled in almost $400 million worldwide on a $37 million production budget. To be fair, it didn't manage this feat as an original property; the saga began with a series of popular young adult novels. Seeing the potential for a then-untapped market (not counting the "Harry Potter" series (2001-2011), which has far more widespread appeal than tween girl fiction), studios began to snatch up movie rights to similar stories and put their own would-be franchises into production. Most failed. Inaugural efforts such as "The Mortal Instruments: City of Bone (2013; gee, that just rolls right off the tongue), "Ender's Game" (2013) and "Beautiful Creatures" (2013) all wound up with total grosses that combined didn't match an average "Twilight" film's opening. Lionsgate managed to strike gold with "The Hunger Games" (2012), and will continue to mine that find through the remainder of the series, but this is an exception to the rule.

The two mini majors – Lionsgate and Summit Entertainment – joined forces as part of a merger a couple years back, housing the top YA properties under one room. With "Twilight" finished (finally), they needed another series on which to bank. Enter "Divergent" (2014). The film is based on the first of three novels written by Veronica Roth, set in a dystopian post-apocalyptic Chicago after war has ravaged the country. The government has split society into five distinct factions, based on personalities and an aptitude test administered to every citizen. The first book, and its two subsequent sequels, proved a hit with young readers, and Lionsgate/Summit put forth a great effort to get another hit franchise off the ground. And, for the most part, their strategy worked. "Divergent" opened to a modestly-impressive $54 million this past March, eventually grossing around $150 million total. While that number isn't even in the same league as the top YA franchises, considering the sub-$100 million budget and mixed-to-positive reviews, that was enough to greenlight additional entries. Naturally, just as any studio with a hit franchise on their hands has done, the final film will be split in two. Because money. And before you say these studios should start looking for potential franchises with a longer book series, "Harry Potter" had seven novels and they still split the conclusion in half.

There's one word that succinctly sums up the experience of watching "Divergent": expository. This isn't a film; it's a beginner's guide to understanding the Universe of Divergent. And they ensure you learn it by having Every. Single. Character. speak in exposition. It's exhaustive. Endless narrations, constant instructions, rules ad nauseam. After establishing the war-torn landscape of the U.S., the film lays out the new foundation for society, one in which every citizen is placed into one of five separate classes – Abnegation, Erudite, Amity, Candor, and Dauntless, the cool kids. Beatrice (Shailene Woodley) has grown up in Abnegation, but she secretly yearns to be part of Dauntless. They're so cool!; an outfit of parkour enthusiasts with a penchant for wearing black clothing and getting awesome tattoos that in no way look entirely fake, Dauntless is the faction responsible for keeping the peace. When Beatrice goes to take her aptitude test, her results show she doesn't fit neatly into one of the five available boxes, making her Divergent. This is a problem, since the government chooses to eradicate anyone who falls into that category. So, her test taker hides the results and says she tested into Abnegation, where she's always been. But that's no fun! When it comes time for her to choose a faction at the Choosing Ceremony (if they have a choice, why the test?), Beatrice goes with the cool kids and picks Dauntless. As a trainee of their group, she changes her name to Tris (so hip!), fights boys, and winds up realizing she isn't cutting the mustard. Her trainer, Four (Theo James), is a hunky dude who broods often but we can tell he's a big softie under the faux-gruff exterior. Tris sticks around, redeems herself, goes on mind-altering adventures with Four and eventually uncovers a plot by Erudite to overthrow Abnegation. Wait, aren't these people put into factions because it's supposed to prevent war? Who cares. Characters continue to drown audiences in expository dialogue before the end credits are finally reached after a less-than-thrilling climax.

There are three more of these films on the way? Good lord. The experience of watching "Divergent" was perfectly summed up by a friend of mine on Twitter who saw the film simply because he sees every single theatrical release. No joke. His words were "Divergent is 139 minutes long and you feel every single one of them." I can't think of a better way to put it. Each minute feels like two, and you'll be looking around the room hoping to find an interesting shadow to stare at for an extended period, or that someone will text you and you can avert your eyes momentarily, just to avoid being dragged through the mire of this dense eye-roller. One thing is for certain – the intended demo for this film is young girls and young girls only. Anyone with an ounce of cinematic taste over the age of fourteen will want to pluck their own eyes out.

Video


If the film's 2.40:1 1080p 24/fps AVC MPEG-4 encoded image were a faction, it would be Faultless. Well, mostly. The only downside is that CGI environments look very fake, especially the cityscape and some of the elements that have been blended together with live-action footage. Otherwise, really, there is very little to complain about. Most impressive is the detail, which is absolutely stunning thanks to the crystal clear digital photography. Every minute facial imperfection – wrinkles and pores – can be glimpsed in perfect reproduction. Clothing yields small details in the vast array of textures seen in the numerous costumes. The color palette tends to skew toward drab hues, which only makes the few glimpses of bolder colors stand out. Black levels appear dark and inky, even though very little of the film takes place in shadows. When it does, definition has no issue remaining strong thanks to excellent contrast.

Audio


The English DTS-HD Master Audio 7.1 surround sound track (48kHz/24-bit) is undoubtedly one of the most active of the year. Every speaker is alive with activity, displaying a wide range full of discreet effects that completely immerse viewers in the world of "Divergent". During the shootouts, the pop of gunfire can be heard emanating from every corner of the room. The LFE track consistently rumbles with deep, churning bass. The score sounds very much geared toward the younger teenage crowd (shocker), composed by Junkie XL but executive produced by Hans Zimmer, which allows for it to have a cinematic quality when needed and more of a party/dance atmosphere when not. This must have sounded incredible in theaters because it sounds highly impressive on home video.

The disc also includes an English Dolby Digital 2.0 surround late-night track, an English descriptive audio Dolby Digital 2.0 surround track, and a Spanish Dolby Digital 5.1 surround sound track. Subtitles are included in English for the hearing impaired and Spanish.

Extras


Much of the bonus material found here can seem redundant, but there's a good assortment of varying features that fans will no doubt want to pore over. The disc includes two audio commentary tracks, featurettes, deleted scenes, a music video, image gallery, and theatrical trailers.

DISC ONE: BLU-RAY

Director Neil Burger is up first with an audio commentary track that is entirely typical and a bit boring. He covers all the usual bases, rarely getting too candid, making this track a little uninteresting and uninspired.

The second audio commentary is with producers Lucy Fisher and Douglas Wick. The duo does a better job of regaling with casting stories, location shooting and the nuts & bolts of getting the film together.

"Bringing Divergent to Life" (1080p) contains a handful of featurettes:

- "A Bold Beginning" runs for 6 minutes and 54 seconds, talking about how the project came to be.
- "Becoming Divergent" runs for 6 minutes and 23 seconds, casting talk and getting the right actors for their roles.
- "The Epic Experience" runs for 25 minutes and 20 seconds, this covers the shooting process and show some behind-the-scenes work being done.
- "A Fearless Finish" runs for 8 minutes and 36 seconds, talks about getting the picture done in time for audiences.

"Faction Before Blood" (1080p) is a featurette that runs for 14 minutes and 51 seconds, this is like a long overview of the film, speaking about the factions and how they figure into the story.

A reel of deleted scenes (1080p) runs for 4 minutes and 27 seconds.

"Beating Heart" (1080p) music video, performed by Ellie Goulding, runs for 3 minutes and 48 seconds.

Marketing gallery (1080p) features a couple trailers and a gallery of some posters:

- Theatrical trailer 1 runs for 2 minutes and 33 seconds.
- Theatrical trailer 2 runs for 2 minutes and 23 seconds.
- Poster contains seven images.

The disc is also equipped with the usual bookmarks interactive feature.

DISC TWO: DVD

This is a DVD copy of the feature film.

Packaging


The two-disc set comes housed in a Blu-ray eco case, with each disc on a hub opposite the other. An insert containing a digital copy HD download code is included, for use with Ultraviolet or iTunes. The package also includes a sheet of temporary tattoos inspired by the film. A cardboard slip-cover is included on initial pressings.

Overall


Great if you're in the target demo; terrible if you're not. "Divergent" suffers from an exhaustive amount of exposition to get viewers up to speed with how this world operates, and when you have to explain THIS MUCH maybe you should pare it down to something more digestible. Non-book readers will feel like they're drowning; book readers are already sold so this review is inconsequential.
| | | | | |
| --- | --- | --- | --- | --- |
| The Film: D+ | Video: A | Audio: A+ | Extras: B+ | Overall: C+ |