Boys of Abu Ghraib AKA Prisoner of War
R2 - United Kingdom - 4Digital Media
Review written by and copyright: Samuel Scott (19th August 2014).
The Film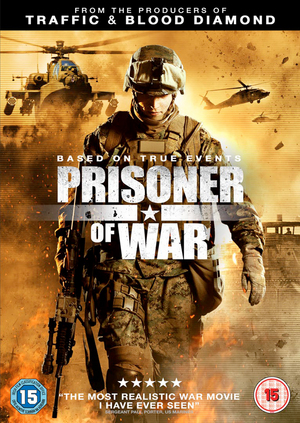 ***This is a technical review only. For reviews on the movie from various critics, we recommend visiting HERE.***

Based on the true events that shocked the world in 2004.

This dramatic war thriller follows soldier Jack Farmer (Luke Moran) from small town America to Iraq's most infamous prison, Abu Ghraib, where he's tasked with guarding the Army's highest priority detainees. Pressured by his superior (Sean Astin - Lord of the Rings Trilogy) into using harsh techniques on a seemingly innocent detainee (Omid Abtahi - Argo), the seductive allure of war quickly turns to a haunting reality that threatens to break him. Also stars Sarah Paxton (Aquamarine), Michael Welch (Twilight Saga) and John Heard (Home Alone).

Abu Ghraib - The most dangerous prison on Earth.

Also available via iTunes.

Video


Independent British distributor 4Digital Media have released the Iraq war drama "Prisoner of War" on to DVD for UK audiences with an anamorphic transfer set at 1.78:1. Considering this is a relatively low budget movie, the transfer here is very good indeed.

As with most military based features set in the Middle East, "Prisoner of War" is quite heavy in its use of various yellows, browns and greens. The colours are well presented here, with the dingy jail location of particular note. The faded and well worn green camouflage uniforms, and the sandy exterior locations show off the palette well, and never look too dark. Skin tones are also accurate, whether the character is white, Arabic, or black. Details are excellent throughout, with minute details noticeable in the sand and the rusty decaying metal of the jail cells adding to the overall depth of the picture. Many scenes take place in darkened areas, but details in the shadows do remain strong for the majority. The transfer isn't flawless though; there's some occasional light aliasing at times, and one brief instance of barely noteworthy banding. There is no damage such as scratches or dirt however.

The disc is PAL, and the feature runs 98:07.

Audio


Two audio options have been included:
- English Dolby Digital 5.1
- English Dolby Digital 2.0 Stereo

For my viewing, I opted for the English Dolby Digital 5.1 track, which was technically good and more than adequate. Going into this movie, I expected it to contain quite a bit of action, but it is surprisingly dialogue driven. Dialogue is clear and easy to understand at all times, at no point being lost to Dan Marocco's (Dirty Sexy Money, Brooklyn Nine-Nine) score. When action is required, the effects are well placed and volume levels are at consistently good levels. There are a lot of minor environmental effects which are subtle but impact the sound field well, especially the general sounds of distant gun fire, and the clunking of metal and keys in the jail. As to be expected for such a new feature, there are no issues with the audio such as drop outs or scratches.

No subtitles have been included.

Extras


None.

Overall



| | | | | |
| --- | --- | --- | --- | --- |
| The Film: C | Video: B+ | Audio: B | Extras: F | Overall: C |

---
DVD Compare is a participant in the Amazon Services LLC Associates Program and the Amazon Europe S.a.r.l. Associates Programme, an affiliate advertising program designed to provide a means for sites to earn advertising fees by advertising and linking to amazon.co.uk, amazon.com, amazon.ca, amazon.fr, and amazon.de.