The Film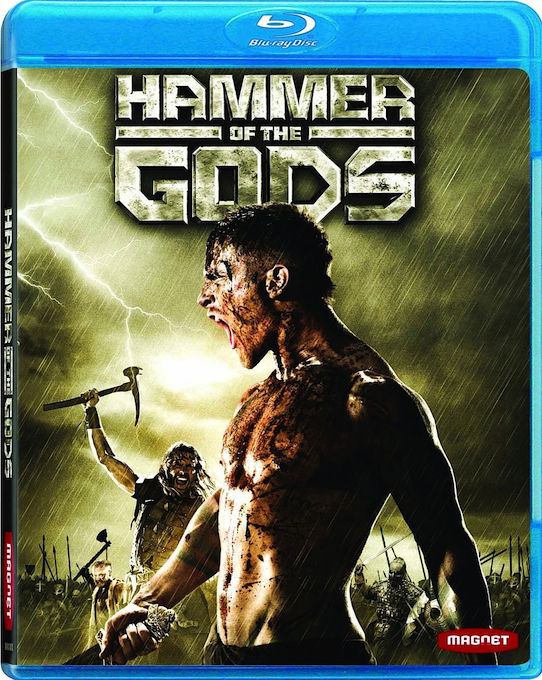 Not enough movies are made about Vikings and their often brutal culture. Pictures seem to be released in dribs and drabs, with the concept never quite gaining enough momentum to garner more than a release or two a year. And very few of those films ever go on to be entirely memorable. Hell, the best Viking film may still be director Richard Fleischer's classic, "The Vikings" (1958), starring Kirk Douglas, Tony Curtis and Ernest Borgnine. It's only recently that the Norsemen have been making headway in pop culture, thanks to the History channel's recent hit series, "Vikings" (2013-Present), which was just renewed for a third season. This minor groundswell has led to a small handful of DTV titles hitting shelves, the most prominent of which is a recent British production, "Hammer of the Gods" (2013). Made on a limited budget – and making the most of cinema magic to enhance the old world of England – there's little originality to be found, though the film does manage to retain an authenticity (no horn helmets!) while presenting its fairly rote plot. Still, it's got a strong sense of charisma and the pride of the filmmakers is (mostly) up there on the screen.

Set in 871 A.D., a young Viking prince, Steinar (Charlie Bewley), is called to see his father, King Bagsecg (James Cosmo), who has been mortally wounded in battle. The king knows his time is short and he needs a successor to his throne; unfortunately, Steinar is not yet a man – by the King's definition, at least – and his half-brother Vali (Theo Barklem-Biggs) is clearly no leader, either. The one Bagsecg sees as fit for the throne is Hakan (Elliot Cowan), another half-brother (man, Bagsecg sure gets around) who has been unseen for over a decade due to a falling out with his father. Unable to complete this task alone, due to travelling in hostile Saxon territory, Steinar brings along his friends Hagen (Clive Standen), Jokul (Guy Flanagan) and Grim (Michael Jibson). Even though he wasn't invited Vali shows up to tag along, too. The five of them set out to first find Ivar (Ivan Kaye), a lecherous old pederast who is the only one aware of Hakan's whereabouts. Ivar is a recluse, living on a mountainside with a slave girl, Agnes (Alexandra Dowling), and a mute catamite. After challenging Steinar to a game of strength and drink, the two bond and he agrees to show them the way.

It isn't an easy road to Hakan. Along the way their group encounters violent Christian forces, double-crosses, supernatural warnings and a constant threat of attack as they navigate Saxon lands. Eventually, Hakan is reached and Steinar learns the truth about why he left his father's side so many years ago. He also learns that Hakan may not be the leader he was expecting, though in its own way this guides Steinar to finding just who that necessary leader of the dying King's people is. Acts of carnage lead to a bloody, fitting finale for our Viking clan, with an ending ripped straight from "300" (2007).

In some ways, the real stars of this picture are the gorgeous landscapes of Wales. All the acting is more or less serviceable – nobody shines, nobody stinks. But, man, the picturesque vistas of the marriage between land and sea are breathtakingly beautiful. Of course, they were usually enhanced through the magic of computer wizardry, which was minimal yet highly effective in adding a greater sense of atmosphere to the film. Films about the Viking age are fortunate in that they can often get by with a few guys in armor and some barren landscapes to sell their setting effectively.

There may not be much originality to be found here, but director Farren Blackburn manages to keep things interesting with some decently-choreographed battles (which have been edited to resemble a frenzy, unfortunately) and a small slate of characters that, while mostly one-dimensional, are actually a bit endearing. Steinar, unsurprisingly, is the only one to get any sort of character arc. It should be obvious to most cinephiles early on where his story is going, yet that doesn't make the journey any less watchable. He does make some terribly stupid decisions, though, including one major instance where he's forced to choose between his longtime best friend and his traitorous half-brother. His band of merry men fit typical archetypes for films of this ilk. Grim may be the most fun out of all of them, bringing a humorously savage edge to their frequent skirmishes. He's like Al Capone in the Norse age. "Hammer of the Gods" isn't using its eponymous tool to build anything that hasn't been seen before; it's being used to crush enemies and drive forward a group of men on a mission. For something so trite, it's not such a chore to get through. Hardly a glowing recommendation, I know, but fans of this sort of film may just dig the simplicity of it all.

Video


The best digital pictures are those that look like film, and the 2.40:1 1080p 24/fps AVC MPEG-4 encoded image here looks very cinematic. Shot using the popular Arri Alexa camera, this is a fine image with much strength. Detail is excellent, revealing as much minute definition in faces as in cloth textures and forest elements. Nothing looks soft. Some aggressive post-production tweaking was done to color time an appropriate mood, as well as adding in landscape features and weather. Despite these CGI enhancements, the picture very rarely has the appearance of something shot on set, rather than location. Only a few shots make it clear that a character is walking in front of a computer-generated background. Colors here, though largely made up of earthy tones and steely hues, appear accurate and lifelike. The greens of the forest really pop. Blood seems to have been darkened a bit, looking more black than red. Contrast handles well, allowing even scenes shot in almost total darkness to retain a discernible image.

Audio


There are a couple of questionable elements to the film's English DTS-HD Master Audio 5.1 surround sound track (48kHz/24-bit). But first, the good. Save the bad for later. Fidelity is strong, with a nice, wide range for the sound to play within. Rears come into play often to enhance the viewing experience through immersion; this is mostly done with subtle cues, but a couple battle scenes also brim with activity. Swordfight shenanigans sound typical; it's the slicing and dicing of enemies that packs a visceral punch. Composer Benjamin Wallfisch's score supports the film subtly during most moments, yet when it comes alive it's like you've entered a different film. Dubstep, folks. Wallfisch has discovered the quickest way to remove any sense of anxiety, thrill and purpose from a scene by employing music that sounds like a trash compactor malfunctioning. He doesn't do it much, mercifully, but its inclusion is not excused just because it comes sparingly. Subtitles are included in English for the hearing impaired and Spanish.

Extras


There is a rather hearty serving of extra material here, including making-of featurettes, interviews and a theatrical trailer.

"Making of Hammer of the Gods" (1080p) is a featurette that runs for 21 minutes and 54 seconds. Director Blackburn gets the most focus here, talking about getting onboard his first feature film and cutting the script down to something manageable. All of the principal cast members are here, too, discussing their respective roles and how they fit into the bigger picture.

"Behind the Visual Effects" (1080p) is a featurette that runs for 6 minutes and 16 seconds. The most time consuming part of the job? Removing all the sheep that were seen in nearly every shot.

A series of interviews (1080p) is provided for the following actors:

- "Charlie Bewley (Steinar)" runs for 10 minutes and 53 seconds.
- "Clive Standen (Hagen)" runs for 8 minutes and 49 seconds.
- "Guy Flanagan (Jokul)" runs for 6 minutes and 41 seconds.
- "Michael Jibson (Grim)" runs for 11 minutes and 56 seconds.

"AXS TV: A Look at Hammer of the Gods" (1080i) is a brief featurette that runs for 3 minutes and 3 seconds, providing a quick overview of the story and characters.

A trio of theatrical trailers (1080p) – green band, red band and international – runs for 6 minutes and 12 seconds.

Finally, at startup bonus trailers (1080p) run for the following:

- "V/H/S/2" runs for 1 minute and 54 seconds.
- "Syrup" runs for 1 minute and 47 seconds.
- "Europa Report" runs for 2 minutes and 14 seconds.
- "AXS TV promo" runs for 32 seconds.

Packaging


The single disc comes housed in a Blu-ray keep case, with a slip-cover included with initial pressings that replicates the cover art.

Overall


Not excellent, nor terrible, "Hammer of the Gods" is a middle-of-the-road film full of brutal action, decent plotting and some better-than-expected performances. Some of the score compositions are a major turn-off at times, though more often than not this is a mildly thrilling action picture shot in a picturesque locale.
| | | | | |
| --- | --- | --- | --- | --- |
| The Film: C+ | Video: A- | Audio: B+ | Extras: B- | Overall: B- |