Lost Patrol (The) AKA A Estrada 47
R2 - United Kingdom - Kaleidoscope Home Entertainment
Review written by and copyright: Samuel Scott (8th September 2014).
The Film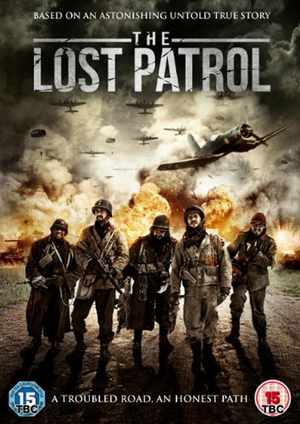 ***This is a technical review only. For reviews on the movie from various critics, we recommend visiting HERE.***

Based on a true story.

During the freezing Italian winter of 1944, a mine detecting squad from the Brazilian Expeditionary Force find themselves lost in the middle of no man's land after a collective panic attack forces them to flee the front line. Realising they could face a court martial, they must attempt to make their way to a US forward observation post and re-enter the conflict.

Along the way they meet two army deserters: a would-be Italian partisan and an injured German officer tired of war. Together they form a strange band of deserters. When they have to cross the dreaded Road 47 – the most feared mine field in all of Italy – they must work together with these two former enemies and find safe passage across the deadly terrain and ultimately achieve redemption.

A troubled road. An honest path.

Video


Independent British distributor Kaleidoscope Home Entertainment release the Brazilian WWII drama "The Lost Patrol" on to DVD in the United Kingdom using the original aspect ratio of 2.35:1. The transfer is in PAL format, and is anamorphic. It's a solid presentation.

The palette used for the feature is similar to pretty much every other World War II drama released, with large arrays of dull greens, greys and browns throughout. The colour scheme is what you would call conventional for the genre, and offers little in the way of surprises. Clarity between the various shades is flawless, though some of the darker blacks do struggle to allow more minute details through. Details are typical for a film of this age and budget, with the various military uniforms on display particularly worth noting. The level of detail remains strong whether the shots are close-ups, mid-range or long-range, and only small items in the background have a tendency to feel a little blocky (we have been spoiled with HD!). The winter environments are also worth noting, with the sea of white snow showing footprints and other details well. There does seem to be a little bit of sharpening and some slight edge enhancement at times, as well as some minor aliasing, but this is a competent transfer without any major flaws.

The feature is uncut and runs 104:53.

Audio


Two original language tracks have been provided:
- Portuguese/Italian/German/English Dolby Digital 5.1
- Portuguese/Italian/German/English Dolby Digital 2.0 Stereo

For my viewing I opted for the Portuguese/Italian/German/English Dolby Digital 5.1 (though do note the stereo track plays by default) which didn't blow my mind away, but exhibited no problems. The score by Luiz Avellar is generally only used when the soldiers are making their way to different locations, but suits the tone of the film very well. The score utilises the surrounds sufficiently, and some minor environmental effects also make themselves known - though swirling winds could have done with using the surrounds more rather than being very front heavy. There are no major flaws here. I noticed no drop outs, scratches, or background hiss. A technically sound track, that would have benefited from being a little more involving.

Optional subtitles are available in English, but not during the small amount of English dialogue during the opening archive footage.

Extras


Start-up Trailer:
- "Battle Over Normandy" (0:57, unskippable)
Theatrical Trailer (1:52)

Overall



| | | | | |
| --- | --- | --- | --- | --- |
| The Film: C+ | Video: B- | Audio: B- | Extras: E | Overall: C+ |

---
DVD Compare is a participant in the Amazon Services LLC Associates Program and the Amazon Europe S.a.r.l. Associates Programme, an affiliate advertising program designed to provide a means for sites to earn advertising fees by advertising and linking to amazon.co.uk, amazon.com, amazon.ca, amazon.fr, and amazon.de.