The Film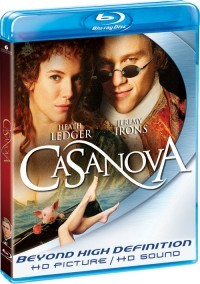 My heart sank when the opening credits came up and the words "Directed by Lasse Hallström" flashed on the screen. Could there be a more 'safe' director to take on the world's greatest lover? It's like hiring Chris Colombus to make a film about Jenna Jameson. After having been subjected to Hallström's "Chocolat" (2000) the worst Best Picture nominee ever, I was not looking forward to this. Thankfully, it was pretty passable entertainment. Sure, it's a film about the world's greatest lover with no sex or passion in it, but this is Lasse Hallström, and I managed to get out of the theatre with some laughs and an over-the-top chase scene, so that's the best I could have hoped for. Just try to hear the name Guido whenever a character says "Casanova" and you won't feel you're missing too much.
We meet Casanova (Guido) after (after!) he's bedded thousands of women. His name is well known, though people seem to either know him only by name or sight as the script requires it. His antics have gotten the attention of the Inquisition, who desperately want him brought to justice for licentiousness, immorality, and other anti-church guff. But the ruler of Venice, the Doge (Tim McInnerny), is protecting him (I forget why, maybe vicariousness). But with the Inquisition breathing down his neck (eventually in the form of Jeremy Irons) the Doge can't he keep protecting Casanova for long, so he orders Casanova to find a respectable wife, post haste.
Casanova finds the comedy relief virgin Victoria (Natalie Dormer) i.e. she breaks clumsily symbolic bird cages with her 'lust grip' and arranges the engagement with her father. But then Giovanni (Charlie Cox) who's secretly infatuated with Victoria challenges him to a duel, at which Casanova meets Giovanni's sister Francesca (Sienna Miller) dueling in Giovanni's place, as she is a feisty liberated woman. Casanova is immediately fascinated by and wants to be engaged to instead. But she's arranged to be married off to wealthy Genoan lard merchant Paprizzio (Oliver Platt). And it should be noted that Francesca's an early feminist who stands against all Casanova stands for, but is luckily one of the cast members who doesn't know what Casanova looks like.
In essence we have a story about the taming of Casanova by a feminist, though with lots of suggestive jokes and chases involved. I don't know about you, but if I'm going to watch a film about Casanova that's not the story I'm interested in (it's also fictional, as if there isn't enough real material about him, i.e. six volumes of autobiography). It's like seeing a movie called "John Matrix: After Bennett I Rested". A film where Casanova starts out rooting women and ends up rooting them would be the storyline of Casanova-themed porn out there, which may be the best genre to tell his stories in.
Casanova is played by Heath Ledger. Heath Ledger always seems to be in movies I wind up watching. I have it in my head that I don't like him. Every movie I see him in I tend to forget that I'm supposed to not be liking him, so his ability to silence the high-pitched voice of rage in the back of my head means I must conclude that I think he's quite good. He's quite good in the title role; lover, fun-loving scoundrel, all of that. It's not his fault that there's not enough of the lover in the film, which may make his Casanova seem like a bit of a wet fish.
I know from the covers of gossip mags and E! Channel advertisements that I'm supposed to know who Sienna Miller is. I went in knowing the name, but not the face. After the film I wouldn't be able to pick her generic face out of a line-up of other generic pretty girls. Her acting is like the rest of the film, it lacks fire. And this is the woman who Casanova is willing to give up all others for? Do you, Lasse, not think the audience can see all the hot Italian women in the background? How was this ever going to be convincing?
The script isn't too bad considering the path they chose to take (though it has an over reliance on hot air balloons and their related equipment). The story of a notorious seducer of women, lover of nuns and married women and who knows who else, is going to rely on lots of romantic entanglements, slapstick, and bedroom-related humor if you decide to cut out any sex scenes. The script is amusing, but not that funny. The good actors like Omid Djalili and Oliver Platt made the most of it, the bad ones like Sienna Miller just sink.
But there is one thing so bad I can barely write about it. A joke so misplaced, so jarring, it's almost a crime. I'm not going to randomly blame the screenwriters, as it could have been suggested by someone on the set. It comes right near the end. Minutes away from the end someone decides to drag us out of 18th century Venice during a bumpy coach chase and have Lena Olin say "This is the last time I ride coach". Why? Why for God's sake would you throw away all that work for such an awful, awful, awful, awful joke. And Lasse, you're married to the woman. You have to protect her from such garbage. Maybe, only maybe, should you peel off the veil of a film's historical setting if you have the world's greatest joke. Even then you'd have to think long and hard about doing it. But for "This is the last time I ride coach". NO!!!!!!

Video


Presented in the film's original theatrical ratio of 2.40:1 widescreen this transfer is a 1080p high definition image which uses VC-1 codec. "Casanova" is another in a line of beautifully presented transfers, the film's photography, costumes and atmosphere make it an ideal candidate for high definition presentation. The colors are lush and vibrant, with reds deep and robust, black levels are pitch perfect and shadow detail is exceptional. In fact all detail is exceptional and at times a little too exceptional as finer details that weren't seen on the standard DVD can be seen here such as CGI extensions to sets are that much more obvious. I suppose this is a slight problem we face with total HD images is that at times they can be a little too perfect.

Audio


Four audio tracks are included on this disc, an English Uncompressed PCM 5.1 transferred at 48kHz / 16-bit, as well as standard English, French and Spanish Dolby Digital 5.1 surround tracks. For the purposes of this review I chose top view the film with its PCM audio. The film's sound is a vibrant experience, the score and surroundings virtually come alive and place you in the period this film is set in quite easily. The dialogue is clear and distortion free and the ambient surrounds are put to good use throughout this sound space. While not entirely an aggressive track it's totally immersive and that's what counts.

Optional subtitles are also included in English for the hearing impaired, French and Spanish.

Extras


Buena Vista has released this film with some of the extras from the standard DVD release and have included a Blu-ray exclusive extra as well. These include an audio commentary, 2 featurettes plus a 'Blu-Scape' short film. Below is a closer look at these supplements.

First we have the feature-length audio commentary by the film's director Lasse Hallström. Hallström in his soft spoken manner chimes in occasionally during the course of the film, there appear to be many gaps in-between comments as this track isn't as fluid as I'd have liked it to be. Hallström comments on the story and also talks about the locations that inspired him during the making of the film. He goes into some historical detail about certain parts of Venice as well as comments on the music chosen for the film, the cast and what they brought to their characters among other aspects of the production. Overall I was rather under whelmed by this track and found myself fast forwarding through the many silent gaps.

"Creating an Adventure" is the first featurette which runs for 12 minutes 50 seconds and plays out much like your standard EPK piece. The clips covers the unique challenges encountered by filming in Venice, as well as takes a look at the casting of the legendary lover and his love interest, we also get a brief look at the sword fighting techniques as well. The clip includes interviews with the key cast and crew, cut with behind-the-scenes footage and the occasional clip from the finished film.

Next up we have the "Dressing in Style" featurette which runs for 5 minutes 18 seconds, this focuses on the costume design. We learn about the research involved in designing the clothes, as well as color selection and finding the 'look' for the main characters.

Also included on the disc is another in the line of exclusive 'Blu-Scape' short films by award winning filmmaker Louie Schwartzberg. This one is entitled "Reflection of Venice" which runs for 4 minutes 53 seconds, this is an animated short that is inspired by the film as we are taken on a trip through the canals.

Also included is "Movie Showcase" which jumps to three key reference scenes that show off the high-definition quality.

Overall




This film has been reviewed by Roger Nicholl, the specs and extras have been reviewed by Noor Razzak.
| | | | | |
| --- | --- | --- | --- | --- |
| The Film: C- | Video: A | Audio: A+ | Extras: C+ | Overall: B- |