The Film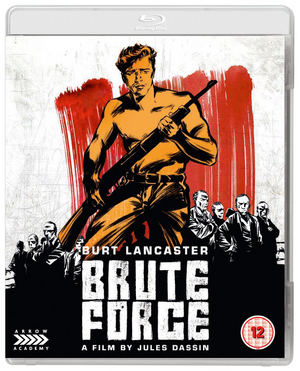 ***This is a technical review only. For reviews on the movie from various critics, we recommend visiting HERE.***

Nobody really escapes.

Before making the French crime classic Rififi, Jules Dassin was arguably the greatest of film noir directors, responsible for a string of gems including The Naked City, Thieves' Highway and Night and the City. Brute Force kickstarted that run of pictures and never did a film live up to its name more.

Burt Lancaster is Joe Collins, one of a number of convicts squeezed into cell R17 intent on staging a prison break. Not only does he need to return to the side of his cancer-ridden wife (Ann Blyth), he also wants to escape the clutches of sadistic warden Captain Munsey (an unforgettable performance from Hume Cronyn) who enjoys a reign of terror over the inmates.

Beautifully shot by the great William H. Daniels, tautly written by Richard Brooks (Blackboard Jungle, In Cold Blood) and impeccably acted by its ensemble of noir familiars, Brute Force remains a prison movie classic.

Video


Arrow Films have released the Jules Dassin directed feature "Brute Force" as a Blu-ray and DVD combo pack under their Arrow Academy banner. The Blu-ray (DVD not reviewed) is in the original aspect ratio of 1.33:1, is 1080p, and uses an AVC MPEG-4 encode. Even by Arrow's usual standards, this is a very good presentation.

If you want to see perfect contrast levels, than you need go no further than this release. The black levels are excellent - deep and inky as required - and still allowing shadow details to shine through. In fact, details are very good throughout, with sharp close-ups, high-end mid-range details, and delicate intricacies in clothing and environmental surroundings as good as any film I have seen from this era not released by one of the major studios. When it comes to problems with this transfer, I can't really think of any. Sure, there is the odd speck here and there, but is that worth complaining about when it comes to a film that is over sixty years old? Zooming in on the picture shows that there's been no digital noise reduction implemented here, there are no issues with the heavy grain structure, and I didn't notice any signs of edge enhancement or aliasing. This really is reference quality material. Excellent stuff.

The feature is uncut and runs 97:56.

Audio


Arrow Films have provided a single audio track for this release; English LPCM 2.0 Dual Mono. Just like the transfer, I can't think of many ways the track could be much better, and would be happy to call it reference quality. Every part of the track shows crystal clear clarity, with dialogue never mumbled and the score by Miklós Rózsa is never overpowering, or too quiet. There are no causes for concern with this rather robust track. I noticed no signs of damage such as scratches or drop outs, and there was no background hiss. It's about as good as a mono track for a vintage film gets.

Subtitles are available in English and are optional.

Extras


The main extra included here is a documentary entitled "Burt Lancaster: The Film Noir Years" - an in-depth look at the actor's early career by Kate Buford, author of Burt Lancaster: An American Life (38:46). This is an excellent documentary full of fascinating insight in to Burt Lancaster. Buford gets into depth about various aspects of Lancaster's life during his Noir years including his contract wrangles, how he got involved with Brute Force, A Streetcar Named Desire, the HUAC, Sorry Wrong Number, Kiss the Blood Off My Hands, Criss Cross, and Sweet Smell of Success. Perfect.

The other on-disc extras are a stills gallery and a theatrical trailer (2:14).

In the case we find a collector's booklet containing new writing on the film by Frank Krutnik, author of "In a Lonely Street: Film Noir, Genre, Masculinity, and Swell Guy", an obituary of Brute Force's producer, Mark Hellinger, by its screenwriter, Richard Brooks, illustrated with original stills. There is also a reversible sleeve featuring the original poster and newly commissioned artwork by Reinhard Kleist.

Note that a DVD copy is also included.

Overall


"Brute Force" is a brutal and intriguing noir. The A/V is of reference quality, and the included documentary excellent. This is a very solid release from Arrow Films.
| | | | | |
| --- | --- | --- | --- | --- |
| The Film: B+ | Video: A | Audio: A | Extras: C | Overall: B+ |