Closed Circuit Extreme AKA Circuito chiuso
R0 - America - Jinga Films / MVD Visual
Review written by and copyright: Eric Cotenas (15th September 2014).
The Film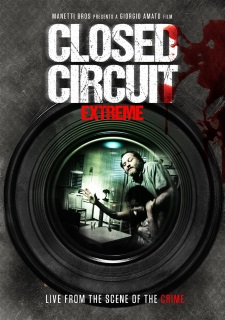 "The final cut of the film will be last thing you ever see."

Student Francesca Pardi mysteriously disappeared in 2010 and her body was never found. Her friends Claudia (Francesca Cuttica) and Daniele (Guglielmo Favilla of EATERS: RISE OF THE DEAD) have come to suspect handyman David De Santis (stage actor Stefano Fregni) in the girl's disappearance. When the public prosecutor does not take them seriously, Claudia and Daniele break into De Santis' home and install five closed circuit cameras to monitor his activities. The cameras are all connected to one hard drive in the camera positioned in the living room, so Claudia and Daniele have to repeatedly break in to check the amount of data collected and to constantly fixed faulty recording signals; as such, they do not have time to actually review the footage to see him interviewing a series of applicants answering to his classified ad for an inexperienced female college student to babysit a child that doesn't exist (as well as hooker or two). While Daniele is adamant about just collecting the surveillance data, Claudia is too curious and frustrates Daniele as she pokes around, leaves fingerprints, and moves items around in ways he thinks De Santis will notice. When Daniele breaks his ankle, Claudia has to return to De Santis' home herself, and may be walking straight into a trap when David discovers evidence of a break-in.

Hopefully CLOSED CIRCUIT EXTREME is not a sign that Italian genre filmmaking is truly dead. The found footage genre has allowed a number of wouldbe filmmakers and ones lacking financial resources to express themselves in cost-effective and (sometimes) imaginative ways amidst a lot of duds. This fictionalized account of the serial killer dubbed "Il Mostro di Torre Gaia" (named after the Roman suburb) is largely dull with suspense undermined by the irritated English-language improvisation of actors who do not speak fluent English (although like inexperienced American actors in this genre, they punctuate everything with plenty of tiresome profanity). Since the recovered footage is shown to us not in raw form but as a police distillation of five days worth of footage, the identities of people and descriptions of important evidence are helpfully captioned; but this unnecessary approach not only gives us information we could have gleaned ourselves about the evidence, it also robs of us suspense by telling us in advance which characters disappeared and are believed dead as opposed to those who are identified as "cited as informed source close to the investigation". As such, boredom sets in really quickly once De Santis' routine has been established and we are already told which of his interviewees ended up as informants. Since Daniele and Claudia are not reviewing the footage during their regular break-ins, the filmmakers could have gotten to the exploitable bits earlier (unless viewers find full frontal nudity from stoutish Fregni titillating). Scenes of rape and brutality are conveyed mostly off camera or at the corner of the frame, but what gore there is seems phoned in by Dario Argento's regular make-up and visual effects wiz Sergio Stivaletti. The climax should be suspenseful but it simply isn't, unfolding just as we know it will in a trend that is no longer edgy or shocking. The credits list this as a Dania Film production, and producers Lea and Dania Martino are apparently related to late producer Luciano Martino and his director brother Sergio Martino who were two of Argento's rivals in the giallo genre during the seventies before moving onto genre television in the eighties. Co-producers Antonio and Marco Manetti have since jumped on the 3D bandwagon with the interesting-sounding PAURA 3D while writer/director Giorgio Amato's follow-up feature THE STALKER sounds like a more conventional thriller.

Video


Jinga Films' single-layer DVD features an adequate encode of this uneven-looking film with its patchwork video quality, simulated auto-exposure and video noise, digitally-created video signal interference. Although the video stream runs 113 minutes, the film's end credits actually finish rolling at 102 minutes. After a couple minutes of blackness, we are treated to a series of silent outtakes (including textless versions of shots captioned in the film). I'm not sure if this is intentionally part of the feature or a bit tacked onto the end of the master tape either for inclusion as an outtakes extra or for other territories to do captions in their own language.

Audio


A found footage film shot in English with live sound (rather than acted in English with post-dubbing), the Dolby Digital 2.0 stereo track is at the mercy of the thick accents and the audio recording which attempts a realistic ambiance with the volume of dialogue dependent on the proximity to the hidden cameras (the Italian disc reportedly only features a stereo Italian dub, meaning that release actually lacks the film's original audio). There is no scoring apart from some classical source music and the most dynamic sound effects are the aforementioned annoying static bursts that accompany each cut and video damage/signal interruption. No subtitles are provided, although the credits and onscreen text are all in English.

Extras


There are no extras other than a short trailer for the feature and the "hidden" extra of outtakes mentioned above.

Packaging


Standard DVD keepcase with a single-sided artwork insert that does nothing to distinguish this from any other found footage movie.

Overall


Neither a good example of the found footage genre or an encouraging sign of the state of Italian genre filmmaking, CLOSED CIRCUIT EXTREME is at best a worthy rental for the curious.
| | | | | |
| --- | --- | --- | --- | --- |
| The Film: F+ | Video: C+ | Audio: C+ | Extras: F+ | Overall: F+ |

---
DVD Compare is a participant in the Amazon Services LLC Associates Program and the Amazon Europe S.a.r.l. Associates Programme, an affiliate advertising program designed to provide a means for sites to earn advertising fees by advertising and linking to amazon.co.uk, amazon.com, amazon.ca, amazon.fr, and amazon.de.