The Film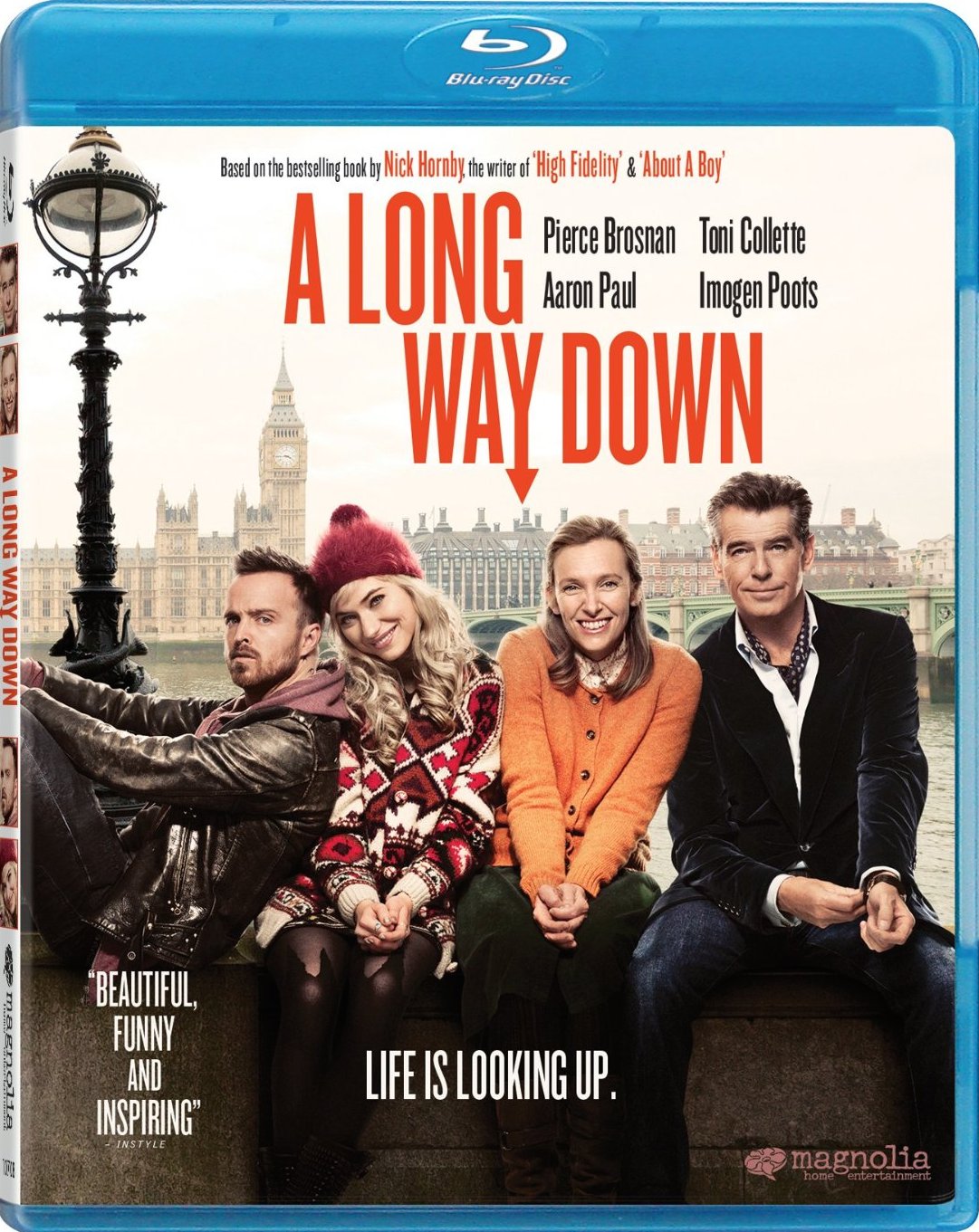 "I thought it'd be eccentric and heartwarming. Four people survive suicide, find hope, blah blah blah blah. I mean, it's the kind of good news story the press love!"

Death is a pretty dark and serious matter, and it requires a skillful touch to make not just legitimately funny—to lighten the mood yet still suggest a respect, a sort of sophism amidst the sarcasm—in any art form, but especially film. Depression, and especially suicide, is no laughing matter, either. Except, at least sometimes, in "A Long Way Down", it is. At the tip-top of the Toppers House high-rise, four unsuspecting strangers—Martin (Pierce Brosnan), Maureen (Toni Collette), J.J. (Aaron Paul), and Jess (Imogen Poots)—meet the very moment each has decided to end their life by jumping off the roof. The reason they're up there is unique for each, but ultimately comes down to a simple point: because it seemed like a good idea at the time.

Martin has made the choice to jump because he thinks he has nothing left to live for. His wife has left him, and barred him from seeing their twin girls, and he lost his job, as co-host of a morning talk show. All because he was caught in an affair with a young girl who looked 25, but was, unbeknownst to him, nearly a decade younger; nearly being just enough to net him a three month stint in prison, and turn him into a joke in the British newspapers. Maureen's reasons are similarly fatalist, and also deal with a disrupted domestic life, albeit without the affair with an underage girl. She's unhappy, in forced isolation, as the sole caregiver of her special needs son, who she's convinced would be better looked after by someone more mentally and financially fit than herself. J.J., a one-time rockstar and now lowly pizza delivering American immigrant, has just found out he has cancer. Terminal cancer. Terminal brain cancer. And the manic, flight, foul-mouthed Jess wants to jump because her scumbag boyfriend dumped her at a New Years Eve party. At least a few of these people are liars—if you consider the deleted scenes on Magnolia's Blu-ray as canon, all of them are—and the reasons they wanted to kill themselves, at least what they tell the others, are either completely fabricated, or not completely true. Their stories, as the other characters learn over the course of the film, much more complicated than initially led on.

While arguing over who gets to jump first, Jess suggests that in fact none of them do—that they should make a pact to hold off 6 weeks, until Valentine's Day, and if things don't improve by then, all jump together. When the papers get a snapshot of Martin walking with Jess, who is in fact the daughter of a befuddled parliament member (Sam Neill, in a fine bit of character acting), their little "suicide club", quickly dubbed by Topper House Four, becomes more of a notable headline than even Martin's initial dirty deed. J.J. and Maureen are thrust into the spotlight, too, and the group decides to capitalize on their fame, and profit from their story, by taking it back from the press. The four set off on an all-out information assault, in which they concoct an intentionally confused narrative of the night they met, including a bit about a vision of divine intervention and other silliness, all in an attempt to completely screw the manipulative media at their own game. And when it all gets too much, the circus overrun with the trampling elephants called reporters let loose by the tabloids, the quartet don't try to kill themselves again, but instead jet off to a beach-side resort in Spain, on Martin's dime, and have some fun.

Very loosely based on a same-name novel by Nick Hornby, "A Long Way Down" is a black comedy, ostensibly about suicide and depression. It's a tale of fate, folly, friendship and family, and many other things all at once. The story's angst-ridden characters, each wonderfully brought to life by their respective performer (with special mention to Collette, who is absolutely incredible, and in one scene outdoes her capable co-stars by such a wide margin it isn't even really fair to compare), are a cadre of emotionally contorted sad-sacks, so down on their luck they think offing themselves really is the only logical solution to temporary problems. Until, of course, they invariably realize that being together, even in misery, isn't so miserable. That life really is worth living after all.

Unfortunately, fine performances and all, the subject's dealt with the restraint of a screaming child being told they have to wait, occasionally wheedling a sledgehammer and smashing toys to get attention, or a reaction, from anyone. In extremely unsubtle ways, "Down" attempts to elicit emotion through manipulation, mixing maudlin sentiment with manic and scatological sarcasm. Hornby's source novel was written like a collection of journals told in first-person perspective. The approach allowed for the innermost thoughts of his creations to be easily poured onto the page—a diary or journal is, after all, a confessional; and some say the best sort of therapy—but left the structure a fractured mess, with four distinct voices never congealing into a cohesive whole. The film is similarly fraught with a tonal and narrative disconnect. "A Long Way Down" plays best not when the cast is together, but apart, a complete contradiction to the arc of the film. Each of the characters seem to be from a different movie, albeit finely acted ones, and that's sadly still true when they're sharing the screen all at once. In the fragmented asides, we learn their real stories, which are sometimes quite sad. Perhaps too sad for the the generally jolly, jarring tone of other scenes preceding or following along along the arch of the overall plot.

There's a somewhat famous, perhaps even infamous, story about playwright Noel Coward's initial reaction to David Lean's filmed adaptation of his successful stage comedy about death, "Blithe Spirt" (1945). Upon seeing a rough cut of Lean's film, Coward is reported to have remarked, "you've just f*cked up the best thing I ever wrote." I don't imagine Nick Hornby would go that far in his criticism of director Pascal Chaumeil and screenwriter Jack Thorne's filmed version of the author's work, although he is quite cagey about his feelings in the supplements on the film's Blu-ray release. But by all admission—and in the opinion of this writer, who holds both book and film versions of "High Fidelity" in very high esteem—"A Long Way Down" is not one of the author's best books. It's not even one of his better ones. And it's most certainly not among the well adapted to screen, far below even the middling American television adaption of "About A Boy" (2014-present).

And when any Hornby novel translates to screen as muddled as "Down" does, it is undoubtedly a disappointment. Especially when the cast is quite good, undoubtedly better than anything they've been given to act out. The scenery and cinematography are quite eye catching, too. But, frankly, it is not really a surprise that "A Long Way Down" is a disappointment. It's a difficult novel, dealing with a difficult topic, not particularly well handed even on the page. Adapting it must have been difficult, too, because the results suggest those involved behind the scenes had a loose grasp of tone, and the delicate touch necessary to tackle a topic like suicidal depression.

Video


Digitally captured with the Arri Alexa, cinematographer Ben Davis' blend of warm and cool tones fits a tale of sad people who want, and try, to be happy. The opening minutes, in the bleak downpour of a rainstorm atop that tower on a late December night, is dour, depressing and flat looking. Later, along the Mediterranean, colors are brighter, more vibrant, and even at night, the picture is cast in a welcoming golden glow. Sharpness and overall clarity of the 1080p high definition AVC MPEG-4 encoded transfer, framed in 2.40:1 widescreen, is generally very good, with only a handful of shot that go soft—usually during an elaborate steadicam sequence. The limited latitude of digital capture over film results in contrast that is a little clipped, with inky but occasionally uneven blacks and blown out whites in scenes backlit by curtain-peeking sunlight. Overall, compression appears competent, with no noticeable artifacts or other anomalies to report, and "A Long Way Down's" nearly perfect presentation goes a long way in making up for the disc's deficiencies elsewhere.

Audio


The English DTS-HD Master Audio 5.1 soundtrack (48kHz/24-bit) isn't a disappointment either, despite the drama-comedic rather action-oriented slant of the material. The mix is peppered with many immersive scenes, like an early 270 degree camera move inside a night club, in which the powerful bass of the horrible house music muddles dialogue—as it's supposed to—and the shouted voices and music effectively pan across the soundstage with the camera. Later, another lengthy steadicam sequence set in a seaside hotel, during which a cover of "I Will Survive" by Cake plays over the patio speakers, is similar, creating a terrific sense of atmosphere. Immersion at other points, including during a rain storm, the Topper House Four on the windswept rooftop, and a conversation in a quieter environment of a beachside balcony with lapping waves in the distance, help sell the time and place. But, effective atmosphere or no, "A Long Way Down" is driven by dialogue, which comes across crisp and clear, and is well prioritized in the mix… when it's supposed to be. Like most things based on books written by Nick Hornby, an interesting mix of popular music—in addition to the aforementioned Cake cover, there are songs by Alabama Shakes, Matthew and the Atlas, and Daughter, among others—at specific points, and very talented composer and pianist Dario Marianelli wrote the original score. Optional subtitles are available in English and Spanish.

Extras


"A Long Way Down's" supplemental package doesn't quite lift the film up to new heights, offering a couple of interesting deleted scenes, less essential outtakes, a bland making of and some superficial featurettes, the original theatrical trailer for the film, pre-menu bonus trailers for other Magnolia releases, optional bookmarks, and a BD-Live portal.

6 of the 8 deleted scenes (2.40:1, 1080p; 8 minutes 7 seconds) included on the disc were wisely cut from the film, adding unnecessary exposition or a handful of jokes to sequences not really in need of either. However, two scenes—an excised conversation with Maureen and Martin's ex-wife, which radically alters his character's backstory and motivation, and an alternate ending with the pact quartet at a park with Martin's daughters—really could've, and debatably should've, been in the finished film. I'm particularly partial to the alternate ending, which subverts the trite tidiness of the film's final cut, in the spirit of the opened ended source novel.

A plodding, perfunctory, and at times outright tedious collection of outtakes (2.40:1, 1080p; 7 minutes 11 seconds) are also included. Of some interest are the alternate camera angles in quite a few of these foiled frames.

"The Making of 'A Long Way Down': Jumping In With the Cast & Crew" (2.40:1/1.78:1, 1080p; 8 minutes 26 seconds) is a brief EPK featurette with author Nick Hornby, director Pascal Chaumeil, screenwriter Jack Thorne, and actors Pierce Brosnan, Toni Collette, Imogen Poots and Aaron Paul. Disappointingly superficial, Hornby doesn't even offer any thoughts on the adaptation, and limits his comments to his novel. Side note: shouldn't the title of this piece be "…Jumping Off…" rather than "Jumping In"?

"On Toppers Tower: A Behind the Scenes View" (1.90:1, 1080p; 1 minute 36 seconds) featurette is a split-screen comparison of the green-screened set with the finished visual effects shots seen in the final cut.

"Working with the Director" (2.40:1/1.78:1, 1080p; 2 minutes 15 seconds) is a fluffy featurette in which the cast sort of marvels at Chaumeil's grasp of the British humor, despite his French roots. Admittedly, there are some very funny scenes in the film. It's just a shame there aren't either more, or less of them, for the sake of tonal consistency.

Hornby does actually offer some thoughts on Jack Thorne's translation of his book in a featurette titled "Adapting the Story" (2.40:1, 1080p; 3 minutes 27 seconds). Interestingly, he says, "I liked what I saw." I wonder, did he see the whole film, a rough cut with the original ending, or only a small part of what was written, not what was shot?

"AXS TV: A Look at 'A Long Way Down'" (2.40:1, 1080p; 2 minutes 10 seconds) is a promotional featurette from Magnolia's cable network counterpart, AXS.tv. This piece is essentially a long trailer, with cast and crew snippets from the EPK, as seen elsewhere on the disc.

A more traditional theatrical trailer (2.40:1, 1080p; 2 minutes 13 seconds) has also been included.

Pre-menu bonus trailers for:

- "Two Faces in January" (2.40:1, 1080p; 2 minutes 17 seconds).
- "Frontera" (1.78:1, 1080p; 2 minutes 33 seconds).
- "Filth" (2.40:1, 1080p; 2 minutes 15 seconds).
- "Frank" (2.40:1, 1080p; 1 minute 59 seconds).
- "Chideo" promo (1080i; 1 minute 14 seconds).
- "AXS.tv" promo (1080i; 32 seconds).

Packaging


"A Long Way Down" falls onto Blu-ray from Magnolia Home Entertainment. The region A locked single layer BD-50 is packaged in an Elite keep case.

Overall


Although the performances in "A Long Way Down" deserve your attention until the very end, the structure and tonal inconstancies of the screenplay make for a disappointing adaptation of a difficult source novel. One wonders if, in diverting so far from the source material anyway, instead of striking a poor balance in the process, it would've been better to pick a tone and stick to it—either as a bitter black comedy centered around suicide and media satire, or a more serious drama about overcoming the sort of personal pain that drives people to stand on a ledge, and worse, jump off. At the very least, not an improper balance of attempting, and occasionally failing, at both. Magnolia's Blu-ray release has a fantastic video transfer, excellent audio, but mediocre extras. This is a curious and cautious case; a great looking disc of a disappointing film.
| | | | | |
| --- | --- | --- | --- | --- |
| The Film: C | Video: A | Audio: B+ | Extras: C | Overall: B- |