The Film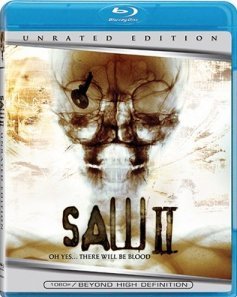 "Saw II" was shot over 25 days, with a relatively new to the scene filmmaker Bousman, who had written a script entitled "The Desperate", keep in mind that this was before the first "Saw" (2004) was released in theatres. It was purchased mainly because it was too similar to "Saw" and Lion's Gate wanted to capitalize on these types of films in case the film was a huge success. Well it was and the writer of the first film, Leigh Whannell came onboard with Bousman to re-write his script into a proper sequel. As quickly as you can say "Jigsaw" the second film was under the lens for a tiny budget of around $4 million. Released on Halloween 2005, the sequel exploded and eventually grossed a phenomenal $87+ million in the United States alone. Lion's Gate savvy marketing of the picture, along with continual internet buzz made for one of the biggest openings for a horror film...and this one was a sequel to boot.
The immediate success of the first film pretty much dictated that a sequel would be on the way, but getting one so quickly after the film's release came as a surprise. Rushing a sequel is never a good idea, often underdeveloped scripts get used, the wrong directors are hired and in horror especially they try to capture the feel of the original without really adding anything new and almost always lead to disappointment. I watched the first movie among a preview audience and found it a frightening experience, although the film had flaws most notably were that the performances aren't great and the script allocated some time for us to get to know the characters (while this is generally a good thing, to foster a sort of connection or develop sympathies to characters, in this case it only made these characters seem a whole lot more annoying). Which I'm glad wasn't done in this sequel, we know very little about the victims, it's very clear right from the start that they are there to die, pure and simple, and it's all part of the game.
The film's tagline reads "Oh yes...there will be blood" and right from the start I was fairly excited, I love horror movies that have the balls enough to take you over the edge. Ones that aren't afraid of a hard 'R' rating and give you the maximum amount of carnage possible and "Saw II" almost goes there. It breaks the surface, goes a little farther than the first but doesn't totally go for its maximum potential. Maybe the producers will leave that for the third installment (already given the green light) or perhaps because they had such a tight turnaround time between the release of the first film and this one. There will eventually be an 'Unrated' version with more gore and violence that you weren't allowed to see in this R-rated theatrical version (this is commented on in the audio commentary, but no word on when and if it will be released), so maybe Lion's Gate are holding off for another DVD release? Whatever the case, this film had the capability of exceeding my expectations, but managed to only just match it. "Saw II" is certainly better than its predecessor by a margin. It's a tighter paced more lean film that has some very disturbing torture surprises in store for us and director Darren Lynn Bousman is at the wheel of this sick and twisted ride.
In "Saw II" Jigsaw (Tobin Bell) is back. A brilliant yet disturbed and sinister serial killer returns for another round of horrifying life-or-death games. He traps his victims and punishing them for their crimes, the shows them that they shouldn't take their lives for granted. One of these new murder victims is discovered, a puzzle piece shaped bit of skin removed indicates it's the work of Jigsaw, and Detective Eric Mathews (Donnie Wahlberg) and partner Kerry (Dina Meyer) begin an investigation that leads to the rather quick apprehension of Jigsaw. But for Jigsaw, getting caught was just another part of his game. Mathews discovers that eight more victims are already fighting for their lives in a sealed off house and now it's time for him to join the game when his son, Daniel (Erik Knudsen) is one of those victims. Trapped in a house the eight people must find an antidote that will cure them from a deadly gas they are breathing in. One antidote for each person, but getting them is a lot harder than they think.
Right from the word go, we are thrust into an over the top game, where the victim must cut into his eye to retrieve a key that stops a head mask filled with spikes closing on his face. "Saw II" is filled with moments like this, so it's fair to say that if you have a weak stomach then this film is probably not for you. The best of the gags takes place in the house where the eight victims all go through special tailor made traps, all of which are memorable and leave you on the edge of your seat. The needle pit and the hand trap are by far my favorites, the hand trap, although very cool, made the character of Addison (Emmanuelle Vaugier) seem like the stupidest person on the planet. She puts her first hand in and it gets caught, and almost immediately she puts her second hand in? All she needed to do was take a minute and figure it out, but what we (as an audience) did not see was that under the box, the blades were hidden (I discovered this in one of the featurettes). A simple cut-away shot could have explained this otherwise ridiculous move on her character's part.
This film does have its fair share of characters that just plain get on your nerves; Xavier (Franky G) is just that character, this guy spent the whole movie complaining and tearing shit apart. Not only does that not help matters, but we have to deal with this jerk for almost the entire duration of the movie. Xavier could have had the potential of being an interesting character but instead the filmmakers relegated him to another throwaway character with a bad disposition.
The different traps, although very innovative are all stumbled upon accidentally. Now I'm not sure exactly how big this house is, but after escaping from the main room the victims search through the premises, how is it that they missed a few rooms here and there? This whole 'stumbling' to discoveries bullshit doesn't fly and I felt was one other weakness that I spotted.
I also felt that the traps weren't really used to their full extend, I'd have liked to see the filmmakers go a little farther, besides your serial killer uses a fucking doll to scare the shit out of people, at this point what would your audience not believe? I say push the envelope. I would have also liked to see more traps, there were eight people to start with but not all of them died from traps. Now aside from these gripes "Saw II" was a twisted ride, if you enjoyed the first one then you'll likely get a kick out of this one. The film is well paced and has some nice surprises in store, I especially enjoyed the twist ending and look forward to "Saw III" next year, if only for the crazy traps the filmmakers will think of next. So until then, wait till dark and give this one a spin, it's not the best horror out there but it sure as hell is a fun one.

Video


The film is presented in 1.78:1 widescreen, this 1080p high definition transfer is excellent and was created using AVC MPEG-4 compression. Like the DVD release the image has some grain but this lends more to the stylistic look of the series. Colors are vivid and the overall image is brilliantly sharp and detailed and stands up quite well under scrutiny. The black levels are deep and shadows are consistent throughout especially in night exteriors and scenes that feature dim lighting. Overall I was very pleased with this transfer and it certainly looks good on a big display.

Audio


Two audio tracks are included on this release, an English DTS-HD Hi-Resolution 6.1 matrix track as well as an English Dolby Digital 5.1 EX track. For the purposes of this review I chose to view the film with its DTS-HD track, my current home theater set up can decode DTS-ES tracks but not HD tracks however the HD tracks are backwards compatible. Despite the fact that I cannot listen to this track at its full capability it's still an aggressive dynamic mix and whether you can decode DTS-HD or not it will blow you away. Dialogue is clear and distortion free, ambient surrounds are subtle and eerily natural, score and action sequences come at you like a freight train with their intensity giving the track a depth and range we've come to expect from these Blu-ray discs.

Optional subtitles are also included in English for the hearing impaired, English and Spanish.

Extras


> Lionsgate has included some of the extras from the 2-disc Unrated DVD release, these include two audio commentaries and a series of featurettes. Below is a closer look at these supplements.

First up is a feature-length audio commentary by director Darren Lynn Bousman, production designer David Hackl and editor Kevin Greutert. In this track the particopants discuss the short time they were given to develop, write, shoot and release the film. They comment on the cast as well as the various traps created for the film and expanding on the first one. Various production challenges are discusses including the creation of the jigsaw doll to delivering the film on time and on budget considering the short turn-around it was rather miraculous they managed to do that.

A second feature-length audio commentary is also included and features the film's executive producer James Wan and writer/executive producer Leigh Whannell. These two chat about their first film and creating a franchise as well as talk about how they basically got to where they are from the first film production they worked on being the short film that inspired the first "Saw" (2004) film as well as jokingly shoot the breeze about the gore and horror elements in these films. These two seem like genuinely fun guys to hang out with judging by this track and is generally entertaining to listen to.

Next up is "The Story Behind the Story" a short featurette that runs for 3 minutes 42 seconds, in this clip the creators Wan and Whannel talk about the genesis of this film series, the inspiration behind it and writing the story. This clip is far too brief and leaves a lot to be desired.

Next is "The Scott Tibbs Documentary" a featurette that runs for 15 minutes 55 seconds, this is a mockumentary style piece that sees a guy named Scott Tibbs trying to investigate Jigsaw, I'm not sure what the DVD producers were thinking when they put this clip together it's got some terrible acting and should have been left on the cutting room floor.

Finally "Gregg Hoffman: In Memoriam" a featurette that runs for 6 minutes 31 seconds and pays respects to the producer of the film who died suddenly of natural causes in 2005 shortly after the release of the film. The filmmakers and those concerned share their thoughts about the producer.

Overall


The standard DVD release of this Unrated Edition received a 2-disc treatment with a lot of extras only a few of which have been ported over to this Blu-ray edition, which is very sad indeed.
| | | | | |
| --- | --- | --- | --- | --- |
| The Film: B+ | Video: A+ | Audio: A+ | Extras: B- | Overall: B |