The Show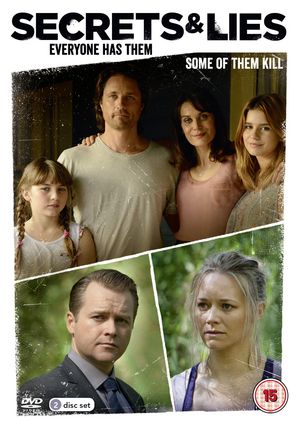 ***This is a technical review only. For reviews on the show from various critics, we recommend visiting HERE.***

Everyone has them.

Some of them kill.

One decision, one night, one road taken, one wrong turning. It doesnít take much to change the rest of your life Ė but by the time you realise that, itís far too late.

When Ben Gundelach comes across the body of a murdered four year old boy,it sets off a chain of events that will tear him apart, devastate his family, rock a community and punish the guilty and innocent without reason. The boy, son of a neighbour and single mother, was also a friend of Benís family. As homicide detective Ian Cornielle begins his investigation, and the cameras of the press begin invading their lives, they start squeezing the life out of Ben Gundelach, leaving him shocked, confused and very much accused.

Everybody has secrets that are safely locked away. But when secrets are unleashed, the truth can scar Ė and the truth can kill.

Video


Acorn Media have released the successful Australian drama/thriller "Secrets & Lies" on to DVD for British audiences using the original aspect ratio of 1.78:1. The picture has received an anamorphic transfer, and it is of broadcast quality.

The show is a very bleak one, with many depressing and sometimes hard-going moments, as you see the lead character get knocked down with every possible vindication of the crime somehow being outdone. As with most dramas of this tone, we get many gaunt and dark colours, with heavy usage of blacks and greys throughout. Blacks are deep and inky, but unfortunately do suffer from some very light crush (probably only noticeable on screens 42"+), whilst other colours show good levels of sharpness and clarity. Shadow details are above average, as are close-ups, with facial details showing minute blemishes in the skin and make-up. Long shots do have a few blocky background items, but this is generally down to the format limitations. Some minor aliasing appears every now and then, but there's no major problems here, with the transfer exhibiting no signs of damage and no noticeable issues with compression.

The six episode series is spread over two discs (three episodes per disc), and is uncut.

Audio


Acorn Media have provided the series with a single Dolby Digital 2.0 Stereo track in the original English language. Rather typical of a drama series track, "Secrets & Lies" doesn't hold any surprises, but is a strong track without any issues. Dialogue is clear and concise at all times, generally kept as central as possible, with limited channel separation, whilst the score is powerful, but never outstays it's welcome or pulls the viewer away from what is actually happening on screen. As should be expected for such a new show, there are no signs of damage here; no drop outs, scratches, pops or background hiss. The track isn't going to win any awards, but it is technically sound.

Optional subtitles have been included in English.

Extras


Each episode includes a small "bonus scene", whilst disc one also has a photo gallery. Nothing worth bothering with to be honest.

Overall




Cracking drama but perhaps six episodes was slightly too long for the story? I look forward to the USA remake starring Juliette Lewis and Ryan Phillipe.
| | | | | |
| --- | --- | --- | --- | --- |
| The Show: B+ | Video: B+ | Audio: B+ | Extras: D- | Overall: B+ |