The Film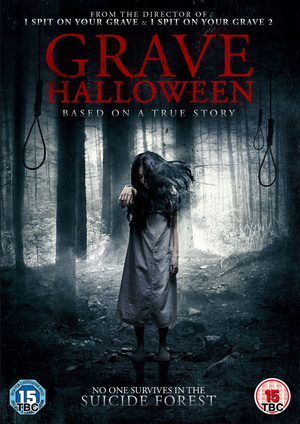 ***This is a technical review only. For reviews on the movie from various critics, we recommend visiting HERE.***

No one survives in the suicide forest...

Deep in stark woodland at the base of Mount Fuji, restless whispers echo as the light fades on a mid-winter afternoon. Here, amongst a maze of roots, a lone figure takes her life, binding her body to the branches and her spirit to the undergrowth.

Years later as the crows scatter, Miko and her college friends head into Suicide Forest. Miko yearns to abide a Halloween ritual steeped in demonic tradition which will release her mother's trapped soul. Filming their journey amongst the shadows, strange things start to happen; angry murmurs and sightings of ghosts warn there are those who do not want them there.

In the Sea of Trees an ocean of lost souls rises up, closing heavy boughs around Miko and her friends. Suddenly, the path to life is barricaded by the dead who have nothing to lose…

Video


Independent British distributor Kaleidoscope Home Entertainment have released the low budget SyFy Channel horror movie "Grave Halloween" on to DVD in the United Kingdom, in the original aspect ratio of 1.78:1. The transfer is anamorphic, but is unfortunately, of average quality.

One of the most noticeable problems with the transfer is the large amount of aliasing that can be spotted throughout. Two obvious early moments are at 4:10 on the Yamanashi International University sign, and then in Jin's clothing at 16:18, but the issue is rather frequent. We also have some edge enhancement at times, which isn't quite as obvious as the aliasing, but is eye-catching. The students in the film are making a documentary whilst following Maiko on her journey, so we do switch to a point of view camera angle at various times. This footage is easily distinguishable as it has the camcorder timecode at the bottom of the screen, and, like un-professionally shot footage should, it looks and feels as though we are the person behind the camera. Colours are good, but not great, with greens overly dark, and some blacks not quite dark enough. Shadow details could certainly be improved upon, but facial close-ups look fine, and skin tones accurate for the majority. There's no sign of print damage here, or any other major problems. It's just a typical mediocre transfer that could be better, but could also be much worse. It is slightly above average for the genre though.

The film is uncut, and runs 85:47 PAL.

Audio


There are two audio options available here:
- English Dolby Digital 5.1
- English Dolby Digital 2.0 Stereo

Annoyingly, the stereo track plays by default, so be sure to change it to the Dolby Digital 5.1 track via the menu screen before starting the movie. The score by Andrew Harris does a reasonable job of enhancing the creepy atmosphere of the suicide forest, but is ultimately a little quiet at times, and typical of the genre. Dialogue is clear and concise for most of the film, though on rare occasions, could have done with being slightly louder in comparison to some of the sound effects. Surrounds get more use than I expected beforehand, with some subtle environmental touches. Directionality is average and channel separation is without issue. There are no problems such as drop outs, scratches, or background hiss.

No subtitles have been included.

Extras


Start-up Trailers:
- "The Appearing" (1:40)
- "Willow Creek" (1:07)

Overall




"Grave Halloween" is far from a good film. It's slow, boring, and predictable. Director Steven R. Monroe has proven he is capable of better in the past ("I Spit on Your Grave"), so let's hope this is just a blip on his filmography.
| | | | | |
| --- | --- | --- | --- | --- |
| The Film: D | Video: C+ | Audio: C+ | Extras: E- | Overall: D |