The Show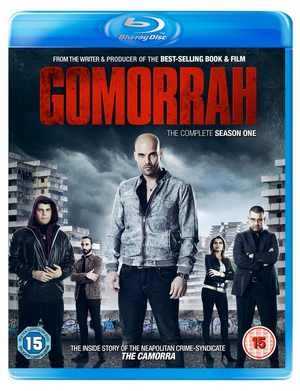 ***This is a technical review only. For reviews on the show from various critics, we recommend visiting HERE.***

A new event series from Stefano Sollima, the writer and director of 'Romanzo Criminale', based on Robert Saviano's best-selling book and the subsequent Cannes Golden Palm winning film of the same name.

Gomorrah is the inside story of fierce Neapolitan crime organisation the Camorra, as seen through the eyes of Ciro (Marco D'Amore), the obedient and self-confident right-hand man of the clan's godfather, Pietro Savastano (Fortunato Cerlino), whose loyalty is tested to its limits over twelve blood-drenched episodes.

Ciro knows better than anyone what it means to be a loyal clan member. But when Pietro decides to sacrifice many of his own only to make a blood-drenched statement to rival clan boss Salvatore Conte, something dies in Ciro – for one of the many victims of the bloodshed is his foster father Attilio, himself an ever-loyal clan member.

Video


Independent British distributor Arrow Films have released the first season of Italian mob television series "Gomorrah" on to Blu-ray in the original aspect ratio of 1.85:1 using an AVC MPEG-4 encode. The transfer is 1080i/50, and despite some initial reservations, is certainly above average.

The transfer here isn't flawless, but is strong. There is some consistent aliasing/jaggies on more detailed items such as in jewellery, clothing, and the intricate Italian marble decor, and whilst it is noticeable, it is not a big enough problem to become distracting. Details that do not fall victim to aliasing can look excellent, with stubble on the olive skin faces of the characters, and minute details in the mechanics of the motorbikes of particular note. Details in long shots can be surprisingly good, especially in the shadows and darkened locations. The show utilises dark colours, especially blacks which are inky and deep with minimal crush, however, it should be noted that lighter colours found in several of the scenes look great too. Skin tones are natural, and the clarity between the various dark colours add plenty of depth, especially when characters enter a tense situation. There are no major signs of damage in the transfer, and no obvious compression issues (three episodes per disc).

Audio


This release features a single LPCM 2.0 Stereo audio track in the shows' original language of Italian. Although a 5.1 track would have been of huge benefit to the show, the stereo track does exhibit good depth, with reasonable channel separation, especially for gun fire and other action-based sound effects. The roar of motorbikes and cars also sound very good, never feeling flat or deflated. Dialogue is clear and concise at all times, with consistent volume levels and no moments where it is overpowered by either the score or location/environmental effects. As to be expected for such a new series, there are no issues to be found with the track such as drop outs or scratches, and there is no background hiss.

English subtitles are included, and are optional, but they do contain occasional grammatical errors.

Extras


The first disc features some start-up trailers for "Nordic Noir" (0:39) and "Generation War" (3:18).

Disc four includes a "Behind the Scenes" featurette (24:01), which is a well made, but quite formulaic featurette which takes a look behind the scenes of the television show and interviews various members of the cast and crew. The interview snippets delve into the characters a little more, and about production, and are worth listening too, whilst the behind the scenes footage is interesting to watch, but doesn't really explore the technicalities.

Overall




An excellent show, which I enjoyed more than the movie. The last scenes in the final episode have got me chomping at the bit for a second season.
| | | | | |
| --- | --- | --- | --- | --- |
| The Show: A | Video: B | Audio: B+ | Extras: D+ | Overall: B+ |