The Film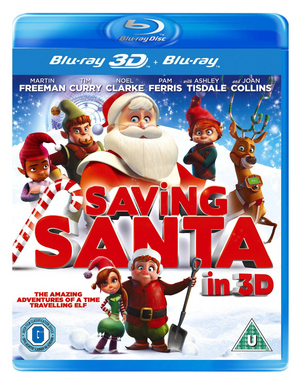 ***This is a technical review only. For reviews on the movie from various critics, we recommend visiting HERE.***

Once upon a time, Santa operated with just a small workshop and a few elves. But, as Christmas has grown ever bigger, Santa has been forced to innovate!

Now his cleverest elves develop amazing technology, including a hologram to hide the North Pole and a time machine to allow Santa to deliver presents to every home in the world, in just the one night. Bernard is an elf who dreams of creating such inventions, but his job is to clean the reindeer stables! Yet when he creates an amazing Christmas memory machine, his luck might be changing. But Bernard's invention is broken by a curious elf, causing the North Pole's power to fail and the hologram hiding it to disappear. Now exposed to the outside world, it is spotted by Santa's enemy, Nevill Baddington, who is determined to steal Santa's secrets for himself.

The only person who can stop them is Bernard...

Video


Independent British distributor Kaleidoscope Home Entertainment have released the Christmas CGI kids movie "Saving Santa" on to Blu-ray in the United Kingdom, with a disc that features both 2D and 3D versions. The feature uses an AVC encode when watched in 2D, and an MVC encode when watched in 3D, with both in the original aspect ratio of 1.78:1.

For the purposes of this review, I watched the movie in 3D. Those who are expecting a viewing experience similar to that of animated movies from the major animation studios like Pixar and DreamWorks may be a little disappointed here, as the feature doesn't really have much in the way of pop-out 3D effects, focusing mainly on adding depth to the picture. Perception of depth is generally pretty good, especially with various characters on screen at different distances as Bernard tries to get to his meeting in time. However, some background locations haven't had much 3D work done, and can feel a little flat at times. Colours can feel slightly too dark at times, but are generally fine, with vivid Christmassy reds and greens throughout. Details are as good as the animation. Where the animation has minute details in clothing, or with peeling paint chips on a sign post, the transfer replicates it with pinpoint clarity and sharpness. A little ghosting was noticed during some of the 3D, but this issue can depend heavily on your A/V equipment and TV, and I didn't notice any other issues worth mentioning.

The film is uncut, and runs 83:58.

Audio


Two audio options have been included:
- English DTS-HD Master Audio 5.1
- English LPCM 2.0 Stereo

For my viewing, I opted to view the film using the English DTS-HD Master Audio 5.1 track, which was a technically solid presentation, but instantly forgettable. The surrounds are generally kept for the score by Grant Olding, which is about as formulaic as they come. Occasional environmental effects also find their way to the rear speakers, but this is a surprisingly central track overall. The LFE offers some sparse, subtle punch, and dialogue volume levels are perhaps slightly too quiet in comparison to the rest of the track. Apart from one slight pop when Santa is talking at 12:03, there is no damage here. I noticed no drop outs, and there were no signs of background hiss. The track services the film well, but could have been much more immersive.

No subtitles have been included.

Extras


We start of the extras package with the "Saving Santa Recording Sessions":
- Martin Freeman (1:54)
- Tim Conway (1:10)
- Ashley Tisdale (1:15)
This is essentially footage of three of the main stars doing some of the voice-over work. Martin Freeman plays Bernard, Tim Conway plays Santa and Ashley Tisdale plays Shiny. Although the voice cast are generally quite good, the section with Martin Freeman just goes as a reminder that the usually likeable actor wasn't a great choice for Bernard, especially when it comes to rather awful singing. It's interesting to see how different cast members sit/stand whilst delivering the dialogue, with Tisdale looking in particular comfort sitting down and just getting on with it.

Next up, we have a music video entitled "Some Kind of Miracle", which is performed by actress, and ex-Disney star Ashley Tisdale (2:46). The song suits the film perfectly, and I'm sure the 5-10 year old target audience will love it. It's an upbeat pop-based track set to footage of the movie.

The last extra of note is the "Why Saving Santa?" featurette, which clocks in at 5:48. The extra features several crew members talking about the magic of Christmas, the casting, the characters, the music, and how they all fit together to bring the story alive. The crew members that are interviewed certainly show a lot of enthusiasm for the project, and that vibe rubs off to make for an enjoyable - if short - featurette.

The rest of the extras are self explanatory, and limited to a start-up trailer for "Khumba" (1:38), and a theatrical trailer (2:00).

Overall




"Saving Santa" is an enjoyable (if formulaic) animated feature that will make a good stocking filler for Christmas. I'm sure the target audience of under-11's will lap it up.
| | | | | |
| --- | --- | --- | --- | --- |
| The Film: C+ | Video: B- | Audio: B- | Extras: D | Overall: C+ |