The Film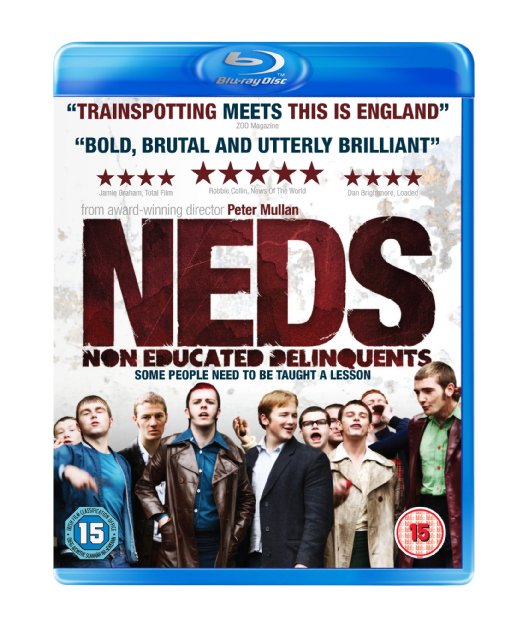 ***This is a technical review only. For reviews on the movie from various critics, we recommend visiting HERE.***

From acclaimed Director Peter Mullan comes NEDS, the story of a young manís journey from prize winning schoolboy to knife carrying teenager.

John McGill (an amazing performance from newcomer Conor McCarron) struggles with the low expectations of those around him and events take a maddening turn as he descends into shocking violence on a seemingly one man mission of self destruction.

Video


Entertainment One have released the violent social drama "NEDS: Non Educated Delinquents" on to Blu-ray in the United Kingdom using the original aspect ratio of 2.35:1. The transfer receives and AVC MPEG-4 encode and looks great - though it isn't perfect.

One of the first things any viewer is likely to notice, is that this film has a surprisingly heavy grain structure, though that suits the seventies poverty-stricken Glasgow setting perfectly. The level of grain is consistent throughout, whether scenes take place during the day or at night, and the transfer never descends into noise. Another bonus is that the heavy grain structure doesn't affect the level of detail in the print, with some of the close-ups looking fantastic, especially blemishes in skin, and scars on the faces of the boys who have been caught up in trouble. Mid-distance scenes also look pretty good, with items in the forefront showing clarity, and background items (although not looking great) also exhibiting good levels of detail. There are many moments which take place on darkened streets, and during these scenes, shadow details look above average, but are not always as clear as they perhaps should be. There is no sign of edge enhancement or digital noise reduction here, and no issues with damage such as scratches and dirt. Overall, this is a strong transfer, but there's room for improvement.

The film is uncut and runs 123:46.

Audio


Two audio options have been included:
- English DTS-HD Master Audio 5.1
- English LPCM 2.0 stereo

For my viewing I opted for the English DTS-HD Master Audio 5.1 track which is quite front heavy. The LFE is used sparingly and modestly, whilst the surrounds can go reasonably long periods of time without much happening. Still, when the surrounds are needed for what is happening on screen, they usually open up a little, especially for the score. There are a couple of scenes which make notable use of depth, and perception of distance, but I think more subtle environmental effects would have been welcomed. Dialogue is clear and concise at all times - providing of course you understand the very strong Glaswegian accent (working with a couple of weegies finally came good!). If the dialogue is hard for you to decipher, then there are optional English subtitles available. There are no problems with the audio track like scratches or background hiss.

Extras


We start the extras with a selection of deleted scenes lasting 17:54. It starts off with an absolutely hilarious scene with a bunch of under-privileged Scottish kids being taught baseball, and the teacher failing miserably at engaging the kids. This scene alone lasts a whopping eight minutes. There are another seven shorter scenes which are mainly just a few lines of additional dialogue. All are worth watching, and from a film already over two hours in length, it is plain to see they were cut for pacing.

Next up we have a "Peter Mullan Masterclass" featurette (22:47). This is actually a question and answer session with the director that was done for the British Film Institute on the 21st October 2010 as part of the 51st BFI London Film Festival. He starts off by talking about working with Steven Spielberg on War Horse (his story about having to pay £350 for a train is pretty hilarious), but gets on to the subject of Neds after a few minutes. He discusses writing, how he wrote it as a play when he was 20, the similarities to his own life (the autobiographical wall), the language of one of the teachers, and much more, all with occasional footage of the movie. Mullan is a very likeable character, and this is an enjoyable interview session.

There are also a couple of start-up trailers:
- "5 Days of War" (1:31)
- "Fair Game" (2:03)

Overall




Peter Mullan's Neds is one of the strongest entries into the working class, coming-of-age sub-genre in recent years. In my opinion, Mullan can happily place himself among other Scottish greats behind the camera, such as Don Cammell and Lynne Ramsay.
| | | | | |
| --- | --- | --- | --- | --- |
| The Film: B+ | Video: B | Audio: B | Extras: C | Overall: B |