The Film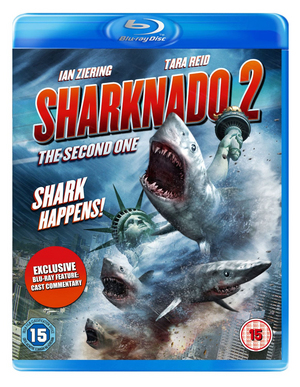 ***This is a technical review only. For reviews on the movie from various critics, we recommend visiting HERE.***

Shark Happens!

Fin Shepard (Ian Ziering, Sharknado, 90210) and his ex-wife April (Tara Reid, Sharknado, American Pie) are flying to New York City when their plane enters the most unnatural of storms and is battered by airborne sharks.

As blood is shed and passengers are maimed in the skies, New York awakens and people spill onto the streets, unaware of the peril descending rapidly towards them. Armed with weapons and explosives, Fin realises he must risk all to save his sister s family from the greatest of danger as floods and storms crash into the city.

From the makers of cult hit Sharknado, comes an adventure sequel full of screams, bloodbaths and bite.

The sharks are back.

Video


Independent British distributor have released "Sharknado 2: The Second One" on to Blu-ray in the United Kingdom using the original aspect ratio of 1.78:1. The feature receives an AVC MPEG-4 encode, and is 1080p. The transfer is very good, but there is room for improvement. It appears to be a port of the American Blu-ray from Asylum.

Shot on 35mm, and then transferred to digital, the movie does suffer from similar to problems to the DVD which I reviewed a few days ago (link at bottom of the review). First of all, there is some very light edge enhancement at various points, though the aliasing is a lot less frequent. Unlike the DVD transfer (due to the advanced technology), the occasional baseball scenes that use stock footage show a noticeable difference in quality to that of the rest of the film. These scenes feel slightly fuzzy, and lack sharpness. Thankfully, they are few and far between, and barely last a few seconds at a time. Blacks aren't as deep as they perhaps should be, but the drab and dreary colours found during bad weather in the city suit the tone of the film well, even if they are perhaps a little too somber at times. Close-ups look detailed, whilst long shots that look down chaotic Manhattan streets show plenty of depth. At 53:40, there is a close-up shot of Tara Reid and a child in the hospital which seems a little noisy, and there's some minor banding at times, but nothing too bad. There aren't any issues with print damage such as scratches or dirt, though compression could've been slightly better.

The disc houses the "Extended" version of the movie, running 95:01. It is uncut.

Audio


Unlike the DVD, there is no 2.0 Stereo track available for perusal here, with Kaleidoscope providing a single option of an English DTS-HD Master Audio 5.1 track. Even though "Sharknado 2: The Second One" is a low budget movie made for the SyFy Channel, we still get a reasonably immersive experience here, with some strong channel separation, and solid use of the sound field and directionality. Sharks whizz past your head, the weather effects are subtle when required, but then turned up a gear for the many action scenes, and thuds and shark kills, bring the LFE alive. The score is as formulaic as they come, but it is certainly adequate and at a consistent, non-overpowering volume level. Dialogue is clear and concise at all times, and there are no drop outs, scratches, or pops. It has more clarity and depth than the DVD release, and is a technically solid effort.

No subtitles have been included.

Extras


We start off the extras with the first of two audio commentaries - this one being with director Anthony C. Ferrante, and actors Tara Reid and Ian Ziering. Well, wasn't this a surprisingly enjoyable commentary? All three participants are straight forward when talking about what they like, and what they don't like with the movie. There are a few technical details talked about here and there, but the majority of the time is spent pointing out various little jokes, the seemingly random friends and family casting of all the background actors, and anecdotal moments from the set. Well worth a listen.

The second audio commentary is with director Anthony C. Ferrante, writer Thunder Levin, editor Ana Florit, and visual effects supervisor Emile Smith. They talk about various additions to this extended version, and go into various technical details throughout. There are a lot more references to other movies and to TV shows than you may expect here, including "Airplane" and "The Twilight Zone", but there is plenty of information here about the locations, the characters, and the special effects too. Another surprisingly worthy commentary.

After the commentaries, we come to a "Behind the Scenes" featurette (10:39). This featurette includes some behind the scenes footage of actors working against green screen, and some interview snippets with various cast and crew members. One funny bit of information found here, is when director Anthony C. Ferrante tells us how the franchise came to be. Seemingly he wrote a film for SyFy called "Leprechaun's Revenge" which jokingly references a "Sharknado" disaster. SyFy saw that line of dialogue and said "we have to make this film". Kind of worrying that SyFy make decisions based on such circumstances, but they know their fans, and these low budget 'out there' ideas seem to work for them.

Next up, we have a featurette entitled "Chomp: The Evolution of Sharnado 2 VFX". It's very short at just 4:01, but features some very interesting before and after comparisons of the special effects process. The effects in the film aren't the greatest, but for the budget, they've achieved effects that are certainly workable. The special effects team talk about how they were able to research and develop the effects of the tornadoes, sharks, and water to a higher standard of the first movie.

The "Cameos: I Can't Believe They Got..." featurette (10:52), is a closer look at the many many cameos that feature in the movie. I have to admit, I did not know who many of these so-called 'celebrities' were, as I am not familiar with American day time television, but were still many recognisable faces - most notably Kelly Osbourne as an air stewardess and Tiffany Shepis as Chrissie. This featurette gives us some basic insights into how cameos are organised, and the interest they got from celebrities wanting to be in the movie.

A standard gag reel (5:37), features your usual selection of dialogue cock-ups, uncontrollable laughter on set, and cast members mobile phones ringing during filming. Quite funny to watch, but as usual with gag reels, there are some where you obviously had to be present.

The final substantial extra is a selection of deleted scenes, listed rather amusingly as "Shark Chum" (8:25). The scenes include extended sequences, and some alternate lines of dialogue, as well as a couple of outtakes. The only scene worth viewing though, is the one with the Toronto mayor Rob Ford falling victim to a shark during a press conference.

The rest of the extras consist of a start-up trailer for the hilarious poor-looking "Stonado" (1:52) and a theatrical trailer (1:23).

Overall




"Sharknado" was one of the surprise hits of 2013, thanks to being so bad, people loved to laugh at it. The makers of "Sharknado 2" obviously understand this, and have played up to its badness. "Sharknado 2" is not a very good movie, but it is a lot of fun, and an enjoyable way to waste a couple of hours. Roll on the already announced "Sharknado 3"!

Please note this will be a Zavvi Exclusive release until November 24th. You can read our review of the DVD release HERE.
| | | | | |
| --- | --- | --- | --- | --- |
| The Film: C | Video: B- | Audio: B+ | Extras: C+ | Overall: C+ |